Robert Roach, Jr.
General Secretary-Treasurer, IAM
---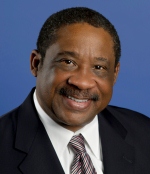 Robert Roach Jr. is the 11th General Secretary-Treasurer since the founding of the International Association of Machinists and Aerospace Workers (IAM) in 1888.
Roach started in the IAM as a ramp serviceman for TWA in 1975 and was a member of Local Lodge 1056 in New York. Soon after, he transferred to Local Lodge 1445 in Newark, NJ. He was elected as a Shop Steward in 1976 and served as Grievance Committee Chairman from 1979 through 1992. Roach also held other union positions in Local Lodge 1445, including Trustee, Vice President and President.
In 1984, he was elected District Lodge 142 Trustee and also served as coordinator for the District's Human Rights Committee. Roach became a District 142 General Chairman in 1992.
In 1994, Roach was appointed Transportation Department Special Representative and was appointed a Grand Lodge Representative (GLR) in 1996. From GLR, Roach became General Vice President (GVP) of the Transportation Department on June 1, 1999, and was re-elected in 2001, 2005 and 2009.
As Transportation GVP, Roach regularly testified before Congress on aviation matters including aircraft maintenance oversight, aviation safety and security, bankruptcy reform, employee pensions, industry consolidation and the state of the airline industry. He served as a member of the International Transport Workers' Federation Executive Board and Management Committees for over 12 years.
Roach has also served as a member of the Executive Committee of the AFL‐CIO's Transportation Trades Department, an Executive Board member of the AFL‐CIO's Maritime Trades Department and Trustee to the IAM National Pension Fund.
On January 1, 2012, he was appointed IAM General Secretary-Treasurer.

As General Secretary-Treasurer, Roach is responsible for directing the finances of the International Union, ensuring the IAM stays financially strong. He serves as Co-Chairperson of the IAM National Pension Fund and the IAM Health and Benefit Trust Fund.
General Secretary-Treasurer Roach currently serves as a member of the board for the Union Label & Service Trades Department and Union Privilege, and is a Labor Advisory Board Member of American Income Life.
He holds a B.S. in Labor and Management Relations from SUNY Empire State College's Harry Van Arsdale Jr. Center for Labor Studies and is a graduate of the Labor Liberal Arts Program at Cornell University. He is currently enrolled in the Scheinman Institute on Conflict Resolution program at the Cornell University School of Industrial and Labor Relations.