R. Thomas Buffenbarger
International President
International Association of Machinists and Aerospace Workers

---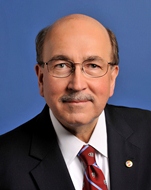 R. Thomas Buffenbarger is the 13th International President since the founding of the International Association of Machinists and Aerospace Workers (IAM) in 1888.
The son of an IAM member, Tom Buffenbarger assumed his first IAM leadership post in 1970, at age 19, when he was elected Shop Steward of his apprenticeship group at General Electric Jet Engines, IAM Local 912, Evendale, Ohio.
In 1977, Tom Buffenbarger was elected as a Business Representative for IAM District 34, in Cincinnati. In 1980, he was appointed as an IAM Special Representative for the Great Lakes Territory and three years later became Administrative Assistant to the General Vice President for that territory.
Buffenbarger came to IAM Headquarters in 1986 to work in the IAM Organizing Department. In 1988, he was appointed Executive Assistant to the International President. He served in that position under International Presidents William Winpisinger and George Kourpias.
From 1991 to 1997, Buffenbarger served as IAM General Vice President at Headquarters, functioning as chief of staff of all Headquarters operations. In 1997, he was elected International President.
As International President, Buffenbarger is a member of the AFL-CIO Executive Council and serves on the IndustriALL's Executive Committee as Vice President.