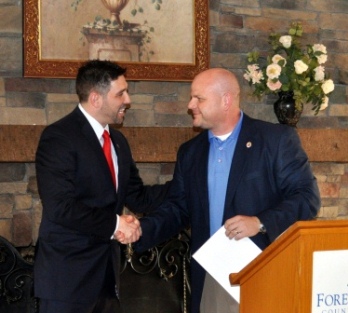 Jon Harvey, International Association of Fire Fighters, introduces IAM Local 1943 Vice President Andrew Hounshell, at left, at the announcement of his candidacy for Congress, OH-8.
An IAM member of Local 1943 in Middletown, OH, is challenging Republican House Speaker John Boehner for his congressional seat.
IAM Local 1943 Vice President Andrew Hounshell officially announced his bid for the 8th Congressional District on his campaign website and at a fundraising event earlier this month.

"If you want to know why I need to do this, look no further than my family sitting at that table," said Hounshell to a packed room of supporters, friends and family. "My wife and our triplets, Cayd, Averi and Noah, drive me to be the best man I can be. But it doesn't stop there. My stepfather who depends on the Veterans Administration for his health care, I know that his Congressman isn't concerned with the level of care he is getting. Health care for someone who has worked their entire life should be a right, not a privilege. The people in this district deserve better representation than what they are getting now. I guess you could say I have over 660,000 reasons to run for Congress."
Like many in Ohio's 8th District who were disheartened to go to the polls in 2012 and see that Boehner was running unopposed, Hounshell wrote himself in on the spot. The effort grew, with friends, family and other community members also writing him in. Rather than allow the grassroots effort to fade, Hounshell began a serious quest to seek the office in 2014.
"Six years ago when the police and fire fighters joined with the City Council to pass the Middletown Public Safety Levy to keep police and fire fighters on the job and protect our community, Andrew was by our side," said International Association of Fire Fighters (IAFF) Field Representative Jon Harvey. "He has proven himself as a veteran, union leader, devoted husband and father, that he is selfless, loyal, with a strong work ethic. In 2014, he will use all of those qualities to bring a voice back to the middle class, giving the 8th District - the heart of Ohio – the representation it deserves in Washington, D.C."