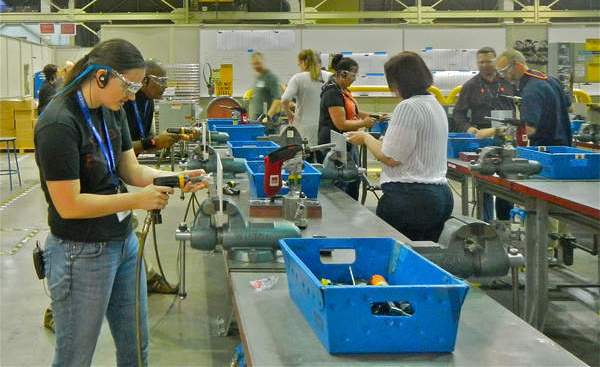 Beth Bergevin, left, a teacher at Mariner High School in Everett, WA, participates in a drilling exercise as part of a two-week "externship" put on by IAM District 751 and the Boeing Co. (Courtesy: IAM District 751)
A select group of Seattle-area high school math and science teachers now have real-life examples of why it's important to excel in their classes. Thanks to a partnership with IAM District 751 and the Boeing Co., the teachers were able to participate in a two-week "externship" at Boeing shops in Everett and Renton, WA.
"If we're going to recruit and train the next generation, it really has to start with the teachers in the schools," said Grace Holland, an IAM member who is an administrator with IAM/Boeing Joint Programs in Everett, in an interview with the South Everett (WA) Beacon.
Click here to read the entire story.
The teachers were able take part in hands-on demonstrations and observe how Machinists use the material they teach in class to do their jobs. The session ended with a tour of a Boeing 747 final assembly line.
"Airlines are going to buy $4.8 trillion worth of airplanes over the next 20 years, and a significant chunk of them are going to be built in Everett and Renton," said IAM member Jesse Cote, who represents District 751 on the Aerospace Joint Apprenticeship Committee. "There is going to be work here – good-paying and interesting work – for a lot of your students for years to come."
Furthering its effort to train future aerospace workers, the IAM has officers serving as trustees of Renton Technical College and Cascadia and Green River community colleges.