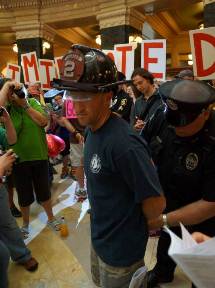 Madison firefighter Ted Higgins is arrested by WI State Capitol Police after participating in a Solidarity Sing Along on August 19, 2013. (Photo: Leslie Peterson)
Add freedom of assembly to the list of Wisconsin Gov. Scott Walker's enemies.
A month ago, the Republican began ordering the arrest of people participating in noontime sing-alongs to protest the governor's anti-worker policies at the state capitol in Madison. The gatherings, known as Solidarity Sing Alongs, are peaceful, and have included everyone from grandmothers and teens to union members and firefighters. According to the group's website, 245 people had been arrested as of August 16.
Marty Beil, Executive Director of American Federation of State, County and Municipal Employees (AFSCME) Council 24 in Madison, has been on the front lines calling on labor to take part in the sing-alongs.
"These brave women and men sing songs of solidarity and collective action," wrote Beil on his Facebook page. "They have become part of our history. They have assembled every day since March of 2011. It's time for union members and leaders, public and private sector, to join in and vocally and visibly speak out. It's time for union shirts and union songs."
Attendance at the sing-alongs pales in comparison, at least for now, to the thousands that took over downtown Madison in 2011 when Walker and the state's Republican legislature stripped collective bargaining rights from public employees.
But the arrests have only made the movement gain momentum. Now hundreds of people are showing up every weekday from noon to 1 p.m. to protest Walker's latest attack on free speech. Walker added fuel to the fire in July when he said he was open to limiting the collective bargaining rights of police and firefighters – some of the few public employees who were excluded from the March 2011 crackdown.
"[Walker] wants to take away the voice we have in the workplace, and now we don't have a voice in our government," said Ted Higgins, a member of Firefighters Local 311, who was arrested for singing at the capitol on August 19. "But we can control how we react to it." Click here to read the entire article in Madison's Isthmus newspaper.
Click here to stay-up-to-date with the Solidarity Sing Alongs through their Facebook page.