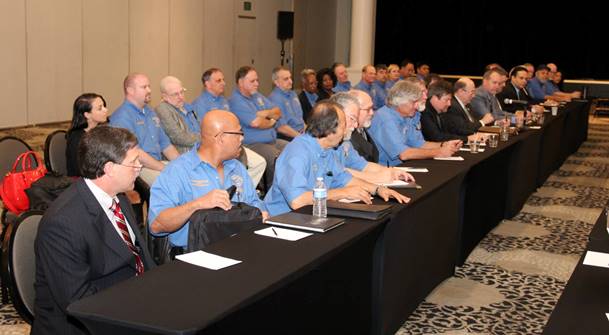 The IAM Negotiating Committee for members at Lockheed Martin was joined by IAM President Tom Buffenbarger, General Vice Presidents Bob Martinez, Jr., Gary Allen and Mark Blondin and Aerospace Coordinators Terry Smith and Jody Bennett.
The Machinists came out in full force to Palm Springs, CA for the opening day of the economic phase of negotiations with Lockheed Martin. Key issues in the talks include health care costs, pensions, job security and workplace rules that could affect more than 5,600 IAM members at Lockheed facilities in Palmdale, Sunnyvale, Vandenberg AFB, Santa Cruz, CA, Marietta, GA, Meridian, MS, Clarksburg, WV and Cape Canaveral, FL.
"The representatives at this table are united to make sure Lockheed Martin remains a leader in aerospace but to ensure the thousands of IAM members who make Lockheed successful get the best wages, benefits and job security possible," said IAM International President Tom Buffenbarger, who was joined by Headquarters GVP Robert Martinez, Jr., Western Territory GVP Gary Allen and Southern Territory GVP Mark Blondin.
As the world's largest military contractor, Lockheed Martin employs approximately 115,000 people worldwide with net sales for 2013 of $45.4 billion
"Lockheed Martin looks forward to working with the IAM negotiators toward reaching a fair and equitable labor agreement," said Lockheed Martin's Vice President of Human Resources Craig Weller, who acknowledged that IAM workers are the best in the business. "I know everyone wants Lockheed Martin to be a strong viable company, and part of that equation is a contract that is fair for our employees and also meets our Corporation's goals.
Negotiations are expected to go until February 21, 2014. Members can stay informed about the ongoing negotiations by logging onto www.iamcontract2014.com or on Facebook at www.facebook.com/iamcontract2014. Or follow the contract news on Twitter @iamcontract2014.