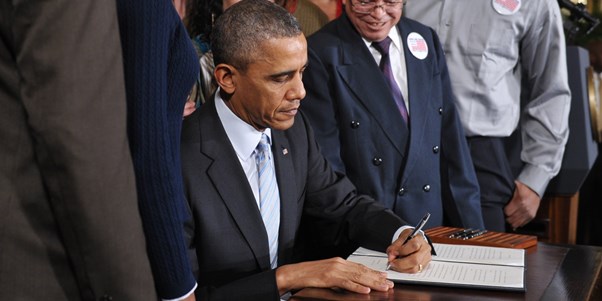 President Obama signed an executive order to penalize federal contractors that treat their workers poorly.
President Obama has issued an executive order cracking down on federal government contractors that engage in wage theft, discrimination and other labor violations.
The "Fair Pay and Safe Workplace" measure will require prospective contractors to disclose labor law violations from the past three years before getting a contract. The White House says the order is intended to "ensure that the worst actors, who repeatedly violate the rights of their workers and put them in danger, don't get contracts and thus can't delay important projects and waste taxpayer money."
Almost two-thirds of the 50 largest wage-and-hour violations and almost 40 percent of the 50 largest workplace health-and-safety penalties issued between 2005 and 2009 were at companies that went on to receive new government contracts, according to a report from the Government Accountability Office.
The new standards will give government agency contract officers a closer look at company violations of laws covering wage and hour, safety and health, collective bargaining, family and medical leave, and civil rights protections. It will also mandate that contract workers are given information each pay period to verify the accuracy of their pay.
"By cracking down on federal contractors who break the law, the President is helping ensure that all hardworking Americans get the fair pay and safe workplaces they deserve," said a statement from the White House.
Click here to read the entire executive order.