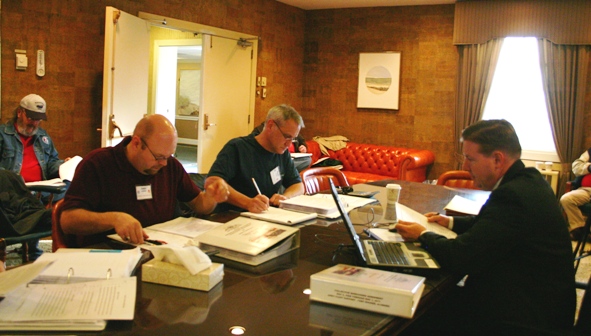 LL 2003 Negotiating Committee members Jamie Littlefield and Randy Garrett negotiating with Winpisinger Center Director Chris Wagoner

Local 2003 at Ft. Rucker, AL is preparing for tough negotiations with Army Fleet Support. The 3,600 IAM members at the Army helicopter base test, fly and maintain the large helicopter fleet at the base, providing safe, quality helicopters to train our nation's future Army aviators.  The current contract expires May 1.
The Local 2003 Negotiating Committee met at the William W. Winpisinger Center to train, plan and build negotiating strategies for the upcoming talks. The Center's week-long Negotiation Preparation for Bargaining Committees class fit the bill for the Committee, providing training in proposal analysis, labor law and collective bargaining tactics.
The week culminated in a negotiations simulation. "It doesn't seem like a simulation," said District 75 Business Representative Mike Cooke. "It's tough, and you feel the same as you do in actual negotiations. It's quite realistic."
Winpisinger Center Director Chris Wagoner filled the role of company representative.
"Chris does a great job of acting the role of a tough company negotiator," said Aerospace Coordinator Terry Smith. "The newly-elected members of the Committee now have a feel for what it's like at the table. The Committee developed a plan and strategy for these negotiations during our week at the Harbor, and we're ready for these important negotiations."