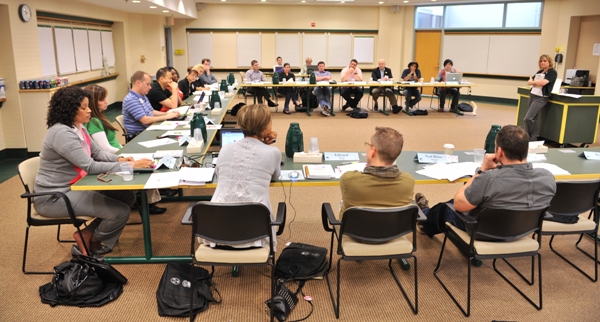 Reserve Flight Attendants from United and Continental met at the Winpisinger Education Center in Maryland to explore reserve issues at the new United Airlines.

Most Flight Attendants love their work and wouldn't trade jobs with anyone, but it's hard to find even one who believes the current system of creating a Flight Attendants' work schedule can't be improved. That's just one reason why the IAM invited Flight Attendants from both Continental and United to the WWW Center to take part in the first Reserve Summit for Flight Attendants at the new United Airlines.
Over 20 Flight Attendants took part in the summit and compared the reserve systems at both carriers and discussed strategies to fix the worst problems facing reserves. The group also examined scheduling practices in place at other major carriers. Ultimately, the group examined the possibility of establishing an entirely new system to meet the needs of Flight Attendants at the merged airline. To that end, a survey was developed that specifically focuses on reserve issues, ensuring that every voice will be heard in addressing reserve issues.
Click here to view a video of the Reserve Summit.
"Reserve Flight Attendants have taken the first step toward defining their careers at the new United Airlines," said Transportation GVP Robert Roach, Jr. "The foundation they have laid will be enhanced through additional meetings, surveys and a Reserve subcommittee in negotiations. With direction and active participation of reserve Flight Attendants, the IAM will develop a new, better Reserve system at the new United Airlines."