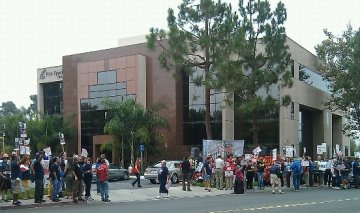 IAM District 725 Area Director Virginia Cobb led a delegation of IAM members and retirees as they joined hundreds of labor and community activists in a protest outside the San Diego office of Rep. Darrell Issa (R-CA).  The protest was in response to the persistent attacks on workers' rights by the right-wing Issa.
Issa has used his position as Chair of the House Oversight Committee to block an investigation of the Boeing Company by the National Labor Relations Board (NLRB).  The IAM filed charges against Boeing, due to activities that Boeing itself characterized as retaliation against IAM members. The NLRB found the charges had merit and is conducting further investigation on the matter.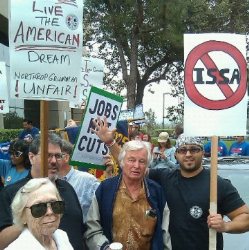 "Issa ought to be ashamed of himself. We know that he is not a friend of American workers, but we are amazed at how low his morals are," said Western Territory GVP Gary Allen. "He shows no limit in how far he will go to protect corporate greed and arrogance.  I am proud of Sister Cobb, and all our members who showed up and sent a strong message to Issa."
In addition to attacks on the NLRB and rights of IAM members, Issa is leading the effort to cut pay, benefits and collective bargaining rights of postal employees.
Cobb was joined by Ricardo Guzman of the National Association of Letter Carriers (NALC) and Terry Bunting from the Nurses Union for a meeting with Phil Paule, Issa's District Director. "Paule listened, thanked us for our professionalism, but he didn't even take notes," said Cobb. "He didn't care a bit about what we had to say."