Machinists Local 31 members marched in this years parade celebrating the Septemberfest salute to labor in downtown Omaha, NE. This years event featured 7 marching bands, 64 entries,3000 parade walkers and about 25,000 spectators.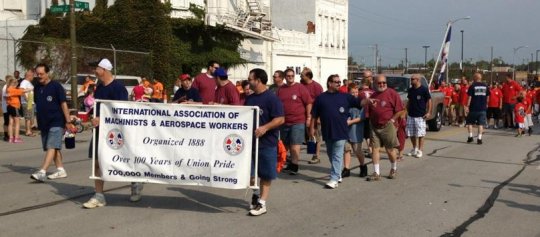 This years event marked the 35th annual Septemberfest. The annual salute to labor had plenty to offer including entertainment, educational and artistic displays, a carnival and Omaha's largest parade. This is a 4 day event that ends on Labor Day weekend.
Local 31 Vice President Mark Patach said "Approximately 50 Machinists were in the parade this year. Everyone had a great time and we are looking forward to next years event." Patach is the Septemberfest Treasurer and has been the Parade Grand Marshal for 10 years now.
Major community projects that Septemberfest has supported over the years include the Omaha Family Shelter, the Omaha area food bank, the Salvation Army, the Battered Women's Shelter and the construction of the Omaha Labor Monument.