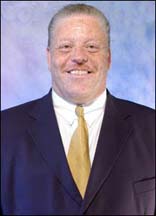 Luther Williams
Grand Lodge Representative
Luther Williams was appointed Grand Lodge Representative on February 1, 2005. Prior to becoming Grand Lodge Representative he served as the Midwest Territory Education Representative from September 1, 1999 until July 1, 2001, at which time he was appointed to Special Representative.
Brother Williams worked as a Nuclear Marine Machinist at Norfolk Naval Shipyard in Portsmouth, Virginia from 1983 to 1994, where he joined IAMAW.ÂÂÂÂ  He became a member of Local Lodge 441, District 74 and served as Union Steward, Trustee to LL 441, and Delegate to District 74. Luther served on the Organizing and Negotiating Committees at LL 441 and was a member of the Executive Board.ÂÂÂÂ  Luther left NNSY as a result of a workforce reduction after which he continued to work as a full time Organizer for District 74 for the next year. LL 441 has since merged with LL 97 in District 74 where he remains a member in good standing.
Luther's mother Marie was his mentor as well as a local civil rights activist. He credits her influence on him at a very young age to his ongoing fight for equality for all people. Luther is the father of one son, Douglas. He is a native of Suffolk, Virginia.
Brother Williams is a 2005 graduate of The National Labor College with a Bachelor of Arts Degree in Union Leadership and Administration.