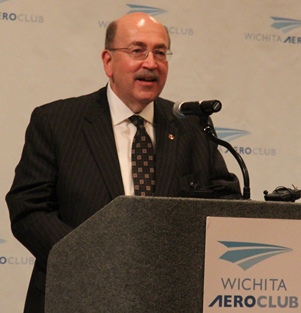 Touting the past and future benefits of labor-management cooperation, IAM President Tom Buffenbarger addressed members of the Wichita Aero Club, an aviation industry association based in Wichita, KS.
Buffenbarger was introduced by Cessna Aircraft Senior Vice President of Human Resources Jim Walters, who thanked the IAM president for his backing during the 2008 financial crisis. "When this industry needed support and business jets were seen as a symbol of excess, Tom started a crusade," said Walters. "He carried the real message of our industry, starting with the President on down."
In his remarks, Buffenbarger spoke about future of aviation in Wichita and around the world.
"It is very important today to recognize the unseen partner in all the great accomplishments in Wichita's aviation industry," said Buffenbarger, who praised IAM aerospace members for their contributions. "We may not be the source of capital, but we are the source of skills and dedication this industry needs to make success a reality."
Buffenbarger also praised members of the Wichita Aero Club. "You represent renowned and successful enterprises that were present at the birth of aviation, and you have sustained it and propelled it through the generations," said Buffenbarger. "For that I salute you. The world was changed by the can-do attitude of Wichita."
Wichita is still known as the "Air Capital of the World" and has been a center of aviation manufacturing for more than a century. The IAM represents thousands of members at Wichita companies, including Cessna, Beechcraft, Learjet and Spirit AeroSystems.