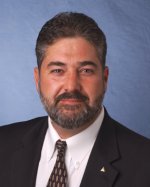 Southern Territory GVP Bob Martinez was a featured guest this week on the Union Edge Radio Show, where he spoke with host Charles Showalter about the history of the IAM, the challenges of organizing in southern states and the IAM's pending lawsuit against the newly-elected GOP Governor of South Carolina. 
Additional topics discussed during the 20-minute interview included the upcoming decision on the Air Force refueling tanker, the impact of free trade agreements, and the IAM's work on behalf of Guide Dogs of America.
Showalter, a U.S. Air Force veteran, made a point early in the program to thank the IAM for its efforts to secure the next generation of air-to-air refueling tankers. "I was one of the people who used to get into those aircraft and it was always good to know that is was a well built piece of equipment, made here in the United States, and that's the way it should be." 
Martinez, a U.S. Navy veteran, quickly agreed. "At a minimum, we believe United States military hardware, like the tanker, should be built in America, by American workers and not offloaded to other countries." 
The discussion moved to renewed political opposition to organizing rights in the Southern Territory, including statements by South Carolina Governor Nikki Haley, who declared she would oppose unions or workers seeking to organize and form unions. "The governor of South Carolina, Nikki Haley, put her hand on a bible and swore to defend the Constitution of the United States," said Martinez. "But her stated intention is to actively oppose workers in South Carolina who wish to exercise their legal right to join a union." 
The state of South Carolina has since responded to a lawsuit filed by the IAM against the governor, claiming the governor's opinion is free speech protected by the Constitution. 
"The governor can have all the opinions she wants, but she cannot use the machinery of state government to suppress workers rights in South Carolina," said Martinez. "We don't need a big brother government getting involved in whether or not workers can organize." A full copy of the lawsuit can be found here. 
Click here to listen to the full interview.
For further information, an article about the lawsuit can be found here, and an excellent column about the state of workers and business in South Carolina, from the Seattle Times, can be found here.