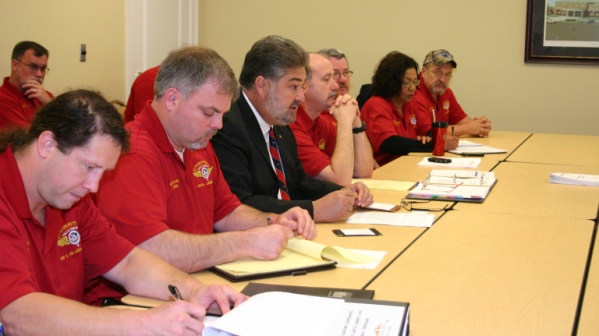 Southern Territory GVP Bob Martinez (center) joined members of the Local 2003 Bargaining Committee for the opening round of negotiations with Army Fleet Services, a government contractor employing more than 3,500 IAM members at Ft. Rucker in southeastern Alabama.

Representatives of Local 2003 at Ft. Rucker, AL, opened negotiations this week with Army Fleet Services for a new collective bargaining agreement covering over 3,500 workers at the sprawling army base. The facility, located in southeastern Alabama, provides pilot training and services for the U.S. Army's helicopter fleet.
Southern Territory GVP Bob Martinez attended the opening day of negotiations and noted the union's established presence at Ft. Rucker. "We share a rich history with the United States Army at Ft. Rucker, over 56 years to be exact, and while many contractors have come and gone, the IAM workforce has been a reliable and enduring partner," said Martinez. "During the past five decades, we negotiated over 21 separate contracts and helped achieve an extraordinary safety record here at the base."
Martinez outlined the members' goals for the latest round of negotiations: "Based upon two recent surveys, our members have given us their priorities," said Martinez. "In addition to wages and job security, they include improvements to the pension plan, containing medical costs and improving seniority language."
Aerospace Coordinator Terry Smith is leading the nine-member negotiating team, which includes members from across the base. "This contract is important to the entire southern Alabama community," said Smith. "IAM members put about $200 million a year into the local economy."
The current contract between the IAM and Army Fleet Services expires on May 1, 2011.