The IAM's High Performance Work Organization Partnerships Department assists labor and management in the design and implementation of full partnerships at their workplaces.
When labor and management agree to implement joint workplace decision-making they save and create jobs and grow businesses thereby protecting employment in North America.
The HPWO Partnerships approach is different from employer-sponsored change attempts in which the union and its members did not help design, launch and implement programs in the past. Under the HPWO approach, labor and management, from the beginning, jointly create their partnership, which is specific to their workplace, and monitor its success over time.
The HPWO Department staff support the development of Partnerships in many ways. For example, they conduct site visits in order to introduce the HPWO Partnerships concept; train and educate employees as to their roles in the new work system; facilitate joint meetings; coordinate benchmarking visits to other partnership sites; and conduct week-long HPWO Partnerships schools at the Wiliam W. Winpisinger Center at Placid Harbor, as well as developing and delivering on-site education and training programs.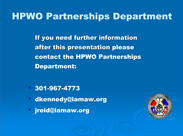 Please click the blue slide for a brief HPWO overview.
For a summary of HPWO, click High Performance Work Organization (HPWO) Partnerships process.
The global market place affects the way companies, nations, and entire blocks of nations engage in international trade. These pressures also affect the way we work. That is why the IAM has developed an alternative process to traditional labor-management practices to help save and create jobs and grow workplaces where IAM members are employed.
---
 Information Center
---
Lodge History & Research Articles
Executive Order 13522 — Creating Labor-Management Forums to Improve Delivery of Government Services

Ten Characteristics of a High-Performance Work Team

by Tyrone A. Holmes, EdDHolmes is a consultant specializing in communication, conflict resolution and problem solving designed for 21st Century leaders.

High Performance Work Systems, Building Commitment to Increase Profitability

, by Cam Caldwell, PhD and Larry A. Floyd, MBA, BBACaldwell and Floyd emphasize seven human resource practices for creating High Performance Work systems through engaging employees as partners in an organization's success.

Understanding High Performance Work Systems: The Joint Contribution of Economics and Human Resource Management

, by John F. Tomer, Emeritus Professor of Economics, PhD, BSFrom the Journal of Socio-Economics, a study on the concept of employee ownership motivation in a high performance work organization.

High Performance Work Systems – A Critical Realist Analysis of the Implementation and Employees' Experience of the High Performance Work Systems Model

, by Iwona Wilkowska, PhD, MSc RM, BAWilkowska's research examines the employees' attitudes and behaviors that the HPWO partnerships attempt to foster.

High Performance Work Systems in the Paper Industry

, by Charles Parsons, PhD and Raul Necochea, PhD, MSc, BAParson and Necochea acknowledge empowering production workers with substantial decision-making authority is a tricky deal for managers, who, for the most part, don't want to lose their managerial clout.