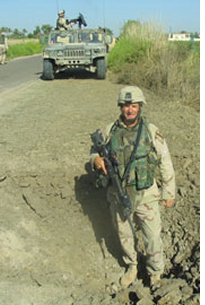 SSgt. Jim McGovern, left, stands in a roadside bomb crater near Baghdad, Iraq.

U.S. Army Staff Sergeant Jim McGovern's job as a squad leader patrolling battle-scarred roadways around Baghdad is a far cry from the production job he held until last April at Maytag's refrigerator plant in Galesburg, Illinois.
"It's not as hot as some other sectors in Iraq, but this is a very dangerous place. We take fire and we return fire," says McGovern of the area he patrols with fellow members of the Illinois National Guard, F Battery, now attached to the Army's 1st Cavalry Division.
As a 15-year employee at Maytag, McGovern arrived in Iraq a veteran of another battle: one to save the livelihoods of more than 1,600 co-workers at the legendary appliance maker.
Despite record sales and millions in taxpayer incentives, Maytag announced in October 2002 it would close the Galesburg facility and move to Mexico where its workers would be paid as little as $4.50 per day.
"I understand what's happening," said McGovern of companies like Maytag that leave the U.S. in search of low-cost locations. "But I think it's unpatriotic and it's absolutely devastating for a small town like Galesburg."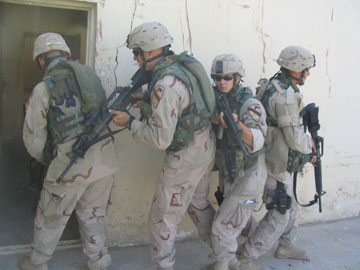 McGovern and his squad members are among several thousand Illinois Army National Guard troops serving in Iraq and Afghan-istan. Many are college students who joined the Guard to help pay for tuition. Others, like 37-year old McGovern, joined the Guard after serving a hitch in the regular Army.
"These are men and women whose service and sacrifice frequently doesn't get the recognition it deserves," said IAM President Tom Buffenbarger. "Now they're half a world away fighting to rebuild a foreign country while their home towns are being reduced to economic rubble by companies like Maytag. It's time we recognized there's a war going on right here at home."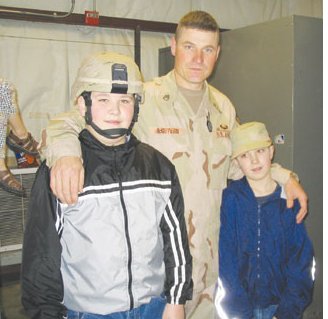 McGovern with sons Jimmy, age 11 and Jesse, age nine, before leaving for Iraq.

On The Home Front
With active duty looming for his Guard unit and Maytag preparing to move to Mexico, McGovern and his wife Sandy were living on borrowed time in Galesburg. After her job as a nurse at Maytag was eliminated, Sandy found new work in Michigan and moved in with family members.

Several months of long distance commuting followed as Jim put in his final days at Maytag.

"The separation was good practice for what we knew was coming," joked Sandy. Soon after the move, Jim's unit deployed to Iraq.
When he's not patrolling Iraq's mean streets, McGovern and his squad are based at Camp Victory, the sprawling U.S. military complex on the outskirts of Baghdad where soldiers can relax and contact family members via the Internet.
"It's certainly different from the old days," said McGovern, who logs on regularly from a laptop computer. "I could be out on a mission in the morning and exchanging emails with my family that afternoon."
Sandy McGovern is proud of her husband and believes he's a good man doing a difficult job in a very dangerous situation. "But," she adds, "for all those families still in Galesburg, the situation is just as serious. I wonder why no one's coming to our rescue?"