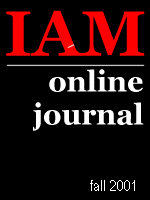 Marianne
MacFarlane
2/20/67-0/11/01
Marianne MacFarlane was up front on United Flight 175 on September 11, 2001. Sitting alongside co-worker and fellow IAM member Jesus Sanchez, she was off to Las Vegas for a short vacation.

Shortly after takeoff, terrorists took over the cockpit and flew the Boeing 757 into the World Trade Tower, killing everyone aboard and thousands more when the tower collapsed.

Friends and co-workers recalled Marianne with great loss, affection and joy. "Marianne was the "let's go" person at work. She just loved to travel," said Joan Craig, a fellow Customer Service Representative at United. "She had her hair done the day before and looked terrific that morning. She was really looking forward to Las Vegas. This is still so unbelievable."

A Shop Steward at United since her group joined the IAM in 1998, Marianne came from a union family."Being a steward came easily to her," said Joe MacFarlane, Marianne's brother and an IAM Shop Steward at US Airways. Marianne also worked at US Airways in Florida and Maine before hiring on with United in Boston. "Florida was too hot and Maine was too cold," said Joe." I guess Boston was just right."

The MacFarlane family lives near the airport in Revere, Massachusetts. Marianne's mom also works at Logan and brother George is a firefighter for the city of Chelsea. "We're very close," said Joe who was touched by the outpouring of support and sympathy for the family. "It's amazing and it hasn't stopped."

Following the crash, a crisis center for families of the passengers and crew of Flight 175 was set up at a nearby hotel. Ann MacFarlane, Marianne's mom, returned repeatedly to the hotel to be among the families. Dressed in her daughter's work shirt, she moved among them, sharing closeness and grief with those like her, whose lives were changed forever by the senseless act of madmen.

---
Previous Page/Contents/Next Page