Judge Bars New Union Reporting Rules

In a victory for organized labor, a federal judge issued a one-year injunction blocking controversial Department of Labor (DOL) regulations designed to saddle labor unions with costly and time consuming reporting requirements.
U.S. District Judge Gladys Kessler said that Labor Secretary Elaine Chao "simply failed to offer any reasonable justification for requiring such far-reaching changes to take place in seven weeks."
The new rules, proposed by the Bush administration in Oct. 2003, were set to take effect Jan 1, 2004, costing local and national unions as much as $1 billion each year. In contrast, when the U.S. Securities and Exchange Commission required corporations to electronically file financial information, that federal agency delayed implementation for 13 years.
In her ruling, Judge Kessler said there would be no discernable harm to the public interest by keeping the existing reporting rules, "especially when that status quo has been deemed acceptable by the Department of Labor for over 40 years." Under the current Labor-Management Reporting and Disclosure Act, U.S. unions operate with a far greater degree of financial transparency and public disclosure than corporations.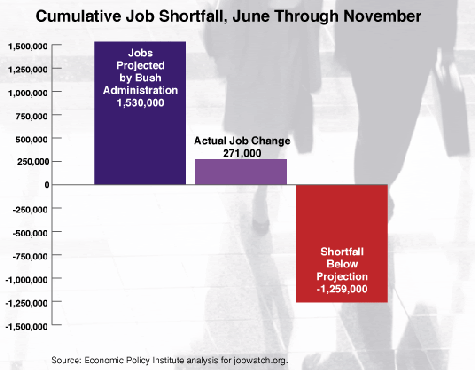 Bush Tax Cuts Fail to Create Jobs
President Bush's tax cut plan has fallen far short of the projected jobs it would deliver, creating just 271,000 jobs out of a promised 1,530,000 between June and November 2003, according to the Economic Policy Institute (http://www.epinet.org). When President Bush first floated his tax cut plan, his economic staff projected the cuts would create 306,000 jobs each month between July 2003 and the end of 2004. As of November, 2003 actual job creation fell short in 48 of 50 states and overall job growth in the two years since the recession officially ended was a minus 0.6 percent. That's the first time overall job growth declined after a recession since monthly job statistics started in 1939.
The job record in manufacturing is even worse. In the last two "recovery" years, manufacturing employment has dropped by 8.1% or 1.3 million jobs. It's also the worst growth record since 1939.
President Bush's plan, however, is working like a charm for corporations and the wealthy. The average 2003 tax cut for the top one percent of Americans will be $51,627, up from a mere $28,767 in 2002, according to Citizens for Tax Justice (www.ctj.org) estimates. Families in the middle income range, earning between $28,000 and $45,000 per year, will get an average of $827 under Bush's plan for 2003, up from an average of $557 in 2002.
Visit www.jobwatch.org to track Bush's record on job creation.

Loopholes Taint SEC Reform Plan
In the wake of non-stop revelations about self-serving corporate executives and passive board members, the Securities and Exchange Commission (SEC) is proposing new guidelines to give institutional shareholders the ability to challenge CEO's power to handpick their own directors.
While the regulations represent important steps toward corporate accountability, the current proposal includes limits and loopholes that place the new protections beyond the reach of most, if not all shareholders and investors.
In formal comments delivered to SEC Chairman Jonathan G. Katz, IP Tom Buffenbarger and GST Warren Mart endorsed the need for change, but called on the Commission to adopt final rules without lengthy procedural delays and excessively high shareholder ownership requirements.
The current SEC proposal includes a two-year wait before shareholders could place a nominee on the proxy to challenge a CEO's board nominee. Additionally, shareholders seeking to introduce proposals at an average S&P 500 Company would need to hold shares worth more than $180 million.


Airline Workers Call Rudeness #1 Stress Source
A majority of airline and travel industry workers said rudeness and disrespect is the top cause of workplace stress and tension, according to a national poll by a non-profit research organization.
Respondents to the poll conducted by Public Agenda identified long lines, short tempers and a lack of sufficient staff among reasons why passengers become rude and abusive. While 62 percent of transportation workers said such behavior is "limited to a few people," nearly 20 percent said they have personally seen a situation escalate into a physical confrontation.
The results confirm an earlier Public Agenda survey that found 79 percent of Americans say lack of respect and courtesy is a serious public problem. The results also indicate that rudeness tends to be answered with rudeness. Seven in ten said they were less likely to be polite when confronted with disrespectful behavior, however, far more (92 percent) said they respond in kind to courtesy and respect.
More than 500 IAM members were among the 875 airline, bus and train workers who took part in the opinion survey by Public Agenda.
Consumer Debt Hits Record Levels
U.S. consumers doubled the amount of money they borrowed during the past ten years, causing one economist to call individual's debt burden "a ticking time bomb" that could be triggered by a spike in interest rates or continued economic weakness.
According to the most recent figures from the Federal Reserve, consumer debt hit a record $1.98 trillion in October 2003. The debt, which includes credit cards and car loans but excludes mortgages, translates to nearly $18,700 per U.S. household.
Separately, the nation's credit card debt currently stands at $735 billion, or $7000 per household. Not surprisingly, individual bankruptcies for 2003 are on track to meet or exceed the record of 1.54 million filed in 2002.
The high level of individual debt has the potential to dramatically impact the overall economy, with loan and debt repayments squeezing additional consumer spending, which currently accounts for two thirds of the U.S. economy.
---
Past iMail|Your Email|Visit www.goiam.org|Print Version|Sign-Up for iMail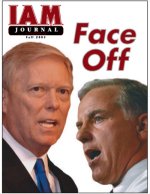 Two candidates came to Cincinnati to vie for the IAM's endorsement for President in 2004. Only one came away with the prize. Read all about it in the online version of The IAM Journal.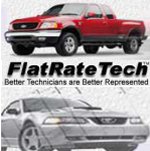 FlatRateTech is an organization "created for and by Ford and Lincoln Mercury service technicians solely to speak as one loud voice rather than 50,000 smaller voices," according to their website http://flatratetech.com. The fast-growing site offers forums for Ford customers, technicians and dealers to exchange information.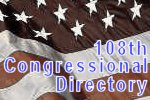 The 108th Congressional Directory . . . get your copy. Send $5 to the MNPL Education Fund, c/o IAMAW, 9000 Machinists Place, Upper Marlboro, MD, 20772.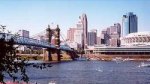 The official site for the 36th Grand Lodge Convention to be held in 2004 in Cincinnati, Ohio is now online. Check it our for convention news, sponsorship offers, and convention gear.