---
'Wall of Shame' Commemorates Jobless Americans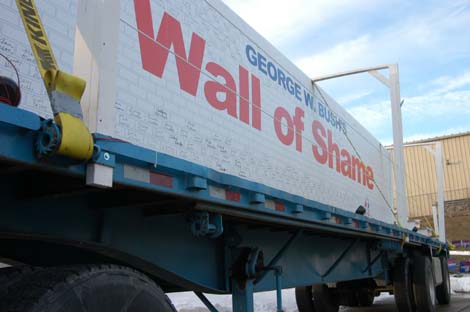 Mounted firmly on the back of a US-made flatbed trailer, the 40-foot 'Wall of Shame" is rolling across Iowa making a powerful public statement about the loss of American jobs to unfair trade deals.
Bearing the names of more than 1,000 Iowa workers whose jobs were sacrificed in the name of free trade and the global race to the bottom, the 'Wall' memorial is slated to visit union events in nearly a dozen locations across the state.
"The loss of manufacturing jobs impacts entire communities, with 3 to 4 additional jobs lost for every manufacturing job that disappears," said IP Buffenbarger to union members in Waterloo, Iowa. "High quality jobs pay economic dividends that create and maintain the kind of clean, safe and well maintained cities and towns where we want to live."
The "Wall of Shame" tour is also aimed at motivating workers in Iowa and across the country to get involved in the political process. "Job loss from bad trade deals is at epidemic proportions," said Midwest Territory GVP Jim Brown. "Politicians need to be held accountable for the damage done to workers, their families and communities."
"Too many people don't understand," said IAM District 6 President Jerry Nowadski, in a Jan 12 Chicago Tribune article on the impact of unfair trade deals. "They think, 'Oh, that's not going to happen to me. I've been working at [one place] for 50 years.' Well, it will, if they don't do something to change it or stop it. That job will be in Mexico or Taiwan or whoever will do it the cheapest."
New Jobs Data Shows 'Mission Unaccomplished'
When President Bush declared an end to the recession two years ago, he promised his tax cut program would create millions of new jobs. The recent release of the anemic jobs numbers for December, just 1,000 new jobs, closes the books on two consecutive years of payroll declines, the first two-year drop since 1944-1945. Two years into the recovery period in the last recession, the economy was producing 200,000 jobs per month, according the Economic Policy Institute (www.epinet.org ).
"As far as jobs go, it's Mission Unaccomplished for President Bush," declared IP Tom Buffenbarger. "That's why we are here in Iowa this week. Average Americans know that the jobs aren't there. And the jobs won't be there tomorrow unless we get a new President who will stop selling our jobs to the country with the lowest pay rates."
Manufacturing jobs hit the 41st straight month of declines, shedding 26,000 jobs for a total of 1.3 million jobs lost during the current "recovery." EPI analysts point out that the nation's unemployment rate drop, from 5.9 percent to 5.7 is wholly due to drop in the total number of Americans with jobs, not from people finding work.

Court Hears US Airways' Appeal
Oral argument in US Airways' appeal of a federal injunction preventing the airline from subcontracting Airbus heavy maintenance was heard today in Philadelphia by a panel of three judges from the Third Circuit Court of Appeals.
The Machinists Union and US Airways each were allotted fifteen (15) minutes to argue their respective cases. IAM attorneys were present to support the injunction and defend our members' rights under the Railway Labor Act.
"Our position remains simple and unchanged," said District 141-M representatives in a letter to the membership. "This work must be performed by IAM members employed by US Airways in the carrier's maintenance facilities." A decision from the Court of Appeals may take several weeks.
Separately, public statements by CEO David Siegel accusing the unions at US Airways of refusing to discuss details of the company's latest attempt at a business plan also drew a sharp response.
"The leadership of the Machinists Union has repeatedly notified US Airways' management that we are committed to discussing plans to ensure the airline remains a viable employer," responded the District 141-M representatives. "However, we will not participate in any discussions that would require changes to our collective bargaining agreements. The agreements in place today contain the concessions David Siegel told his employees, creditors and the bankruptcy court he needed to run a successful airline. The employees of US Airways have already provided David Siegel with all the tools he needs to build a competitive airline, and no further amount of employee sacrifice will reverse his failure."

Alaska Negotiators Seek Mediation
Alaska Airlines Ramp & Stores negotiators from District 143 applied for mediation in accordance with the terms of the current collective bargaining agreement which states that, absent an agreement, mediation must be applied for by January 10, 2004.
Further negotiations with the carrier are scheduled for January 13-16, 2004; February 10-13, 2004; and February 24-27, 2004.
---
Past iMail|Your Email|Visit www.goiam.org|Print Version|Sign-Up for iMail
President Bush's promise of new jobs is falling far short. Find out how much at www.jobwatch.org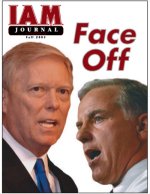 Two candidates came to Cincinnati to vie for the IAM's endorsement for President in 2004. Only one came away with the prize. Read all about it in the online version of The IAM Journal.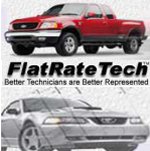 FlatRateTech is an organization "created for and by Ford and Lincoln Mercury service technicians solely to speak as one loud voice rather than 50,000 smaller voices," according to their website http://flatratetech.com. The fast-growing site offers forums for Ford customers, technicians and dealers to exchange information.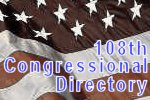 The 108th Congressional Directory . . . get your copy. Send $5 to the MNPL Education Fund, c/o IAMAW, 9000 Machinists Place, Upper Marlboro, MD, 20772.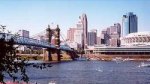 The official site for the 36th Grand Lodge Convention to be held in 2004 in Cincinnati, Ohio is now online. Check it our for convention news, sponsorship offers, and convention gear.