United Airlines Assaults Retiree Medical Benefits
"Greedy, heartless bastards!" exclaimed IAM Transportation GVP Robert Roach, Jr., when United Airlines' (UAL) announced that it will petition the U.S. Bankruptcy Court to modify non-pension retiree medical benefits. "Imposing an unnecessary financial burden on seniors with fixed incomes is reprehensible and ignores the decades of hard work they contributed to United Airlines," said Roach.
IAM attorneys will seek to represent United Airlines employees who were IAM members when they retired under the Ramp & Stores, Food Service, Security Guards, Public Contact Employee and Maintenance Instructor agreements in negotiations with the airline and in bankruptcy court.
A hearing could be held as early as 14 days following the filing of the motion under Section 1114 of the bankruptcy code.
Since United entered bankruptcy in December 2002, IAM-represented employees ratified contract changes that save the airline $450 million per year. Changes were also made to retiree medical benefit plans on a going-forward basis. Deductibles and co-payments were increased and the employees' share of the premium quadrupled. United spends less than 1% of its total operating costs on retiree medical benefits.
Go to http://www.goiam.org/territories.asp?c=5041 for more information.
Workers Welcome Traveling 'Wall of Shame'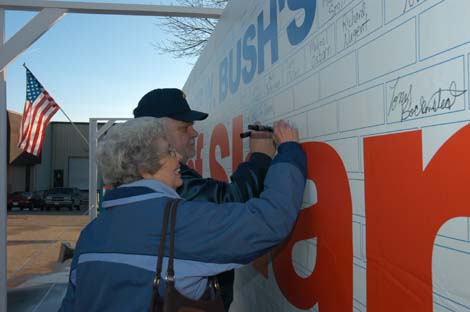 Union members are turning out across Iowa this week to see the IAM's mobile "Wall of Shame," commemorating workers whose jobs were lost since George W. Bush took office in 2000.
At plant gates and union halls from Cedar Rapids to Council Bluffs, workers stand and stare, sometimes alone, sometimes with family members, at more than 1,000 names etched on the 8-ft. high wall that stretches the length of a flatbed trailer.
The names are mostly all Iowans; hundreds from Square D, hundreds more from Goss Graphic Systems and other companies that have closed their doors or moved production to China, Mexico and other low wage locations. The workers know the memorial wall contains only a fraction of the nearly 3 million jobs lost since Bush became President, but these are names they know: friends, neighbors, former coworkers and frequently, their own.
Many "Wall of Shame" events have a grim reunion feel to them. At the Local 831 Union Hall in Cedar Rapids, where the idea was born and the tour got underway, nearly 200 friends gathered. The bonds between these men and women, many who worked side by side for decades, remain strong. The bitterness, however, over what was done to them in the name of corporate profits remains just as strong. Many said they looked forward to the Iowa caucus on Jan. 19 and the election next November to make their voices heard all the way back in Washington, DC.

Local Lodge 63 Elects Dynamic Duo
| | |
| --- | --- |
| | Stacy Breunig - president (L) and Libby Martin - vice president (R). This is the first time that women have been elected to both offices in the 115 year history of the Local. |
Local Lodge 63 made history with the recent election of a dynamic duo of officers. For the first time in its 115-year history the local president and vice president will be women. Sister Stacy Breunig will serve as president and Sister Libby Martin will be vice president. Local 63 is the oldest local in the Western Territory. It was established in 1889, just one year after the first IAM local was formed by Thomas Talbot in the railroad pit in Atlanta, GA.
Breunig and Martin give part of the credit to the motivation and support they received at the latest women's conference.
"Now our work begins," said Martin. "But I believe that we have the will power and determination to do a good job for our members."
"This is a tremendous day for Local 63. This election proves that it's about qualifications and trust, not about gender," said Western Territory GVP Lee Pearson. "The IAM is proud of our record of inclusion and rights for everyone. I look forward to more great news from these two sisters, and the thousands more like them across our great Union."

Iraq Trade Union Arrests Prompt ICFTU Action
The International Confederation of Free Trade Unions (ICFTU), an umbrella group of international unions, expressed concern over arrests of Iraqi labor activists by US Occupation forces last December. US forces stormed the Iraqi Federation of Trade Unions headquarters, handcuffed and detained overnight eight members of the union's executive board.
The ICFTU asked its US and British affiliates to call attention to the arrests with their respective governments and scheduled meetings with Iraqi trade unionists to help them build a free democratic trade union movement..
The US-led Coalition Provisional Authority (CPA) is using a 1987 decree by Saddam Hussein that forbids workers in state-owned enterprises, which employ most Iraqi workers, from forming unions and a CPA order against inciting "civil disorder" to thwart any attempts by Iraqi workers to from free trade unions, according to labor journalist David Bacon.
While the CPA refuses to lift Hussein's ban against trade unions, they have allowed a massive sell off of Iraqi businesses that will put thousands of Iraqis out of work. CPA Order No. 39 allows 100 percent foreign ownership of Iraqi businesses, except the oil industry, and allows the transfer of profits outside the country. Last September, the CPA offered its first round of sales which included cement and fertilizer plants, phosphate and sulfur mines, pharmaceutical factories and the country's airline, according to Bacon. Free trade unions could give Iraqi workers a voice during the US-led privatization process.
---
Past iMail|Your Email|Visit www.goiam.org|Print Version|Sign-Up for iMail
President Bush's promise of new jobs is falling far short. Find out how much at www.jobwatch.org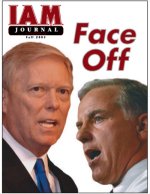 Two candidates came to Cincinnati to vie for the IAM's endorsement for President in 2004. Only one came away with the prize. Read all about it in the online version of The IAM Journal.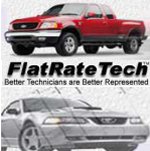 FlatRateTech is an organization "created for and by Ford and Lincoln Mercury service technicians solely to speak as one loud voice rather than 50,000 smaller voices," according to their website http://flatratetech.com. The fast-growing site offers forums for Ford customers, technicians and dealers to exchange information.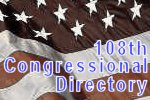 The 108th Congressional Directory . . . get your copy. Send $5 to the MNPL Education Fund, c/o IAMAW, 9000 Machinists Place, Upper Marlboro, MD, 20772.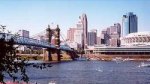 The official site for the 36th Grand Lodge Convention to be held in 2004 in Cincinnati, Ohio is now online. Check it our for convention news, sponsorship offers, and convention gear.