---
Seniors Fight Medicare Propaganda
The Alliance for Retired Americans is calling for facts not fiction in any mailings by the U.S. Department of Health and Human Services (HHS) to promote the recently enacted Medicare bill. "While it is reasonable for HHS to explain the 'facts' of any new legislation, the Alliance strongly objects to the use of propaganda in any mailing paid for by taxpayers," said Alliance President George J. Kourpias. "The preamble to a proposed HHS 'fact sheet' now circulating on Capitol Hill is little more than a commercial for President George W. Bush and his allies in Congress."
Despite serious concerns about the bill among seniors, the House Republican Conference, large corporations, pharmaceutical companies and the American Association of Retired Persons (AARP) are promoting the controversial new Medicare law.
"The more we learn about the final details of the bill," said Kourpias, "the worse it is for older Americans. The latest example is a provision added by the White House that allows companies to severely reduce their retirees' existing drug coverage without losing out on the new subsidy put in the bill to ensure that employers would retain prescription drug coverage for their retirees."
More than 50,000 seniors have resigned from the AARP to protest the organization's support for the new Medicare bill.

Bush Vision at Odds With Reality
One day after the Iowa Caucus kicked off the 2004 election season, President George W. Bush previewed his own reelection agenda with a State of the Union speech that left many viewers questioning his grasp of the nation's economic problems.
Despite a record setting federal deficit and nearly 3 million jobs lost since he took office, the president blithely described the economy as "strong, and growing stronger" and urged Congress to make permanent his budget-busting $1.7 billion in tax cuts for wealthy Americans.
Discussing immigration policy, the president ignored concerns among both Democrats and Republicans that granting temporary worker status to millions of illegal aliens had the potential to reward those who entered the U.S. illegally while encouraging millions more to do so.
On Social Security, Education and Health Care, the president proposed programs that lacked sufficient funding to reverse the impact of cuts made during the fist three years of his term of office. By his administration's own estimates, Bush's main health care proposal would reduce the number of uninsured by only about 4 million and do nothing to rein in skyrocketing costs. Another proposal would cap federal spending on Medicaid and the State Children's Health Insurance Program, which could result in more than 7 million people losing coverage under those programs by 2013.
Union members who listened to the 54-minute speech were no doubt surprised to hear of the president's support for "free labor unions" – until he added the words "in the Middle East."

Passport Screening Speedup Unfair and Unsafe
Whenever anyone applies for a United States passport, "Passport Specialists," members of IAM/NFFE Local 1998, check every application for fraud and possible terrorist links. These specialists should have all the time they need to ensure US passports do not fall into the hands of terrorists or criminals, but Passport Office management officials don't think so. Management recently imposed a strict quota system of 24 passports per hour for most specialists. That's little more than two minutes per application.
"Our national security is at stake and Passport Office Management is insisting that employees serve up US passports faster than a happy meal at McDonalds," said IAM President Tom Buffenbarger. "If management won't listen, Congress should step in to ensure terrorists and criminals don't get US passports."
Passport employees have repeatedly approached management with their concerns about the quota system but are largely ignored. "Subtle indications of fraud are missed without sufficient time to review applications," said Local 1998 President Colin Walle. "Employees can meet whatever quantity expectations the agency sets, but without adequate time to do the job thoroughly, mistakes are going to happen. Our national security could hang in the balance."

Take Action
Send a message to your legislator to ensure passport security:
http://capwiz.com/iamaw/mail/oneclick_compose/?alertid=4817136

Read the Press Release from IAM/NFFE LL1998:
http://www.goiam.org/visit.asp?c=5068

Read a letter to Congress by Federal District 1 President/DBR Richard Brown about passport security:
http://www.nffe1998.org/integrity/nffe_brown_letter.htm

Flight Attendants Win FAA Certification
After more than 25 years of aggressive campaigning by Flight Attendant unions, the new FAA reauthorization bill recently signed by President Bush provides for formal FAA certification of Flight Attendants.
"Flight Attendants are the first respondents and the last line of defense for the safety and security of passengers," said Transportation GVP Robert Roach, Jr. "This formal recognition of the critical safety and security functions Flight Attendants perform is long overdue."
IAM Flight Attendants at Continental Airlines spearheaded a legislative action juggernaut where thousands of Flight Attendants visited, phoned and emailed Congress to urge the passage of this landmark legislation.

Honda Dealership Organized by District Lodge 83
District Lodge 83 brought 11 new members into Local Lodge 1060 by recently organizing the Automotive Technicians at Valley Honda located in Monroeville, Pennsylvania. On behalf of the Eastern Territory Office and its members, GVP Lynn Tucker extended congratulations and appreciation to District Lodge 83 DBR Roy Mueller, Business Representative Todd Fichera, Retired Directing Business Representative James Elnyczky, and all of the team for a job well done.

Local Lodge 1947 President in the News
Gene Herman, president of IAM Local 1947 in Fond du Lac, Wisconsin, was among several community, government and business leaders whose views on job growth at Mercury Marine were published recently in a large Wisconsin newspaper.
"Most people in the area are aware the company has chosen to outsource 400-plus jobs to China over the next few years," said Herman. "We tried to convince upper management that together we could lick this problem. They chose not to agree with us, hence the jobs are slated to go to China.
"Manufacturing in this great nation is in trouble," said Herman. "It's not because we are not smart enough or because we don't work hard enough, but because we have a government in Washington that does not force rogue nations like China to abide by monetary laws, trade laws, enforce fair tariffs or copyright laws."
Herman also said union membership gave workers an advantage in the struggle to keep good jobs from being moved overseas. "We will fight as one to keep as many jobs here in Fond du Lac as possible. We know we have it in our power to affect the bottom line. If we can make our products cheaper while maintaining our quality, this alone will make corporate managers rethink their China move."

District 55 Scores Two Organizing Wins
Automotive organizing is producing success after success for IAM District 55 in Joliet, IL, where DBR Joe Pluger reports 18 new members recently joined the IAM.
The technicians at Landmark Automotive Group in North Pekin, IL and Gjovik Chevrolet in Sandwich, IL wanted better wages, benefits and representation in the workplace, according to DBR Pluger.
"I'm really proud of these two groups," said Pluger. "They were very strong and determined to get the workplace fairness that IAM representation brings."
The IAM Midwest Territory extended congratulations to DBR Joe Pluger and volunteer organizer Joe Nuske from Local 851 on these victories. "We thank them and wish them continued success in the future," said Midwest Territory GVP Jim Brown.
---
Past iMail|Your Email|Visit www.goiam.org|Print Version|Sign-Up for iMail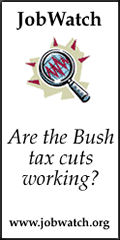 President Bush's promise of new jobs is falling far short. Find out how much at www.jobwatch.org