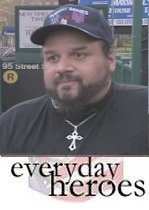 Hector Ramirez
tells how he loaded as many people as he could on his train, rescuing them from the Courtland Street - WTC Train Station.
---


Get Your Convention Gear Check out gear for the 2004 IAM Convention
---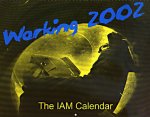 Order your 2002 IAM Calendar Now. The 2002 calendar features winners of this year's IAM Photography Contest.
Send a check for $5.00 to:
IAM Calendar
c/o IAM Communications
9000 Machinists Place
Upper Marlboro, MD
20772-2687
Local Lodges and Districts can download a bulk order form for large calendar requests.
---

The IAM
Executive Council
International President
R. Thomas Buffenbarger

Secretary Treasurer
Donald E. Wharton

GVP Western
Territory
Lee Pearson
GVP Canada
GVP Canada
Dave Ritchie

GVP Midwest
Territory
Alex M. Bay

GVP Headquarters
Robert V. Thayer
GVP Southern
GVP Southern
Territory
George Hooper

GVP Eastern
Territory
Warren L. Mart

GVP Transportation
Robert Roach, Jr.
Tuesday, January 29, 2002
Vice President Cheney Stonewalls Congress on Enron Quest




The sticky tentacles of the Enron collapse twined about another highly placed figure in the Bush administration. This one, too, has deep roots in the Texas "oil bidness." Vice President Dick Cheney becomes the latest administration figure to score banner headlines in the growing scandal.

Cheney refused to give congressional investigators access to records from the administration's energy policy development. Cheney headed the panel, which drew up the Bush energy policy. Officials from Enron met with the group a half dozen times, according to newspaper accounts.

Cheney's refusal to turn over the records to the General Accounting Office, Congress' investigative arm, is the latest twist in a months-long effort by Congress to see whether political campaign contributions may have unduly influenced White House energy policies. Enron and other energy companies pumped millions of dollars into the GOP's, and Bush's, campaign coffers.
---
Amtrak Expands High Speed Acela Service on East Coast
Rail passengers welcomed this week's announcement of expanded high-speed Acela service between Washington, New York and Boston. The 150 MPH bullet train, maintained in part by highly specialized IAM-represented technicians, will now roll out of Washington's Union Station thirteen times each weekday and nine times each weekday from Boston.
---
IAM, Bombardier Shrug Off WTO Ruling
The IAM and Bombardier Inc. say World Trade Organization (WTO) complaints over loans to the Canadian jet-maker are misguided and irrelevant.

WTO officials claim the Canadian government violated international trade laws by extending a $1.1 billion low-interest loan to help Bombardier fill a large order for regional jets from Air Wisconsin.But Brazil is ignoring past WTO complaints by continuing to finance jet sales for Embraer, Bombardier's chief competitor, a company official pointed out.

The WTO ruling "doesn't change anything, no more for us than it did for Brazil." the Bombardier official insisted.

"North American aerospace companies and their employees should receive the same support on the same terms that their competitors receive throughout the world. We are not going to get buried playing by one set of rules while the rest of the world plays by another," said GVP Bob Thayer, who heads the IAM Aerospace Department.
---
Bush Packs NLRB With Anti-worker Picks
President Bush handed management a major victory at the National Labor Relations Board (NLRB). Moving swiftly while the Senate was recessed, the White House named Michael J. Bartlett, director of Labor Law Policy at the Chamber of Commerce; and William B. Cowen, principal attorney for Institutional Labor Advisors LLC, to the Board.

The recess appointments allowed Bush to bypass the Senate and name the longtime management lawyers to the influential posts. Presidents are allowed the appointments while the Senate is not in session, but Bush's action came just one day before the Senate returned.

The NLRB appointments came just days after Bush used a recess appointment to name Eugene Scalia as his labor Department solicitor, a key post at the agency. As Labor's top lawyer, Scalia must enforce workplace safety, wage and hour issues, pension security and other vital worker protections. His strident opposition to such worker protections, especially his record as lead attack dog against the need for workplace ergonomics standards put his confirmation by the Senate in doubt.

Scalia called ergonomics "junk science" and "quackery." Recess appointees serve until the Senate adjourns for the year.
---
Senate To Vote on Stimulus Plan
A Senate vote on a much-needed measure of worker relief could come today as that closely divided body considers a measure to extend jobless benefits to laid-off workers who've exhausted theirs. Both the White House and congressional Republicans oppose the measure, which would grant additional weeks of benefits, make more workers eligible and increase the amount of benefits.

The GOP's parliamentary maneuvering means the bill requires 60 votes for passage. Contact your senators at the Take Action link at www.aflcio.org. Urge them to support this crucial measure for working families.
---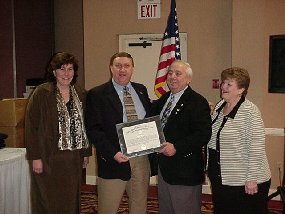 From left to right Johns daughter District 170 Organizer, Donna Wheaton, General Vice President Warren Mart, John Capobianco and wife Barbara.

Capobianco Notches 50-Years
Retired DBR John Capobianco received his 50-year service award as the Connecticut State Council held its annual dinner. Eastern GVP Warren Mart presented the award and congratulated Capobianco for his "years of valuable service to the IAM and its members." Capobianco headed District 170, formerly District 64, for many years.

On a related noted. The Southern Territory bid farewell to a trio of retiring GLRs at an earlier celebration in New Orleans. IP Tom Buffenbarger, GST Don Wharton and former GVP Ed House joined GVP George Hooper and retirees from around the territory at the affair honoring Glenn Powell, Roy Covington and Freddie Clay.

"We're going to miss them and the years of experience they're taking with them," said Buffenbarger. "You can't replace all that knowledge and hands-on know-how in the blink of an eye."
---