---
Machinists Mobilize for Rail Negotiations
The Machinists Union is launching a legislative campaign to force the National Mediation Board (NMB) to advance the four-year old negotiations between 7,500 Railroad Machinists and the National Carriers Conference Committee (NCCC), representing the nation's Class 1 freight rail carriers.

IAM members can click here to send a message to their Senators and Representative urging them to contact the three-member National Mediation Board and demand they advance the negotiations process to the next step.

"Congress created the NMB to facilitate contract negotiations and avoid service disruptions," said GVP Robert Roach, Jr. "However, the NMB has failed to act on repeated requests to advance the bargaining process and, as a result, has become an obstacle to reaching an agreement."

The rail carriers are proposing terms similar to an arbitrated agreement they have with another union. That agreement, already rejected by 97 percent of the Machinists' membership, provides no general wage increase for 2000, and the wage increases for 2001 and 2002 were used to pay for the health & welfare plan.

"The conduct of the National Mediation Board extends beyond the current negotiations and will become standard practice if we do not take immediate action to protect our right to collectively bargain under the Railway Labor Act," said GVP Roach.

IP Addresses National Planning Committee
"This is the most important election of our lifetime," declared IP Tom Buffenbarger in Florida before nearly 200 delegates at the 2004 MNPL National Planning Committee.

In opening remarks at the 4-day strategy session, the IP urged delegates to examine the record of the current administration and to consider the impact of four more years. "We must recommit like never before to the job ahead of us," said the IP. "Our goals are clear: we need to organize; to service our members and to aggressively protect them from laws and politicians that would harm them."
President Buffenbarger also reviewed the outcome of early primary and caucus states and said the task ahead would be to find the candidate who could best fill the void left when Rep. Dick Gephardt exited the race. "Our issues remain the same: Jobs, health care and trade," said Buffenbarger. "On health care, we need a national solution. And without changes to trade policies, we could see another 3.4 million jobs leave the U.S. during the next four years. Our jobs are worth fighting for, and the candidate that understands that will deserve our support."
Machinist supporting UFCW:
(from left) Ed Shabow, LL 1186, Ray Rivera Grand Lodge Representative and Ed Schubin, LL 1186 President at Rally for grocery workers in California.
IAM Stands With California Grocery Workers
Pressure is building on Safeway CEO Steven Burd to resign as the strike and lockout at Safeway, Vons and Albertsons supermarkets drags past the 3-month mark and investors question Burd's strategy of boosting profits by cutting employee health benefits. More than 70,000 grocery workers are walking picket lines to protect their health care benefits and to halt the corporate campaign to shift the cost of health care to employees.
The IAM and the UFCW (United Food and Commercial Workers) are urging workers across North America to join their struggle by not shopping at Safeway, Ralph's, Vons or Albertsons stores during the strike. Additional information and a list of the Safeway-owned supermarkets can be found by clicking here. Union members can also help by clicking here to donate to a special strike fund set up to help these workers.
Bush's Budget: Blind Man Bluffing
President Bush submitted a $2.4 trillion budget, complete with tax cuts that pave the way for more economic hardship for U.S. workers.
The massive budget proposal would result in a record $521 billion deficit, cut a multitude of government-funded social service programs, make Bush's tax cuts permanent, and increase spending for defense and homeland security.
The President's fiscal management was recently called into question by former Treasury Secretary Paul O'Neill, who described meetings with the President and his advisors as useful as "a blind man in a room full of deaf people."
Adding to the ballooning deficit is the ever-increasing cost of the GOP Medicare legislation signed into law last month. The Congressional Budget Office revised the cost of the legislation from $400 billion to $535 billion, angering lawmakers who voted for the Medicare legislation after administration officials assured them the cost would not exceed $400 billion.

Veterans Victimized by Overtime Assault
Add America's military veterans to the long list of workers who could be financially wounded by the Bush administration's overtime proposal.
The proposal, which the U.S. Department of Labor hopes to have in effect by March, could deny many veterans overtime protection if they received specialty training while in the military for professional jobs they now hold. Currently, only workers with a specialized degree can be classified as professional, which exempts them from receiving the standard time and a half for extra hours worked.
The Economic Policy Institute estimates the Bush's plan, which received harsh criticism in Congress and generated hundreds of thousands of angry emails, will cost roughly eight million Americans their overtime protection.
The Labor Department outraged workers further by releasing a guide that instructs employers how to get around paying employee overtime under the new guidelines.
---
Past iMail|Your Email|Visit www.goiam.org|Print Version|Sign-Up for iMail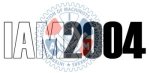 See who works for you, how the IAM is structured, and what services the IAM offers. Go to: IAM2004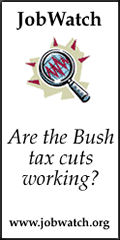 President Bush's promise of new jobs is falling far short. Find out how much at www.jobwatch.org