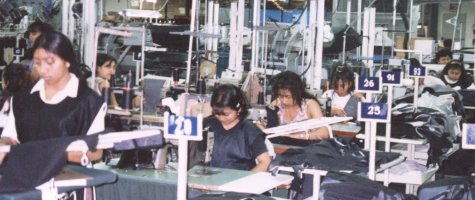 President Bush's strategy for American jobs seems to consist of sending them either to Mexican maquiladoras like the one pictured above or locations overseas.


Bush Gives Back of the Hand to U.S. Workers

President Bush has a strategy for American jobs: send them to Mexico and overseas. His top economist laid out the administration's employment plan in his Economic Report for 2004: "Outsourcing is just a new way of doing international trade," said N. Gregory Mankiw, chairman of President George W. Bush's Council of Economic Advisers. "More things are tradable than were tradable in the past. And that's a good thing."

IP Tom Buffenbarger sent a blistering reply: "the Bush administration's callous attitude shows not only the administration's indifference to manufacturing workers, it confirms that they absolutely embrace the idea of destroying America's middle class."

The Bush administration claims its ecomomic policies will result in more jobs, but since the president has been in office the economy has lost a net 2.9 million private-sector jobs. Meanwhile, the number of long-term jobless workers, roughly 2 million, has been hovering at its highest rate since 1983.

And to pour salt in the wound,
t
he Bush administration's fiscal year 2005 budget proposes to slash dislocated worker and job training funding by almost $1 billion since 2001. These cuts not only harm American workers, they put our competitiveness at risk.


Track the Bush administration's job promises at the EPI's JobWatch website.
View the IAM video: Bush Promotes Sending More Jobs Overseas
Download the entire Economic report for 2004 as a single PDF file (4.9 MB, PDF)



IAM Seeks Inquiry Over UAL Benefits Ploy

The IAM and the Association of Flight Attendants are jointly calling for an examiner to be appointed by the bankruptcy court to investigate United Airlines' actions relating to its attempt to modify retiree healthcare benefits.
A court-appointed independent examiner would investigate United's decision to pursue Section 1114 modifications to retiree medical benefits and determine whether the company engaged in fraudulent and deceitful practices to encourage active employees to retire.
"Given the sacrifices already made by United's employees, modification of retiree healthcare benefits is both insensitive and unnecessary," said Randy Canale and Scotty Ford, District 141 and 141M presidents representing IAM members at United.
IAM attorneys will attend a hearing in bankruptcy court before Judge Wedoff on February 20, 2004 to support the appointment of an examiner to investigate United Airlines' actions.

District 141 Retirees Shakedown, Shame on UAL
District 141M UAL Assaults retiree benefits


Air Canada Members Battle to Save Pensions
The Hong Kong-based Canadian businessman who is expected to have a controlling interest in Air Canada after it emerges from bankruptcy protection is reneging on earlier commitments and calling on employees to pay 30 percent of costs related to dental, medical and life insurance coverage.
The proposal comes on the heels of plans by Air Canada investor Victor Li to force employees at the carrier to surrender their defined benefit pension plans and accept defined contribution plans. Under defined contribution plans, a worker's retirement income is uncertain and relies on the performance of speculative investments.
"It's an absolute piece of crap," said Canadian GVP Dave Ritchie of the new benefit and pension proposals. "The fact is, these guys have known the rules of the game from Day 1, and now they are threatening that they'll walk away. We are not going to be bullied."
After difficult negotiations, IAM members at Air Canada ratified agreements in May 2003, providing the insolvent airline with $220,000,000. A key condition of the agreement was the protection of the current pension plan.

Go to: IAM Canada


Economists Reject GOP Job Predictions
Private economists are publicly expressing skepticism over Bush administration claims that 2.6 million jobs will be created this year.
"It's more than I would predict, but I'm not running for reelection," said Standard & Poor's chief economist David Wyss.
The economy has shed more than 2.9 million jobs since January 2001, giving President Bush the worst job creation record of any president since Herbert Hoover.
The lack of new jobs is rapidly emerging as the central issue in the 2004 election season. Despite signs that the economy is slowly recovering, the reluctance of businesses to hire new workers and the loss of entire U.S. industries to outsourcing and offshoring is leading many potential voters to press candidates on their plans to restore high paying jobs to the U.S. economy.


Fax Your MP for Once in a Lifetime Bill
The IAM has set up a "Fax Your MP" page on the Canadian web site. Please visit and send a fax to your Member of Parliament: http://www.iamaw.ca/fax/index.html
All members need is his/her postal code. There is a prewritten letter members can use, or, edit it to say what they wish. Members can send two faxes - one with his/her home postal code and one with his/her work postal code. This way, they get more faxes and hopefully start thinking seriously about passing the bill.

Debate on the bill is Friday, February 13, 2004. Please act now.
---
Past iMail|Your Email|Visit www.goiam.org|Print Version|Sign-Up for iMail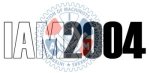 See who works for you, how the IAM is structured, and what services the IAM offers. Go to: IAM2004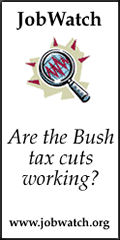 President Bush's promise of new jobs is falling far short. Find out how much at www.jobwatch.org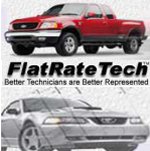 FlatRateTech is an organization "created for and by Ford and Lincoln Mercury service technicians solely to speak as one loud voice rather than 50,000 smaller voices," according to their website http://flatratetech.com. The fast-growing site offers forums for Ford customers, technicians and dealers to exchange information.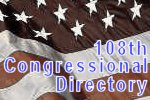 The 108th Congressional Directory . . . get your copy. Send $5 to the MNPL Education Fund, c/o IAMAW, 9000 Machinists Place, Upper Marlboro, MD, 20772.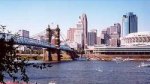 The official site for the 36th Grand Lodge Convention to be held in 2004 in Cincinnati, Ohio is now online. Check it our for convention news, sponsorship offers, and convention gear.