---
IAM Endorses Sen. Kerry for President
With backing from delegates at the 2004 MNPL Planning Committee, Machinists President Tom Buffenbarger announced the IAM would support Massachusetts Sen. John Kerry to become the next president of the United States.
"America is in a serious crisis – a jobs crisis, a health care crisis, a war crisis," said the IP in a video message announcing the union's support. "John Kerry offers himself to America and offers a vision… to bring America back to prominence where we belong. We will do everything we can to help him win the popular vote and the Electoral College vote."
During his campaign, Kerry pledged to respect labor and place jobs at the top of the national agenda. Kerry also said he would order a 120-day review of all U.S. trade agreements to see if they were harmful to U.S. labor.
"The current administration's abuse of working Americans and animus toward labor unions can no longer be tolerated," said Buffenbarger. "We will not allow GOP extremists to turn the American dream into a black and blue nightmare for thousands of our members."
The Machinists' endorsement comes as the decorated war veteran looks to Wisconsin for his next primary win and prepares for an expected endorsement from the 13-million member AFL-CIO.

Read the IAM endorsement media release: http://goiam.org/news.asp?c=5148
View the IAM endorsement video: http://www.iamaw.org/wgateway.asp?cid=5151
Go to John Kerry for President website: http://www.johnkerry.com/


Trade Deficit Soars to Record $489 Billion
The U.S. trade deficit hit a record $489 billion for 2003, an increase of 17%. U.S. consumers are buying record amounts of imported goods while a strong dollar decreases exports by making U.S. products more expensive overseas. The trade gap extends far deeper than cheap clothing and toys. The high technology products deficit rose $11 billion, a 65% increase, due in part to declining aircraft exports.
China leads the world in shipping goods to the U.S. "Imports from China are 5.7 times the value of U.S. exports to China, making it the world's most imbalanced trading relationship," according to the Economic Policy Institute (www.epinet.org). Some of the fastest-growing imports from China include information and communications technology equipment, electronics, and aerospace products.
U.S. manufacturing jobs posted another bad year, losing 582,000 jobs in 2003. More than 3.3 million U.S. manufacturing jobs have been wiped out since 1997. During the same period, the real value of the trade deficit tripled, according to EPI analysts.
"The big increases in the trade deficit start in 1994 when Congress passed NAFTA and hit the stratosphere after we gave China Permanent Normal Trade Relations status in 2000," declared IAM President R. Thomas Buffenbarger. "The election in November is about one thing: JOBS Worth Fighting For! The first step is getting rid of these lousy trade deals that are selling out U.S. working families."
Record trade deficits could also spark a U.S. debt crisis. As the trade deficit grows, the U.S. must borrow heavily from other countries to finance it. If the influx of foreign cash slows, the U.S. economy could plunge back into recession. Even the pro-free trade Federal Reserve Chairman Alan Greenspan acknowledged that foreign investors "may become less willing to absorb ever-growing claims on U.S. residents."

Homeland Security Workers Under Attack
The 180,000 employees in the Department of Homeland Security are bracing for new personnel rules that will substantially alter how federal workers in the mega department are paid, promoted and assigned.
Among the biggest changes will be a salary system that replaces regularly scheduled raises with "pay bands" based on annual evaluations, experience and geographical location. Critics say the new compensation system encourages favoritism and is open to abuse by supervisors.
"Using 'national security' as its excuse, the Bush administration is authorizing an unwarranted assault on government workers," said IP Buffenbarger. "No group of workers in America today is more loyal, or less deserving of this kind of treatment."
The new plan also seeks to limit collective bargaining rights and replaces the role of the independent Federal Labor Relation Authority with a review board controlled by Homeland Security Secretary Tom Ridge. Discipline for employees under the new system would be accelerated significantly and the right to appeal would be limited.
The personnel changes are similar to those being proposed for civilian employees in the Department of Defense and would take effect following a 30-day public comment period and an additional 30-day review period by Congress.

Rail Workers Urge Congress to Act
More than 700 IAM members have written legislators to demand the National Mediation Board (NMB) take action to advance the four-year old negotiations between 7,500 Railroad Machinists and management for the nation's Class 1 rail lines.
"The NMB has failed to act on repeated requests to advance the bargaining process, and as a result have become an obstacle to reaching an agreement," said GVP Robert Roach, Jr.
The IAM is calling on all members to contact their Senators and House Representative as part of a grassroots campaign to force the NMB to protect rail workers' collective bargaining rights. "The NMB must release their unlawful stranglehold on our negotiations and allow the collective bargaining process to move forward," said GVP Roach and District 19 President Bob Reynolds in a letter to members.
Congress will be in recess during the week of February 16, providing an ideal opportunity to visit with representatives while they are in their home offices. "Consider taking your spouse and children with you to the meeting," said Roach and Reynolds, "because the effects of this unprecedented delay extend beyond the membership to our entire families."
Click here for more information about the IAM campaign to protect rail workers' rights, including sample letters for representatives and talking points about the long running dispute.

Hawaiian Airlines Braces for Reorganization
Boeing Capital Corporation filed a motion in Bankruptcy Court seeking approval of a reorganization plan for Hawaiian Airlines that calls for new management and an accelerated timeline for the carrier to emerge from bankruptcy.
IAM financial and legal advisors are currently reviewing the details of this proposed plan, which does not call for additional cuts from IAM members. In the weeks ahead, creditors and employees may face additional restructuring proposals.

Go to District 141 website: http://www.iam141.org/

Food for Thoughtlessness
During a visit to door and window maker NuAir Manufacturing in Tampa Florida, President Bush touted the company's plans to hire 40 additional workers as a sign the nation's economy was improving. "Forty workers here, five workers there, begin to add up," said Bush. The president failed to mention, however, that NuAir, like many U.S. manufacturers, had so far failed to hire any new workers.
Following the 49-minute pep talk designed to boost sagging job approval ratings, the president and his party did their part for the local economy, dining in an area restaurant serving $60 steaks, $10,000 bottles of wine and Iranian caviar.
Bush also made no mention during the Florida visit of the 2.8 million factory jobs that disappeared since he took office or of the controversy surrounding Gregory Mankiw, who outraged workers last week when he praised the massive transfer of U.S. jobs to low wage locations overseas. Mankiw is the chairman of the White House Council of Economic Advisors.
---
Past iMail|Your Email|Visit www.goiam.org|Print Version|Sign-Up for iMail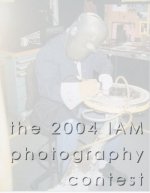 The IAM is repeating its members-only photo contest again this year and you are encouraged to enter. Photo entries should catch IAM members at work in unposed photos. If your entry wins, you'll win a cash prize and your photo will appear in the 2005 IAM Calendar. Go to: pc2005.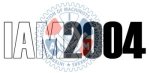 See who works for you, how the IAM is structured, and what services the IAM offers. Go to: IAM2004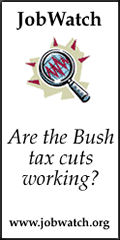 President Bush's promise of new jobs is falling far short. Find out how much at www.jobwatch.org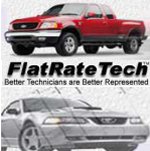 FlatRateTech is an organization "created for and by Ford and Lincoln Mercury service technicians solely to speak as one loud voice rather than 50,000 smaller voices," according to their website http://flatratetech.com. The fast-growing site offers forums for Ford customers, technicians and dealers to exchange information.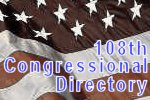 The 108th Congressional Directory . . . get your copy. Send $5 to the MNPL Education Fund, c/o IAMAW, 9000 Machinists Place, Upper Marlboro, MD, 20772.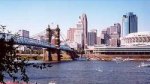 The official site for the 36th Grand Lodge Convention to be held in 2004 in Cincinnati, Ohio is now online. Check it our for convention news, sponsorship offers, and convention gear.