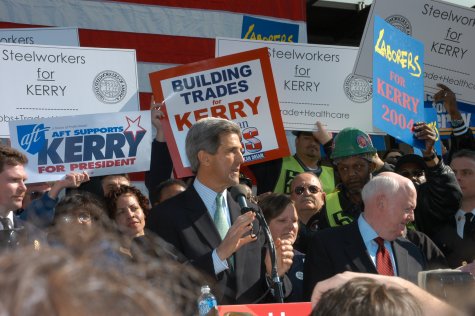 Senator John Kerry shares the podium with AFL-CIO President John Sweeney at a Washington DC rally which marked the association's endorsement of Kerry for President of the United States.


Kerry Wins AFL-CIO Endorsement
The AFL-CIO General Board met today in Washington D.C. and unanimously voted to endorse Sen. John Kerry for President of the United States. The endorsement is only the third time in recent history that a single candidate was able to secure the required two-thirds support of the 13 million-member labor organization.
"Today we stand united in a common cause that is not just to defeat George Bush, but to put our country back on track, on the road of prosperity, the road of fairness, the road of jobs," said Kerry from the steps of the AFL-CIO headquarters building, where hundreds of union members from dozens of unions gathered for a mid-day rally.
In travels around the country, Kerry said he had seen "the wreckage of the Bush economy" over and over again. "Every single year George Bush has promised to create jobs and every year he's ending up losing them."
Also featured at the rally were speakers from across the country who came to highlight the importance of electing a president who understands the jobs crisis facing working families. "What happened in my town is happening all across the country," said Dave Bevard, president of IAM Local 2063 in Galesburg, IL, where Maytag's exodus to Mexico is costing more than 1,600 jobs
The endorsement marks the start of a nationwide mobilization effort. "The union movement is united in making sure that the next president of the United States is one who puts working families' priorities first," said AFL-CIO president John Sweeney. "The time has come to unite behind one man, one leader, one candidate."
Go to the AFL-CIO: http://www.afl-cio.org


Bush on Jobs: Read My Lips?
In the face of widespread disbelief, President George W. Bush backed away from earlier predictions that the economy would add 2.6 million new jobs by the end of the year.
The White House scrambled to shift blame to administration number crunchers, saying Bush, who bills himself as the first president with a Masters in Business Administration, was not a "statistician or predictor."
On Feb. 9, the White House unveiled the 2.6 million figure, which would require a monthly increase of 226,000 new jobs per month. More than 3 million U.S. jobs have disappeared since 2000, with the president's tax cuts and interest rate policies doing little to spark any significant job growth.
The report, sent to Congress over the President's signature, ignited an earlier controversy by praising the overseas outsourcing of U.S. jobs.
The backpedaling by Bush over the widely publicized jobs figure was reminiscent of his father's public promise not to raise taxes. "Read my lips. No new taxes" said former President George Herbert Walker Bush in 1988, only to break the pledge once he was elected.


Machinists Donate $100K to Supermarket Strikers
The IAM Executive Council voted unanimously to donate $100,000 to aid striking supermarket workers in California and urged local and district lodges to join the fight.

"It doesn't matter if you live in California or Connecticut," said IP Tom Buffenbarger. "If you believe your health benefits are worth fighting for, then now is the time to show your support for workers on the front line in California."
The IAM is joining the UFCW and the AFL-CIO in calling on individual union members to make whatever contribution they can to help the strikers, who must still pay utility bills and provide food, housing and medical care for their families. A special website has been set up at https://secure.ga3.org/08/holdtheline/ where union members can make secure online contributions to the UFCW Strike Hardship fund.
Local and district lodges are also encouraged to consider participating in the AFL-CIO's Adopt a Striking Family campaign. For $200 a month, local or district lodges can help feed a locked out family or make health care available for a sick child. Individual one-time contributions of as little as $25 could prevent water or electricity from being shut off. Visit the UFCW website at www.ufcw.org for more information about the strike and ways to help.


Machinists File Appeal in US Airways Case
The IAM filed its request for the full Third Circuit Court of Appeals to rule on whether US Airways' subcontracting of Airbus heavy maintenance triggered a major dispute under the Railway Labor Act.
A three-member panel recently split 2-1 in deciding that the dispute was minor and should be resolved by a System Board of Adjustment. The IAM is asking the full thirteen-member Circuit Court to uphold the District Court's earlier injunction preventing the carrier from subcontracting Airbus heavy maintenance and affirm that US Airways instigated a major dispute based on the collective bargaining agreement, bargaining history and past practice.
The full Appeals Court will determine the status of the injunction in response to the IAM's petition, which is available on the District 141-M web site at www.iam141m.org.


Polls Confirm JOBS! is Issue #1
Voters casting ballots in this week's Wisconsin primary identified the economy and jobs as their most important issues.
Forty-one percent of exit poll respondents said the economy is their main concern, and 39 percent said that their family's financial situation was worse than it was when Bush took office four years ago. Only 21 percent said their situation was better.
Seventy-nine percent of exit poll respondents said the economy was 'not good' or 'poor' and 82 percent were angry or dissatisfied with the Bush administration.
With Democratic presidential primaries in full swing, the state of the U.S. economy and loss of jobs under the Bush administration is rapidly emerging as a key issue all across the political map. Under Bush, the U.S. budget deficit is the highest it has ever more than 2.8 million manufacturing jobs have disappeared.


CBS Pulls GOP Medicare Commercial
Less than a week after the Government Accounting Office (GAO) launched an investigation into the Bush administration's Medicare commercials, a major broadcast network yanked one of the controversial ads off the air.
"Whether it's about toothpaste or advertising about Medicare, the ads have to live up to our standards… about accuracy," said Martin D. Franks, a CBS executive vice president, explaining why the 30-second ad was pulled.
The ad in question, part of a $12.6 million TV and newspaper campaign, says patients under the new Medicare bill will save money on drugs and be able to keep the Medicare coverage they now have. "Same Medicare. More Benefits," concludes the ad despite widespread concerns the new law will cause employers to drop drug coverage for 2.7 million retirees and reduce coverage for up to 9 million additional retirees due to flawed employer subsidies in the law.
The Alliance for Retired Americans has denounced the new Medicare plan as "hopelessly flawed" and called for the government to reimburse US taxpayers for the millions being spent on a "blatantly political Medicare ad campaign."
Click here for more information on the new Medicare legislation and to send a letter to elected representatives calling for an end to the misleading and deceptive ad campaign.
---
Past iMail|Your Email|Visit www.goiam.org|Print Version|Sign-Up for iMail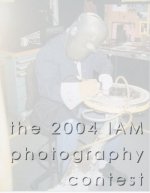 The IAM is repeating its members-only photo contest again this year and you are encouraged to enter. Photo entries should catch IAM members at work in unposed photos. If your entry wins, you'll win a cash prize and your photo will appear in the 2005 IAM Calendar. Go to: pc2005.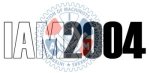 See who works for you, how the IAM is structured, and what services the IAM offers. Go to: IAM2004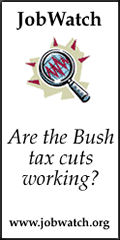 President Bush's promise of new jobs is falling far short. Find out how much at www.jobwatch.org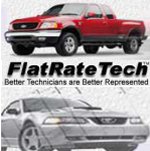 FlatRateTech is an organization "created for and by Ford and Lincoln Mercury service technicians solely to speak as one loud voice rather than 50,000 smaller voices," according to their website http://flatratetech.com. The fast-growing site offers forums for Ford customers, technicians and dealers to exchange information.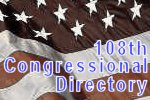 The 108th Congressional Directory . . . get your copy. Send $5 to the MNPL Education Fund, c/o IAMAW, 9000 Machinists Place, Upper Marlboro, MD, 20772.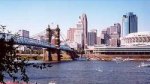 The official site for the 36th Grand Lodge Convention to be held in 2004 in Cincinnati, Ohio is now online. Check it our for convention news, sponsorship offers, and convention gear.