IAM Journal Paints 'Black & Bruised' America
The Spring 2004 issue of the IAM Journal takes a hard look at the jobs crisis that is transforming the American landscape and fast becoming the dominant issue in the upcoming presidential election.

Spread across the covers of the magazine is a U.S. map providing stark proof of how deep the Bush recession is cutting into heartland states. Large swaths of the industrial East and Midwest are drawn in black and purple, signaling unemployment rates of 7 to more than 10 percent. From Southern California to the Great Northwest, the county-by-county bruising approaches epidemic proportions.

As ugly as it is, the map only conveys the official view of the unemployed. Add workers who cannot find full time employment and those have given up looking for work altogether, and the real number of unemployed in the U.S. approaches 13 million!

The map also holds the key to a political strategy that could prove decisive in the upcoming election, according to the Journal. Instead of concentrating solely on battleground states, a national JOBS! strategy would focus message, media and manpower on giving unemployed Americans an issue and a voice on Election Day that could not be ignored.


Organizers Cheer Twin Victories at U-Haul
The struggle to organize one of the most anti-union employers in America got a big boost recently when the National Labor Relations Board (NLRB) ordered U-Haul to reinstate two employees fired last year for organizing activity at its Fremont, California facility.

The judge's ruling called for full back pay for the fired workers and ordered the company to post notices in the workplace outlining employees' lawful rights regarding union organizing and representation.

"I was absolutely ecstatic," said former U-Haul mechanic Michael Warren in an article published in the local newspaper. "I was accused of something I did not do and the truth finally came out." Warren and fellow mechanic Andrew Johnson were discharged by

U-Haul in June 2003, after refusing to comply with company orders to end their organizing efforts with the IAM.

In a separate victory, an NLRB judge rejected challenges by U-Haul and certified election results of May 7, 2003, giving Machinists Local 845 exclusive bargaining rights at the U-Haul facility in Henderson, Nevada.

Click here for more information on the U-Haul organizing campaign and details about the legal victories in California and Nevada.


Defense Dept. Launches Union Busting Campaign
The IAM and more than 30 unions representing nearly 750,000 state, local and federal government workers are calling on the Department of Defense (DoD) to protect the statutory right of employees to organize and bargain collectively.

"The DoD is treating the American workplace as hostile territory to be conquered and occupied," said Frank Carelli, IAM Director of Government Employees. "Just as the war in Iraq proved to be a windfall for certain U.S. corporations, we need to examine the profit motives behind this unprecedented assault on U.S. government workers."

In a Feb. 23 letter, unions representing government workers rejected radical DoD proposals designed to "return labor-management relations to a pre 1962 status, where there was no real collective bargaining, no grievance process, no binding third party arbitration and no independent, impartial resolution of impasses."

Government employees are outraged over claims by the DoD that the war on terrorism and military action in Iraq necessitates changes to workers' collective bargaining rights.

Union representatives and Defense Dept. officials plan to meet Thursday and Friday in Washington, D.C. to discuss the DoD's proposed National Security Personnel System.


IAM Retirees Win Examiner in UAL Case
Bankruptcy Court Judge Eugene Wedoff sided with United retirees and ordered a special examiner to determine if the airline engaged in fraud by publicly encouraging employees to take early retirement after privately deciding to reduce retiree benefits.

Lawyers for the IAM-represented retirees and the Association of Flight Attendants (AFA) jointly called for the investigation after United said it was readying a Section 1114 motion to force benefit cuts on the retirees if they refused to accept cuts voluntarily. Thousands of United employees retired shortly before July 1, 2003, based on assurances their benefits would remain intact.

"United's retirees have lost faith in the airline's management," said IAM District 141 President Randy Canale. "An independent examiner is necessary to investigate United's attack on its retirees." The court-appointed examiner will report back to the judge after an investigation that can take up to 30 days.


Seniors Strategize at IAM Headquarters
A highly energized group of three-dozen IAM retirees traveled to the union's headquarters in Upper Marlboro, MD from Virginia, Maryland and the District of Columbia to discuss political, social and economic issues facing America's seniors.

After presentations by IAM Community Services & Retirees Director Maria Cordone, IP Tom Buffenbarger, GST Warren Mart, GVP Robert Roach, Jr. and Executive Assistant Diane Babineaux, the group resolved to form a local IAM Retiree's Club and join the fast growing network of more than 200 IAM Retiree Clubs.

"These clubs are without a doubt the best way for our retirees to stay involved and to use their combined experience to fight for issues that matter to them right now," said Maria Cordone. "From the crisis facing Medicare to the cost of prescription drugs and even the kind of government we want in the future – all of these things are at stake. When we're mobilized and organized, we can make a tremendous difference."


From the 'Ketchup is a Vegetable' Dept.
The 50-month slide in manufacturing jobs could be halted overnight if economists began counting fast-food servers as workers engaged in manufacturing activity, according to the President's Council of Economic Advisors.

"When a fast-food restaurant sells a hamburger, for example, is it providing a 'service' or is it combining inputs to 'manufacture' a product?" asks a highlighted section in the latest edition of the Economic Report of the President. The current system for classifying jobs "is not straightforward," says to the report.

The result of such a "reclassification" would move hundreds of thousands of fast food workers from the service industry to the manufacturing industry – and bring a statistical end to the nation's manufacturing recession. The presidential report is the same document that recently applauded outsourcing American jobs as good for the economy.

"Playing with definitions will not create one real manufacturing job in America, just like President Reagan defining ketchup as a vegetable did not provide school children one more serving of vegetables," said Rep. George Miller (D-CA).
---
Past iMail|Your Email|Visit www.goiam.org|Print Version|Sign-Up for iMail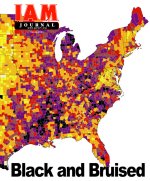 President Bush keeps saying the recession is over, but in counties across America, families struggle to find work. JOBS will be a driving force in the 2004 election. Read the Spring 2004 IAM Journal.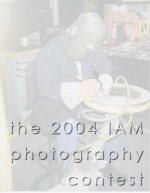 The IAM is repeating its members-only photo contest again this year and you are encouraged to enter. Photo entries should catch IAM members at work in unposed photos. If your entry wins, you'll win a cash prize and your photo will appear in the 2005 IAM Calendar. Go to: pc2005.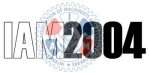 See who works for you, how the IAM is structured, and what services the IAM offers. Go to: IAM2004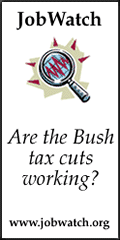 President Bush's promise of new jobs is falling far short. Find out how much at www.jobwatch.org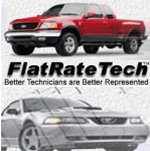 FlatRateTech is an organization "created for and by Ford and Lincoln Mercury service technicians solely to speak as one loud voice rather than 50,000 smaller voices," according to their website http://flatratetech.com. The fast-growing site offers forums for Ford customers, technicians and dealers to exchange information.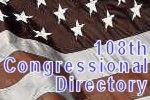 The 108th Congressional Directory . . . get your copy. Send $5 to the MNPL Education Fund, c/o IAMAW, 9000 Machinists Place, Upper Marlboro, MD, 20772.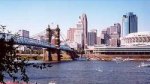 The official site for the 36th Grand Lodge Convention to be held in 2004 in Cincinnati, Ohio is now online. Check it our for convention news, sponsorship offers, and convention gear.