Dream Stealer Strikes Again

Fed Chief Alan Greenspan told Congress that the solution for the looming train wreck between high federal budget deficits and the retirement of the baby boom generation is to keep President Bush's tax cuts for millionaires, but reduce Social Security benefits for working families.

"Alan Greenspan just doesn't get it," said IP Tom Buffenbarger. "He threw the economy into recession and cost three million Americans their jobs because he was scared of inflation. Now he wants to cure the budget deficit by taking money from people who can least afford it, yet leave tax breaks for millionaires in place. This isn't good policy, it's piracy."
The first wave of a projected 77 million baby boomers will begin retiring in just four years. This will cause huge increases in Social Security and Medicare spending. "Now is the worst possible time to be running up the federal debt," said Buffenbarger. "Worse, we are paying for tax cuts that aren't creating jobs today and will rob retirees of Social Security and Medicare benefits tomorrow."
Click here to read the IAM Journal profile of Alan Greenspan, Dream Stealer.

Senators United in Concern for UAL Retirees
Led by Senator Edward Kennedy (D-MA), the ranking member on the U.S. Senate's Committee on Health, Education, Labor & Pensions, nineteen U.S. Senators signed a letter to United Airlines CEO Glenn Tilton urging the bankrupt airline reconsider their proposed reductions to retiree healthcare benefits. The Senators, including Democratic presidential hopefuls John Kerry (D-MA) and John Edwards (D-NC), recognized the sacrifices employees have already made to help reduce United's costs. Click here to read the letter to Glenn Tilton.
Additionally, Bankruptcy Court Judge Eugene Wedoff last week recognized United's retirees' dilemma and ordered a special examiner to determine if the airline engaged in fraud by publicly encouraging employees to take early retirement while privately deciding to reduce retiree benefits.
To view a video about the assault on UAL retirees, click on the link below:
Video: GVP Roach Assails UAL for Attacking Retiree Benefits
Rail Campaign Gains Key Supporter
Representative James Oberstar (D-MN), ranking member of the U.S. House of Representatives' Transportation and Infrastructure Committee, has contacted National Mediation Board (NMB) Chairman Edward Fitzmaurice on behalf of IAM rail employees to urge the NMB to move the mediation process forward.
"IAM representatives met with Oberstar's staff to express our concern over the NMB's lack of action," said GVP Robert Roach, Jr. "But we need every IAM member to contact their Senators and House Representative to pressure the NMB to move the process forward."
Individual members can contact Congress directly through the IAM's website at www.goiam.org/territories.asp?c=5089. The IAM has been in negotiations with the National Carriers' Conference Committee, representing the nations rail carriers, for more than four years. Click here to read Representative Oberstar's letter .



IAM and Air Canada in Pension Accord
Machinists at Air Canada welcomed the announcement that an agreement was reached on funding the deficit in the company's employee pension plans. "This is great news," said Canadian GVP Dave Ritchie. "We've worked long and hard with Air Canada. We now feel we can take something to the federal government."
As part of negotiations last summer, which kept the pension plans intact, the IAM and other unions at the airline agreed to support Air Canada in seeking relief from the strict funding provisions of the federal pension law.
Although details of the agreement could be released before submission to the government, the IAM assured members there would be no changes to the pension plan and the collective agreement between Air Canada and its unions will remain intact.

Desert Toyota Ordered to Bargain
In a legal victory for union savvy auto mechanics, U.S. District Court Judge Larry R. Hicks ordered Desert Toyota, an auto dealership in Las Vegas, Nevada, to reinstate fired union organizers, cease and desist from all anti-union activities and begin bargaining immediately with the Machinists Union.
The strongly worded bargaining order was issued after the IAM and the National Labor Relations Board (NLRB) filed suit in District Court, charging the employer with multiple labor law violations including; harassment, retaliation, threats of and actual termination of employees during a lawful organizing drive.
In addition to requiring Desert Toyota to post written notice of the decision, the judge ordered reinstatement with full back pay and benefits for Jorge Galindo, a mechanic at the dealership who was an early leader in the IAM organizing drive.
"This really is a victory for all workers," said GLR Dennis London. "Employers like these can't be allowed to ignore federal law and get away with it."

It is with sadness and regret that the IAM learned of the death of recently retired Grand Lodge Representative Steve Cooke. After a 15 month-long battle with cancer, Steve passed away on Feb. 16, 2004. He was 58 years old.

Steve joined the IAM in 1969 as a United Airlines Ramp Serviceman after a tour of duty in Vietnam and quickly became involved as a member, steward and officer of Local Lodge 1932 in Los Angeles.
In 1981, Steve became one of the first instructors at what would become the IAM's William W. Winpisinger Center in Placid Harbor, MD. He later became an Assistant General Chairman for Air Transport District 141 in 1988, and was appointed Grand Lodge Representative in 2000. Steve continued to be an active IAM representative until his retirement in 2003.
"Steve Cooke was a good friend and a strong union brother who lived a full and very active life until the end," said Transportation GVP Robert Roach, Jr. "Anyone who knew him was better for the experience. I extend our sincere sympathy to his wife Barbara, and his sons Jared and Christopher from his large family of friends in our union."
"Steve helped build this facility," said Winpisinger Education & Technology Director Jim Leslie. "He is part of this Center's foundation. Every member who passes through our facility will benefit from Steve's work."

Local 2777 Wins Big Arbitration Case
IAM member Michael Sands is pleased after an arbitrator awarded him 74 ½ weeks of back pay and benefits and returned him to his old job following a wrongful discharge.
"It's great to see an injustice corrected," said District Lodge 75 Business Representative Jeff Smith. "It's been rough for Brother Sands. He was fired July 24, 2002, from his job at L3 Communications - Vertex Aerospace LLC in Pensacola, FL, shortly after reporting ethics violations at the company. His wife died earlier that year, and he's raising a son as a single father."
Following the discharge, Lead Steward Dennis Davis investigated the case with the Local Lodge 2777 Grievance Committee. "We all felt the accusations and facts of the case didn't add up," said Smith. "Sands had been at the company five years, with an absolutely spotless work record."
The IAM's grievance on Sands' behalf reached arbitration, where the judge ruled the company wrongfully terminated the employee, clearing the way for Sands' return to work.
"Congratulations to Brother Sands, BR Smith and the Committee," said Southern Territory GVP Bob Martinez. "An IAM contract with a strong grievance procedure was the only way for Brother Sands to have a fair hearing. The diligence and skills of our IAM Representatives pays off once again."
---
Past iMail|Your Email|Visit www.goiam.org|Print Version|Sign-Up for iMail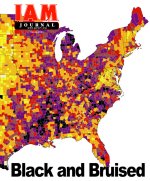 President Bush keeps saying the recession is over, but in counties across America, families struggle to find work. JOBS will be a driving force in the 2004 election. Read the Spring 2004 IAM Journal.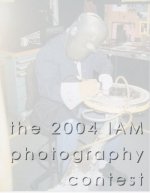 The IAM is repeating its members-only photo contest again this year and you are encouraged to enter. Photo entries should catch IAM members at work in unposed photos. If your entry wins, you'll win a cash prize and your photo will appear in the 2005 IAM Calendar. Go to: pc2005.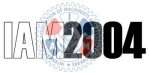 See who works for you, how the IAM is structured, and what services the IAM offers. Go to: IAM2004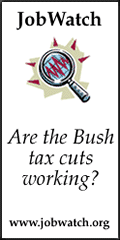 President Bush's promise of new jobs is falling far short. Find out how much at www.jobwatch.org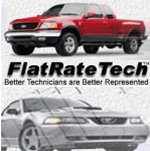 FlatRateTech is an organization "created for and by Ford and Lincoln Mercury service technicians solely to speak as one loud voice rather than 50,000 smaller voices," according to their website http://flatratetech.com. The fast-growing site offers forums for Ford customers, technicians and dealers to exchange information.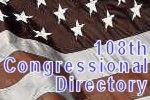 The 108th Congressional Directory . . . get your copy. Send $5 to the MNPL Education Fund, c/o IAMAW, 9000 Machinists Place, Upper Marlboro, MD, 20772.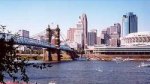 The official site for the 36th Grand Lodge Convention to be held in 2004 in Cincinnati, Ohio is now online. Check it our for convention news, sponsorship offers, and convention gear.