Web Highlights . . .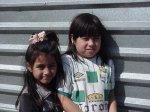 The Real Nafta
The Western and Midwest Territory Staff held a joint conference in San Diego, and took a tour of Tijuana's Maquiladora section. View two photo-essays on the IAM website:

The IAM's Legislative Department provides a comprehensive, state-by-state report on Big Business' favorite legislation.

Read the report

The IAM's
Executive Council
Thursday, March 22, 2001
IAM Keeps Eye on Boeing's Move From Seattle
Boeing's largest labor union was harshly critical of an announcement yesterday that management plans to move its corporate headquarters from Seattle to another city.
"Seattle is the birthplace and historic home of the Boeing Co. The Seattle community has invested billions of dollars in highways, schools and other services to help Boeing succeed, and Seattle's aerospace workers are the most productive, loyal and highly skilled on earth. Bill Boeing must be rolling over in his grave," said Tom Buffenbarger, international president of the Machinists Union, which represents some 63,800 Boeing workers, worldwide.
"The IAM is in the aerospace business for the long haul. We plan on building the world's best airplanes right here, for many years to come. If this move indicates any lessening of Boeing's commitment to this city or to the domestic aerospace industry; if Boeing thinks they can run and hide, we have news for them. We will follow Boeing to the ends of the earth, if need be, because aerospace represents more than our livelihood: it represents the industrial future of America," Buffenbarger said.
Related Links:
IAM Aerospace
District 751
Boeing
---

New Legs For Railroad Retirement Bill
There will not be many bills this year with broad support from Democrats and Republicans and fewer still with equally strong backing from unions and management. The Railroad Retirement and Survivors' Improvement Act of 2001 is such a bill.

The legislation was introduced by the House Transportation and Infrastructure Committee Chairman Don Young (R-AK), Ranking Minority Member James Oberstar (D-MN), Jack Quinn (R-NY) and Bob Clement (D-TN).

Described as a "no brainer" by the committee chairman, the measure improves benefits for rail widows and widowers, lowers the age at which a rail worker may retire with full benefits, and for the first time, permits equity investment of the Railroad Retirement Investment Trust. The bill also provides tax relief for the railroad industry.

"This is a win-win-win piece of legislation that benefits not only the working men and women of the railroad industry, but retirees, widowers and their families, the railroad companies and the American people," said Transportation GVP Robert Roach, Jr.

The rail retirement bill, introduced as H.R.1140, and supported by a bi-partisan coalition of Republicans and Democrats is virtually identical to a predecessor bill (H.R. 4844) which passed the House last year by a 391-25 margin. The bill died in the Senate when Majority Leader Trent Lott (R-MS) refused to bring the measure to a floor vote.

Union members are urged to contact their representatives and encourage them to co-sponsor H.R.1140. "This bill earned broad support last year before being killed off in a partisan hatchet job," said IP Tom Buffenbarger. "It's time to give these hardworking railroad workers the retirement they deserve."

---

First Contract Fight Gets Boost From NLRB
Local W-536 members working at Stimson Lumber in Clatskanie, Oregon received a boost when the NLRB Regional Director issued a complaint against Stimson for more than 20 violations of the National Labor Relations Act. Stimson could incur liabilities for back pay of more than $70,000 and at least $100,000 in legal fees. The decision comes after 11 months of bargaining for a first contract. "The NLRB's action validates what we knew all along. Stimson violated the law trying to deny these woodworkers their fundamental right to bargain," said Business Representative Joel Hembree.

The Board complaint cites Stimson for threatening union leaders; illegally monitoring union supporters; withholding long-standing benefits to punish workers for supporting the union; altering working conditions without bargaining; subcontracting work without notification and shutting down the mill for 2 weeks without adequate notice or bargaining

Stimson lumber is sold nationwide by various lumberyards and Home Depot. Local W-536 plans nationwide informational leafleting at lumber retailers asking consumers not to buy wood made at the company's non-union plants along with efforts to place Stimson on the Unfair List.

---

Social Security, Medicare Get Good Checkup
President Bush's major arguments for privatizing Social Security ring hollow, as trustees for both the retirement system and for Medicare issued a cautiously optimistic report. Social Security remains solvent until the year 2038, a gain of one year. While Medicare remains solvent until 2029, four years longer than previously estimated.

Under the trustees' most optimistic scenario, which assumes faster economic growth and slow gains in life expectancy, both trust funds are flush for the next 75 years.

Related Links:
Social Security Online

---
Kuhar Workers Say 'Union, Yes'
A dedicated in-plant organizing committee overcame a very active anti-union campaign and brought IAM representation to 18 workers at Kuhar Metalizing Co., Kansas, MO, reports Midwest GVP Alex Bay. The new members will join Local 778.

"The main issues in the campaign were better wages and a strong grievance procedure," Bay said. He credited Local 778 DBR Sam Harrell and BR Joe Capra with playing key roles in the winning campaign, along with the organizing committees from Local 778 and 314. "They put a lot of effort into this campaign," he added

---
imail Archives
---
Comments, suggestions, or story items for imail?
Contact IAMAW via email or at 301-967-4520