---


www.tradealert.org is a new website run by the USBIC Educational Foundation, dedicated to protecting American interests against the damaging effects of international trade.
---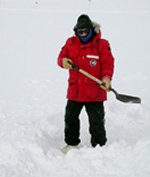 With more than 700 people dying of hypothermia yearly, the IAM Safety Department wants you to know how dangerous it is to work in cold environments.

---


Get Your Convention Gear Check out gear for the 2004 IAM Convention
---

The IAM
Executive Council
International President
R. Thomas Buffenbarger

Secretary Treasurer
Donald E. Wharton

GVP Western
Territory
Lee Pearson
GVP Canada
GVP Canada
Dave Ritchie

GVP Midwest
Territory
Alex M. Bay

GVP Headquarters
Robert V. Thayer
GVP Southern
GVP Southern
Territory
George Hooper

GVP Eastern
Territory
Warren L. Mart

GVP Transportation
Robert Roach, Jr.
Friday, March 1, 2002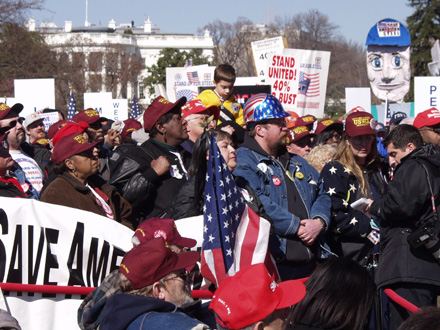 Steel Labor Marches on Washington
They came overnight in bus and car caravans from America's historic steel centers – from Wheeling, Pittsburgh, Cleveland and hundreds of smaller mill towns in West Virginia, Ohio, Pennsylvania, Illinois and Indiana. By noon there were more than 25,000 friends of steel filling the lawn across from the White House. They called on the President to honor his pledge to protect the struggling steel industry.

"President Bush has a choice to make and he has the power to make it," said Leo Gerard, president of the United Steelworkers of America (USWA). Gerard called on the President to block illegal steel dumping and immediately impose a 40 percent tariff on imported steel products. "Unfair trade over the past three decades has wiped out 56 million tons of American steel-making capacity and more than a quarter million steelworker jobs.

"We don't have a trade policy. We've got an employment policy for illegal foreign dumpers," declared Gerard. "That's not competition and it's sure as hell not 'free trade.' That's industrial suicide."

Machinists joined the steelworkers and thousands of industrial union members as they kicked off the rally by reciting the pledge of allegiance while facing the U.S. flag atop the White House.

The Bush administration has until March 6 to decide if it will accept, modify or reject the recommendations of the U.S. International Trade Commission, calling for tariffs on foreign steel and limits on the amount of steel that can be imported. Go to USWA for more information.
---

Strike Looms Large at Lockheed
The refusal by Lockheed Martin officials to provide written assurances that U.S. jobs and defense work will not be shipped overseas is pushing IAM members at the nation's largest defense contractor closer to a strike.

IAM members at Lockheed will vote March 3 on a contract offer unanimously described by union negotiators as 'unacceptable.' "The company has shown a complete and reckless disregard for their employees in these negotiations," said Bob Ramirez of IAM Local 709 in Marietta, Georgia.

"The union's demands are not unreasonable," said John Crowdis, IAM Aerospace Coordinator. "Our members at Lockheed work for a highly successful defense firm that makes huge profits on government contracts."

Lockheed recently won a $19 billion government contract to build the Joint Strike Fighter and yesterday announced a $12.7 billion deal to provide maintenance and upgrades for F-16 fighter aircraft in 14 countries around the world.

If members at Lockheed's plants vote to strike, a walkout could occur on March 10, 2002. For more information visit District 725, or Local Lodges LL166, LL709, or LL2386 web pages.
---

Amtrak Faces Funding Crisis, Possible Shutdown
Amtrak's long distance passenger service could come to a halt on Oct. 1 if the Bush administration's $521 million budget request is not increased dramatically, said Kenneth M. Mead, Inspector General of the U.S. Transportation Department.

Mead's comments echo long-standing warnings by the IAM and Transportation Labor that insufficient funding for Amtrak could spell the end of rail service for 8 million passengers and cost 7,000 railroad jobs across the country.

In their winter meeting, the Executive Committee of AFL-CIO Transportation Trades Department called for a $1.2 billion appropriation for the passenger rail carrier in FY 2003 and rejected plans for privatizing Amtrak as "downright dangerous."
---

International Women's Day is March 8
The IAM joins the International Transport Workers Federation (ITF) in a campaign for basic rights for women around the globe. March 8 marks a special day for women as the two organizations shape initiatives to win those rights, reports Cheryl Eastburn, IAM Women's Dept. director.

Unions around the world are joining the campaign seeking equal access to employment and training, decent jobs, promotion and career development, equal pay for equal work, freedom from sexual harassment and a host of related issues.

This year, the IAM and local lodge Women's Committees are seeking to expand the benefits under the Family and Medical Leave Act. More than 35 million American workers have benefited from the Act since it became law, Eastburn noted. She urged women members to become even more active in their unions and to encourage even more organizing campaigns targeting women workers. For more information visit the International Womens Day web page.
---