---


www.tradealert.org is a new website run by the USBIC Educational Foundation, dedicated to protecting American interests against the damaging effects of international trade.
---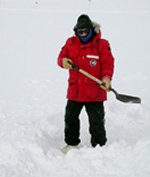 With more than 700 people dying of hypothermia yearly, the IAM Safety Department wants you to know how dangerous it is to work in cold environments.

---


Get Your Convention Gear Check out gear for the 2004 IAM Convention
---

The IAM
Executive Council
International President
R. Thomas Buffenbarger

Secretary Treasurer
Donald E. Wharton

GVP Western
Territory
Lee Pearson
GVP Canada
GVP Canada
Dave Ritchie

GVP Midwest
Territory
Alex M. Bay

GVP Headquarters
Robert V. Thayer
GVP Southern
GVP Southern
Territory
George Hooper

GVP Eastern
Territory
Warren L. Mart

GVP Transportation
Robert Roach, Jr.
Tuesday, March 5, 2002 Special Edition
Machinists at United Airlines Ratify New Pact
Washington, D.C., 11:30 PM EST, March 5, 2002 - Mechanic and related employees represented by the International Association of Machinists and Aerospace Workers (IAM) today ratified a new 5-year agreement with United Airlines. The accord is retroactive to July 12, 2000 and makes 13,000 IAM mechanic and related employees at United the highest paid in the airline industry.

"I want to thank our members at United for the strong support they gave their negotiating committee under very difficult circumstances," said Scotty Ford, District 141-M president and lead negotiator for the mechanic and related group. "Their determination and professionalism allowed the negotiating committee to obtain the best agreement possible."

Today's pact was ratified by 59 percent of the voting membership.

The agreement follows 27 months of direct and mediated bargaining that included the appointment of a Presidential Emergency Board (PEB) in December 2001. A settlement recommendation from the PEB was rejected by the membership on February 12, 2002. Subsequent negotiations produced today's agreement, which was ratified in the shadow of a March 7, 2002 strike deadline.

"Both United Airlines and the White House took actions to delay these negotiations," said Robert Roach, Jr., IAM General Vice President. "Broad support from IAM members and AFL-CIO transportation labor unions gave our negotiating team the ability to overcome these roadblocks and reach an agreement."

In separate negotiations, IAM District 141, representing 30,000 Ramp & Stores, Public Contact, Food Services and Security Officers continues to meet in federal mediation with United Airlines.
---