Thursday, March 9, 2006
Machinists Announce Vote Results at NWA
IAM members at Northwest Airlines delivered a split decision on the bankrupt airline's $190 million cost cutting proposal.
In separate voting by classification, Northwest's proposal was accepted by the 7,677-member Clerical, Office, Fleet and Passenger Service group and the 18-member Plant Protection group. A similar proposal was rejected by the 5,632-member Equipment Service and Stock Clerks and the 42-member Flight Simulator Technicians and Simulator Support Specialists.
A simple majority of those casting ballots determined the outcome in each classification. Seventy-five percent of all eligible voters cast ballots.
Terms of Northwest's offer included reducing the current court-imposed wage cut from 19 percent to 11.5 percent and replacing the airline's faltering pension plan with the IAM National Pension Plan. The NWA proposal also called for significant job cuts, reduced health-care benefits and station closures.
The ratified agreements will take effect upon approval by the bankruptcy judge overseeing the carrier's financial affairs. Northwest is expected to ask the court to set a date for the resumption of the Section 1113(c) trial for the two groups that did not ratify the company proposal.
"The anger and frustration among all employee groups at Northwest Airlines was evident throughout the voting process," said District 143 President Bobby De Pace. "In the end, Northwest management failed to convince a majority of the workforce that the proposal was appropriate or that they could be trusted to honor their commitments."
In August 2003, NWA refused to abide by terms of the 1993 Employee Stock Plan calling for the carrier to redeem all outstanding NWA Corp. preferred shares held by an IAM trust. Following a court ruling that the carrier breached its promise to buy back the employee stock, the airline filed for bankruptcy.
"The IAM is prepared to meet Northwest Airlines at the bargaining table and in the courtroom," said De Pace who warned NWA of dire consequences if they fail to bargain in good faith. "The ESSC and SIMOP groups also authorized a strike if acceptable contract terms are not reached and the bankruptcy court abrogates their contracts."

Additional information is available at www.iam143.org.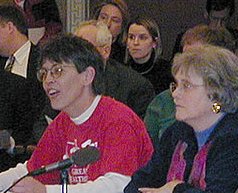 Sue Eichstadt testifies for a state constitutional amendment to guarantee health care to all Minnesotans. At right is the bill's author, state Senator Linda Berlin, DFL-Minneapolis
First the Walk,
And Then the Talk
LL 1956 member Sue Eichstadt had her first experience testifying before a legislative committee last week. But it certainly won't be her last.
The mother of four garnered headlines last November when she decided to walk from her home in Windom, Minnesota to the state Capitol – a 154-mile trip that took seven days – to demand action on health-care reform.

Along the way, she held town hall meetings and gathered signatures on a petition demanding a constitutional amendment making health care a right for all Minnesotans.
The effort was exhilarating – but it didn't end when Eichstadt took off her walking shoes. "The walk to me isn't done until everything gets passed" to guarantee health-care, she said.
Eichstadt will be a fixture at the state Capitol this year, already having been recruited to speak at the Minnesota Nurses Association and the Machinists union lobby days. On Thursday, the second day of the session, she testified in support of the health-care amendment before the state Senate Health and Family Security Committee.
The real organizing for the legislation takes place outside the Capitol, she noted. "I keep getting phone calls from people who want me to come talk to them." Eichstadt has met with church groups, unions, community organizations and others. At each stop, she gathers more signatures on her petition, which she will deliver to lawmakers.
"It's the same message – affordable and accessible health-care should be a right for all," she said. "The politicians have to put all their differences aside and solve this issue."
Minnesota AFL-CIO Legislative Director Brad Lehto said people like Eichstadt embody the true spirit of citizen participation in government. "Sue is incredible," he said. "I expect we will see a lot of her this session."

Southern Territory Racks Up Organizing Wins
Dade County , Florida
Seven office and clerical workers for the Dade County Association of Fire Fighters Local 1403 join the IAM. They will be members of District 166.
Altoona, Florida
Seven bombing range technicians for Arcata Associates, at a U.S. Navy bombing range attached to NAS Jacksonville and Cecil Field, voted IAM yes and will be members of District 112 .
Havelock , North Carolina
Thirty-five woodworkers and shipping and receiving personnel at Akima Corp at Cherry Point NAS voted to join the IAM. The workers package and preserve aircraft parts for the Navy and Marine Corps. They join many other Cherry Point IAM members in District 110.
"We are seeing successes with our ambitious organizing plan this year across the territory, and I believe this is just the beginning," said Southern Territory GVP Bob Martinez. "I want to welcome all of our newest members into the IAM."


Pumpernickel Express Drivers Have New Union, Contract
The truck drivers at Pumpernickel Express in Windsor, Connecticut not only have gained representation in the IAM under a voluntary agreement between the union and the company, and after a March 5, 2006 ratification, they have a brand new contract.

Eastern Territory GVP Lynn Tucker, Jr., welcomed the 50 new members of District 15 and LL 447 into the IAM family. "I'd like to congratulate District 15 DBR Jim Conigliaro and BR Jim Foley for some hard work in getting this accomplished," said Tucker.

Roger Nauyalis Named Midwest Territory AA
March 8, 2006 IAM Midwest Territory General Vice President James E. Brown announced that his successor Phil Gruber
has chosen Grand Lodge Representative Roger Nauyalis as Administrative Assistant effective July 1, 2006.
"The new leadership team in the Midwest Territory has a proven record of excellence in providing service to our members," said GVP Brown.
Roger Nauyalis was appointed Grand Lodge Representative in 1978. During his tenure as a staff representative his primary responsibilities included servicing bargaining agreements, handling matters before the National Labor Relations Board, handling internal complaints and organizing. Nauyalis is assigned to the state of Illinois.

Initiated in 1967 Nauyalis began working as an electronic technician at a Gulf & Western plant in Moline, Ilinois. He served as a Steward, Chief Steward, Shop Chairperson, Local Lodge Officer and District Lodge Officer and was elected as a Business Representative in 1972.


Bush Administration's Debt Addiction Grows
President Bush claimed America is addicted to oil, but his administration and Congress are showing signs of a dangerous addiction to debt. Treasury Secretary John Snow has asked Congress for another fix, requesting an immediate increase in the national debt limit to avoid a government default as early as March 20. If the Senate approves the $781 billion increase, it will be the Bush administration's fourth debt limit increase in the last five years.
Snow admitted the government was tapping into the Civil Service Retirement and Disability Fund and had already used $15 billion from the Exchange Stabilization Fund to keep the government out of default and under the current $8.18 trillion debt limit.
The Bush administration and GOP Congressional leaders are eager to get the limit increased with the least publicity possible. House GOP leaders avoided a direct vote on the debt limit by burying the increase in a budget bill.
The Senate must vote separately on the increase and soon. Democrats are calling for a full debate, but Senate Majority Leader Bill Frist (R-TN) plans to limit discussion by scheduling the vote just before the March 18 recess and may use a voice vote so no Senator's vote goes on record.
President Bush's record deficits have almost doubled the federal debt in just five years. An analysis by the Center for Budget and Policy Priorities shows the President's tax cuts for wealthy Americans account for almost half of the budget shortfall. Some of the biggest tax cuts for the rich don't kick in until after 2006, making future deficits even worse.
"This Administration is running our government like the old saying, 'I can't be out of money, I still have checks,'" said IAM President Tom Buffenbarger. "Unfortunately, it's working families who will have to pay the overdraft charges and make good on the debt."