---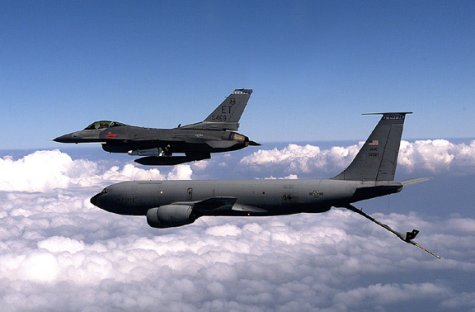 Aging, in-flight, fuel tankers like the KC-135 pictured above need to be replaced, but plans to replace them with IAM member-made Boeing 767s are in danger because Bush administration officials want Airbus in the contract bidding process.

Tanker Deal Could Go to Airbus

The $27.6 billion deal to replace the military's aging fleet of KC 135s with U.S.-made Boeing 767 aerial tankers could be scuttled despite a Pentagon investigation that found "no compelling reason" to scrap the deal.
U.S. Air Force Secretary James Roche said on Wednesday he would consider allowing Airbus to bid on the tanker deal if Defense Secretary Donald Rumsfeld backed off the plan to lease 20 of the modified 767s and buy 80 more. "I would be delighted to do it,'' said Roche to reporters about allowing Airbus to bid for the huge military contract.
The tanker deal represents a lifeline for Boeing workers on the 767 assembly line in Everett, WA. "The prospect of a major military contract going to a foreign-owned company while this country is fighting a war abroad and struggling to survive economically at home is almost beyond belief," said IP Buffenbarger, who appeared on CNNs Lou Dobbs Tonight to discuss the issue. "The cost of a misstep here will be measured in lives as well as livelihoods."
To send an "Action Alert" message to your legislator, click on the following link:
"Tell Congress to support U.S. jobs, fund the 767 tanker."

Machinists 'Ready for a Fight' at Hamilton Sundstrand
With a May 2 contract deadline looming on the horizon, Local 743 and District 26 began negotiations this week with Hamilton Sundstrand for a new contract covering 1,076 IAM members in Windsor Locks, Connecticut.
"Our members work hard and many have given a lifetime to this company. They deserve economic dignity in retirement," said IAM District 26 Chief Negotiator James Parent, who listed jobs, retirement benefits and health care as top priorities. "Our members are prepared to do what's necessary to win the contract they deserve," added Local 743 President Mark Hebert.
The negotiations mark the first meeting this year between the IAM and a United Technologies Corporation (UTC) subsidiary. In December 2003, IAM members at UTC Fuel Cells ratified an agreement where the company forced changes to health insurance coverage for retirees. Workers at Hamilton and Pratt & Whitney Aircraft expect UTC to propose similar terms.
Indicating the importance of these negotiations, Eastern Territory GVP Lynn Tucker, Aerospace Coordinator Frank Santos and Grand Lodge Rep. William Rudis attended the first day of negotiations. "These negotiations are about jobs," said GVP Tucker. "Not only for our members, but for Connecticut as well."

U.S. Official Threatened Over Medicare Estimates
A Bush administration official claims he was "just kidding" when he threatened to fire the chief analyst of Medicare costs if he divulged the true cost of the Medicare bill while it was being debated in Congress.
Richard Foster, a nonpartisan Department of Health and Human Services (HHS) official claimed that HHS Administrator Thomas Scully repeatedly told him he would be fired if he provided lawmakers with accurate cost estimates of the proposed Medicare legislation. Foster said Scully directed him to "cease responding directly to Congress" and to forward all cost estimates directly to him. "Certainly, Congress did not have all the information they might have wanted, or that we had," said Foster in a newspaper interview.
Throughout the debate, GOP leaders claimed the bill would not cost more than $395 billion over ten years, a figure the White House did not dispute. Shortly after the bill was signed into law, the White House released Foster's estimate of $534 billion.
The disclosure drew blistering criticism from Democrats as well as Republicans, with Senate Minority Leader Thomas Daschle calling for a new vote on the legislation saying, "members of Congress were called to vote under false pretenses."

Act Now To Protect Asbestos Victims
A bill working its way quietly through Congress has the potential to slam the door on victims and families seeking compensation for asbestos-related death and disability.
The so-called "Fairness in Asbestos Injury Resolution Act" (S. 1125), introduced by Sen. Orrin Hatch (R-UT), is scheduled to come to the Senate floor by the end of March or the first week in April. As currently written, the bill would be a windfall for companies like Halliburton that knowingly exposed workers and the public to asbestos.
"Any federal asbestos legislation must provide victims with fair and timely compensation," said District 19 President Bob Reynolds, in a letter to Sen. Mitch McConnell (R-KY) outlining major flaws in S. 1125. "There is no program set up to provide medical screening to workers who have been exposed to asbestos and are at high risk of developing disease. The workers' compensation system for rail workers with asbestos disease is eliminated."
A recent study http://www.ewg.org/reports/asbestos/ by the Washington-based Environmental Working Group projects that more than 100,000 people in the United States will die from asbestos-related diseases over the next 10 years. Click here to send an urgent message to Senators urging them to oppose S. 1125 until all major flaws in the bill are corrected.

Colin Powell Lauds Outsourcing
The U.S. Secretary of State became the latest Bush administration official to promote outsourcing - the transfer of U.S. jobs to overseas locations -- as the wave of the future.
Following meetings with Indian officials, Colin Powell told reporters that outsourcing is "a reality of the 21st century," and that the Bush administration would not try to stem the flow of high tech jobs to India.
U.S. companies have already moved more than 200,000 high tech jobs to India, where computer programmers, accountants and medical technicians earn as little as $2000 to $7000 a year. Not unlike China, India's economy is notoriously closed to outsiders. In 2003, the U.S. had an $8 billion trade deficit with India.
"Outsourcing is a natural effect of the global economic system and the rise in the Internet and broadband communications," said Powell in response to a student who asked if he supported outsourcing, all but blaming U.S. workers for creating the technology that is now costing them their jobs.

A Plan to Reinstate the Draft?
Congress has quietly added $28 million to the 2004 Selective Service System budget to fund preparations for a military draft that could begin as early as June 15, 2005.
Officials for the Selective Service System confirmed that planning for a targeted registration and draft are underway, but that no formal request to activate compulsory military service has been received from Congress or the Pentagon.
According to Selective Service spokesperson Richard Flahavan, planning for a draft of linguists and computer experts began last fall after Pentagon officials bemoaned the lack of soldiers with those skills. More than 13 million men and women, age 18 to 25 are currently registered with the Selective Service.

Helicopter Tech's Vote to Join IAM
In the latest Southern Territory organizing win, electronics technicians at Cubic Worldwide Technical Service, Inc. in Norfolk, VA voted unanimously to join 50 of their coworkers as members of IAM Local Lodge 97.
"It only took two minutes for everyone to vote," said DL 74 Directing Business Representative Larry Young. "They're ready to start negotiations for a new contract." The new members work on a helicopter program at Worldwide. Other IAM members at the company work on the F-14 program.
"I'm happy to welcome our newest members," said Southern Territory GVP Bob Martinez. "We continue to pick up new members as they see how important a strong IAM contract is. Congratulations to DBR Larry Young and District 74."
---
Past iMail|Your Email|Visit www.goiam.org|Print Version|Sign-Up for iMail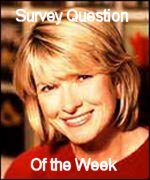 Should Martha Stewart Serve Time in Jail. . . more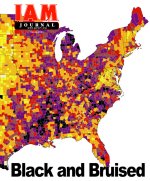 President Bush keeps saying the recession is over, but in counties across America, families struggle to find work. JOBS will be a driving force in the 2004 election. Read the Spring 2004 IAM Journal.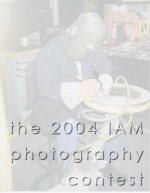 The IAM is repeating its members-only photo contest again this year and you are encouraged to enter. Photo entries should catch IAM members at work in unposed photos. If your entry wins, you'll win a cash prize and your photo will appear in the 2005 IAM Calendar. Go to: pc2005.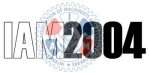 See who works for you, how the IAM is structured, and what services the IAM offers. Go to: IAM2004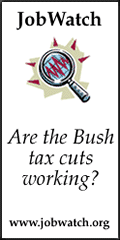 President Bush's promise of new jobs is falling far short. Find out how much at www.jobwatch.org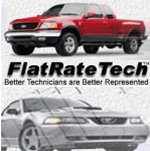 FlatRateTech is an organization "created for and by Ford and Lincoln Mercury service technicians solely to speak as one loud voice rather than 50,000 smaller voices," according to their website http://flatratetech.com. The fast-growing site offers forums for Ford customers, technicians and dealers to exchange information.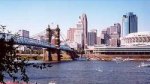 The official site for the 36th Grand Lodge Convention to be held in 2004 in Cincinnati, Ohio is now online. Check it our for convention news, sponsorship offers, and convention gear.