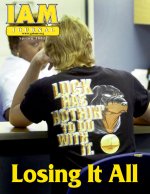 Unemployment soared and manufacturing jobs in North America were wiped out in record numbers, yet Congress did nothing to help workers in danger of losing everything they have. In the 2000 Spring IAM Journal, IAM members from across North America tell how it feels to be losing it all.
---


www.tradealert.org is a new website run by the USBIC Educational Foundation, dedicated to protecting American interests against the damaging effects of international trade.
---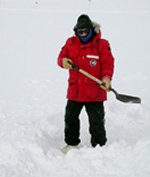 With more than 700 people dying of hypothermia yearly, the IAM Safety Department wants you to know how dangerous it is to work in cold environments.

---


Get Your Convention Gear Check out gear for the 2004 IAM Convention
---

The IAM
Executive Council
International President
R. Thomas Buffenbarger

Secretary Treasurer
Donald E. Wharton

GVP Western
Territory
Lee Pearson
GVP Canada
GVP Canada
Dave Ritchie

GVP Midwest
Territory
Alex M. Bay

GVP Headquarters
Robert V. Thayer
GVP Southern
GVP Southern
Territory
George Hooper

GVP Eastern
Territory
Warren L. Mart

GVP Transportation
Robert Roach, Jr.
Tuesday, March 19, 2002

Members to Speak Out at New Town Hall Meetings
IAM members are invited to speak out about the state of their union at 40 meetings to be held in the next three months across the U.S. and Canada.
The IAM's 2002 Blue Ribbon Commission met last weekend at the Winpisinger Center to finalize plans for a new round of "Town Hall Meetings." Like the very successful meetings in 1995 and 1998, members will be asked to state precisely what is working well or not so well within the IAM and what changes they want to see in the union.
"Our members' comments, both positive and negative, have guided most of the major changes in the IAM since the first Blue Ribbon Commission convened seven years ago," said IP Tom Buffenbarger.
"The Commission's job is to listen quietly to the members and get the most honest, frank opinions they can. We want a big turnout and plenty of feedback at every meeting," Buffenbarger said.
Local and District Lodges will soon receive letters announcing the times and places of the Town Hall Meetings in their area. Members can also access the Commission's website, www.iamaw.org/publications/brc/index.htm, for more information.
"We have designed a process to effectively gather the data from our members," Winpisinger Center Director, Jim Leslie told the Commission members. "We have trained you in how to conduct successful town hall meetings and prepare a report that accurately reflects what you heard, honestly and completely."
---
IAM Battles 'Corporate Terrorism' in Bankruptcy Fight
The IAM fired another barrage in the battle to save the jobs of 115 members and other workers at the venerable Shepard Niles, Inc. facility in Montour Falls, NY. The union joined efforts by a retirees' group seeking to overturn a Bankruptcy Court ruling in favor of a Finnish-based purchaser who plans to close the facility.
The retirees' argue they were not represented at the bankruptcy hearing last week and that the firm is required to maintain the retirees' medical and life insurance plan.
"Selling this company to a firm that would shut it down, lay off skilled workers and move these jobs away from a depressed community is corporate terrorism," charged GVP Warren Mart. "These actions are a true measure of how evil greed can be." IAM Local 1765 has represented workers at the facility since 1943. The firm has been in operation in the upstate New York community since 1878.
---
Mansfield Selected as New NMB Chief of Staff
The National Mediation Board (NMB) announced recently the selection of Benetta M. Mansfield as the new Chief of Staff to replace outgoing Chief of Staff Stephen E. Crable. She assumed her new duties on March 11,2002 and has designated Larry Gibbons to serve as Acting Deputy Chief of Staff.
"The IAM recognizes Ms. Mansfield as an astute and knowledgeable mediator," said GVP Roach. "Her experience and knowledge of labor issues are great assets to the Board. We wish her well, and look forward to working with her in her new role."
The NMB, established by the 1934 amendments to the Railway Labor Act of 1926, is an independent agency that performs a central role in facilitating labor-management relations within the railroad and airline industries.
---
Hawaiian - Aloha Merger Called Off
Under pressure from employees, lawmakers and consumers, Hawaiian Airlines called off its proposed $200 million merger with Aloha Airlines.
From the initial announcement of the merger the IAM has actively opposed the merger. "The welfare of employees should be in the forefront of any merger consideration," said IAM General Vice president Robert Roach, Jr. "The collapse of this merger means job security for the hundreds of IAM members who would have lost their jobs had the merger been successful."
Hawaiian Airlines said in a statement that it had been asked by TurnWorks, the Houston firm organizing the merger, to consider extending an April 18, 2002 "outside date for completing the merger" but decided not to extend the date.
"The IAM will work with both carriers to ensure the prosperity of the individual airlines," added Roach.
---
Jobless Figures Carry Mixed Message
Unemployment figures for February show working families haven't reaped the fruits of the economic upturn. The good news is that the jobless rate dropped to 5.5 percent. The not-so-good news is that the number of part-time workers looking for full-time work but unable to find it went up. The number of discouraged workers who stopped looking for work because they believe no jobs are available went up as well.
The bad news is that manufacturing continued its dismal decline—1.3 million manufacturing jobs have been lost in the past year. "This is why Congress, and the White House, must put workers first," said IP Tom Buffenbarger. "Let's get serious about forging a re-industrialization policy. We need a coherent plan that will create new jobs, not just new tax loop holes."
---
23 States Flunk Jobless Benefits Test
The unemployment insurance system in nearly two dozen states failed to meet the basic needs of jobless workers, according to a joint study conducted by the Economic Policy Institute, the center on Budget and Policy Priorities and the National Employment Law Project.
The survey keyed on five basic areas: eligibility standards, benefit levels, revenue, trust fund adequacy and recession preparedness. States need passing grades in only three of the five areas. Twenty-three states flunked the test. In the area of eligibility, 48 states and the District of Columbia failed.
Overall, only 40 percent of workers actually receive benefits when they lose their jobs. Poorly structured eligibility standards too often deny benefits to low-wage and part-time workers who need them most. In eight states, even the maximum benefits is too low to keep a family of four out of poverty. For more information, visit www.aflcio.org/news/2002/0312_ui.htm.
Notably, the IAM Journal was the first magazine to warn about the dismal state of state unemployment funds in Reality Checks http://www.goiam.org/publications/summer2001journal/covers2001.htm