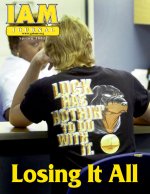 Unemployment soared and manufacturing jobs in North America were wiped out in record numbers, yet Congress did nothing to help workers in danger of losing everything they have. In the 2000 Spring IAM Journal, IAM members from across North America tell how it feels to be losing it all.
---


www.tradealert.org is a new website run by the USBIC Educational Foundation, dedicated to protecting American interests against the damaging effects of international trade.
---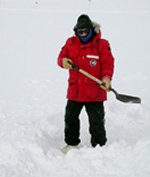 With more than 700 people dying of hypothermia yearly, the IAM Safety Department wants you to know how dangerous it is to work in cold environments.

---


Get Your Convention Gear Check out gear for the 2004 IAM Convention
---

The IAM
Executive Council
International President
R. Thomas Buffenbarger

Secretary Treasurer
Donald E. Wharton

GVP Western
Territory
Lee Pearson
GVP Canada
GVP Canada
Dave Ritchie

GVP Midwest
Territory
Alex M. Bay

GVP Headquarters
Robert V. Thayer
GVP Southern
GVP Southern
Territory
George Hooper

GVP Eastern
Territory
Warren L. Mart

GVP Transportation
Robert Roach, Jr.
Friday, March 22, 2002


Amtrak Funding Bill Introduced
In a move that could add much needed sanity to the debate on Amtrak's future, the Senate Budget Committee proposed $1.2 billion for Amtrak in the 2003 fiscal year budget resolution.

The funding proposal would give Amtrak the ability to improve its infrastructure, upgrade security and continue operating routes nationwide. Amtrak has long been handicapped by demands that it achieve operational self-sufficiency. The threat to Amtrak's survival increased recently when the rogue Amtrak Reform Council proposed auctioning off the systems' prize assets in a move that could cost thousands of railroad jobs.

"Including this funding in the budget is a good first step," said Senator Joe Biden (D-DE), one of 49 Senators who urged the funds for Amtrak. "Now, the Congress must follow through on its commitment by appropriating the $1.2 billion Amtrak needs to run a truly national, efficient and safe passenger rail system."
---
Boeing Workers Get a Boost
The IAM played a key role in helping win federal aid for laid-off Boeing workers, including job search allowances and income support, reports Mark Blondin, District 751 president. The aid comes from the Trade Adjustment Assistance program, which provides help to people who lost jobs or whose wages drop because of soaring imports.

Blondin pointed out that domestic airlines imported about $30 billion worth of planes made by Airbus, Boeing's chief rival, plus many foreign-made aircraft parts. "If domestic airlines would just buy American, buy Boeing aircraft, there would be enough work to keep all our members employed for a good long time," he said.

Blondin and other IAM members worked with their congressional delegations to persuade the government to provide the help.

Boeing plans to reduce its workforce by as many as 30,000 workers by mid-year.
---
Senate Panel Passes Pension Reform
A Senate committee took a first step towards meaningful pension reform legislation that strengthens workers rights and protections. On a party line 11-10 vote, the Senate Health, Education, Labor and Pensions Committee approved the measure that grew out of the Enron bankruptcy scandal that pillaged the firm's 401(k) plan and left thousands of workers holding an empty bag.

Sen. Ted Kennedy, D-MA, offered the reform measure which requires the company to provide more information to workers and encourages employers to offer independent investment advice to workers. Further, the bill ensures that workers have an equal voice in running their 401(k) and other defined contribution retirement plans.

The bill, S.1992, combines a new right for workers to sell company stock in a 401(k) plan with important reforms to counterbalance employer pressures that induce workers to load up on company stock.

By contrast, President Bush offered a plan, passed by a House committee, that lets companies force workers to remain invested in company stock for long periods of time and eliminates worker protections. The Bush bill could require workers to remain invested in company stock for as long as they work for the company.
---
Legislative Conference to Focus on Jobs
Time is growing short for delegates to make hotel reservations for the IAM Legislative Conference slated for May 13-17 in Washington, DC. Room reservations at the Hyatt Regency Washington must be made by April 14. Contact the hotel at 202-737-1234.

The conference opens May 13 at 1:30 p.m. IP Tom Buffenbarger will deliver the keynote address, which will focus on reversing job losses and re-building North America's manufacturing base. Two afternoons have been set aside so that delegates may meet with their congressional delegations on important legislative issues.

All delegates should pre-schedule meetings with their representatives and senators. The events' final day will be devoted to an IAM Day of Action on Capitol Hill. Call the hotel today at 202-737-1234, and make your reservations for this important event.
---
Ergonomics Ban Takes Heavy Toll
Almost 1.8 million workers across the country have suffered ergonomic injuries since President George Bush overturned the OSHA standard for preventing injuries such as carpal tunnel syndrome and back strain. Many of those injuries could have been prevented had the OSHA standard been in force.
The ergonomic rule grew out of a decade-long fight that saw the business community finance an all-out war against a rule that is designed to address the nation's most prevalent workplace safety hazard. During this past year, workers suffered a workplace ergonomic injury every 18 seconds.
President Bush and Labor Secretary Elaine Chao made repeated promises that the administration, working with business and workers, would develop a new ergonomic strategy. Workers are still waiting for that standard.
---
ILO to Probe Globalization
The International Labor Organization (ILO), an arm of the United Nations (UN), is the first international body to study the social consequences of globalization. AFL-CIO President John Sweeney is one of three American representatives on the ILO panel that will spend a year
analyzing the impact of globalization on employment, poverty and the perceptions of workers and employers. The panel will make its recommendations next year to the ILO, the UN and the World Trade Organization.
---
Workers Memorial Day Plans Underway
Workers Memorial Day, April 28, becomes even more poignant this year given the number of workers killed in the terrorist attacks on September 11. "We have a deep commitment to remember our lost brothers and sisters," said IP Tom Buffenbarger. "We honor them best by fighting for the living with every muscle, blood cell and bone we possess."

The IAM will hold a service honoring fallen members at the Winpisinger Center in southern Maryland. Forty-five new names will be added to the union's Worker's Memorial at the center.
For other information about Worker Memorial Day visit the AFL-CIO website at www.aflcio.org.