Tuesday, March 25, 2003

Health Care: 'A Right, Not a Privilege'
Last year, more than 41 million Americans---men, women and children--- had no health insurance. That's a jump of more than 1.4 million from the previous year. Some 30 million additional citizens have gone without health coverage at some point during the past two years.
"These statistics border on the criminal. How can the richest, most powerful nation on the face of the Earth allow this to happen?" asked IP Tom Buffenbarger. "Health care for all Americans must be viewed as one of those inalienable rights our Founding Fathers outlined. Health care is not a bonus for the privileged few. That's just wrong."
Lack of affordable health care means that children and their parents go without the critical care they need. Soaring health care and prescription drug costs and employers who refuse to pay their fair share mean that being uninsured is not just a problem for the unemployed.
In fact, eight out of 10 uninsured Americans are in working families. Adding to the problem, lack of access to health care means higher costs down the road.
Congress should act now to ease these problems. Lack of congressional action means states must make budget cuts that end up hurting the uninsured.
---
Canadian Auditor Named to New Post
Canadian GVP Dave Ritchie announced the appointment of Canadian Auditor Tom Lee as his Administrative Assistant, succeeding retiring AA Vincent Blais.
GVP Ritchie saluted Blais as "an outstanding Administrative Assistant whose loyalty to his office and the Canadian membership has been of great value to all of us in our union." Brother Lee, a member of Local Lodge 235 and a former member of Local Lodge 1755, served as Auditor for Local Lodges throughout Canada since 1989.
As a member of Local Lodge 1755, he served as President, Vice-President, Shop Steward, Plant Committee Member, Financial Secretary and as a member of the negotiating committee. He is a Past President of District Lodge 78 and was elected as a Business Representative of the District Lodge in 1985, a post he held until his appointment as Auditor.
In making the appointment of Brother Lee, GVP Ritchie said he was "delighted by his willingness to serve our members, and I am confident that given his long membership and experience with our union he will be an excellent Administrative Assistant."
---
IAM Activist Named to State Labor Post
Gov. Gray Davis, D-CA, appointed Matthew R. McKinnon as deputy undersecretary of that state's Labor and Workforce Development Agency. McKinnon is the executive secretary-treasurer of the California Conference of Machinists, a post he has held since 1994.
In his new position, McKinnon takes responsibility for the planning, organizing, facilitating, oversight and direction of the Job Services, Unemployment Insurance, Workforce Development, Apprenticeship Standards, Disability Insurance and Workers' Compensation programs. His new position strategically links job creation and development programs to employers and workers.
McKinnon, a veteran IAM and civic activist, served as Health and Safety director for the California Labor Federation, and was assistant COPE director for the San Diego Labor Council. Earlier, he was a business representative for IAM District 50.
---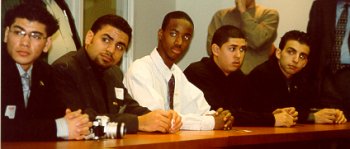 Two dozen Aviation High School students visited the IAM's
William W. Winpisinger Center recently for a union perspective
on the commercial airline industry.

IAM Hosts Aviation High School Students
Expanding the relationship between the IAM and New York's Aviation High School, 24 students and their chaperones traveled to southern Maryland recently to spend time at the William W. Winpisinger Education and Technology Center.
"This is a unique opportunity for these students," said GVP Robert Roach, Jr. "Aviation High School prepares the students for the technical aspects of their future profession, and the IAM exposes them to the role unions play in their chosen career."
The nationally recognized New York public high school trains students in aviation maintenance in addition to traditional high school studies. "When students graduate, they not only have high school diplomas, but also the Airframe and Powerplant (A&P) licenses required by the FAA in order to repair aircraft," said GVP Roach. "Ten percent of the aircraft mechanics in the United States received their licenses from Aviation High School."

The IAM regularly escorts seniors from the high school to LaGuardia Airport to work alongside experienced IAM members at US Airways.
---
Eastern Territory Cops Organizing Win
The District 98 Organizing Team, led by Organizer Robert Myers and Directing Business Representative Tom Boger, notched another victory with the successful affiliation of the Southern Police Officers Association in New Freedom, Pennsylvania.
The victory brings 11 new members into the IAM family and continues the Eastern Territory's reputation for seeking out large and small organizing opportunities.
"On behalf of the Eastern Territory and its members, I would like to welcome our newest members and extend our congratulations to District Lodge 98 for a job well done," said GVP Warren Mart.
---
International Is Now Trade and Globalization
With the new demands union members must confront in the changing global economy, the IAM Executive Council renamed the IAM's International Department to the Department of Trade and Globalization. "It's a changed world that our members must work in. Companies are owned by foreign conglomerates, offset agreements send critical aerospace jobs overseas and there's a growing web of trade deals to navigate. We're not just changing the name, we're defining a new mission for a key department at IAM Headquarters," said IP Tom Buffenbarger.
The Department of Trade and Globalization will focus on fundamental rights for North American workers in trade policies, track movement of jobs and capital by multi-national corporations and coordinate with labor organizations across the globe. "The global economy is a challenge for workers in every country," said Trade and Globalization Department Director Owen Herrnstadt. "By working together and coordinating our efforts, we can stop the global race to the bottom and improve the standard of living for workers throughout the world."