Web Highlights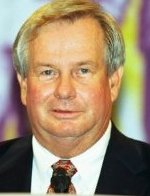 Remembering Mike Day

Mike amassed a distinguished history of
involvement in the labor movement and in the pursuit of better wages and working conditions for the men and women of the IAM.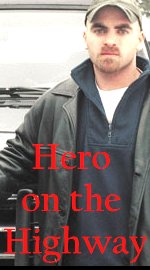 With little regard for his own safety, LL 1788's Richard Cook braved a fiery wreckage to save a life. Read the whole story.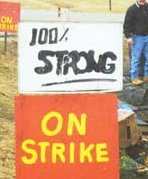 Solidarity at LL 1988
IAM members at Illinois Forge in Rock Falls, IL have been on strike since June 10, 2000. Not one IAM member has crossed the picket line in 9 months.

---
---
The IAM's
Executive Council
Friday, April 13, 2001
Protests Mark Free Trade Summit
Thousands of angry protestors marched through the streets of Buenos Aires recently to demonstrate against the Free Trade of the Americas Agreement (FTAA), claiming the hemispheric trade pact will increase poverty for millions of Latin Americans.

Police responded with tear gas and rubber bullets, evoking memories of protests that marked the 1999 World Trade Organization (WTO) gathering in Seattle. The Buenos Aires demonstrations came as trade ministers met with business leaders to prepare the agenda for an even larger trade summit on April 20-22 in Quebec City, Canada.

The IAM opposes international trade deals that do not include labor and human rights standards to prevent a worldwide 'race to the bottom' by businesses trolling the globe for cheap labor without restrictions and regulations.

The proposed FTAA accord has the potential to create a NAFTA-like free trade zone stretching from Canada to Chile, lowering wages and working conditions for workers throughout the western hemisphere.

Related Links:
IAM's International Affairs Department
---
TWA Deal Creates World's Largest Airline
Few people expected TWA to survive intact following years of mismanagement and financial losses. Even fewer thought the carrier would be acquired in a transaction creating the largest airline in the world, with all IAM jobs preserved in the process. With the closing of the deal between TWA and American Airlines, that is exactly what happened.

The $742 million purchase of TWA by American concluded this week following a decision by a federal judge to reject an 11th hour bid by creditors seeking to block the deal. The deal requires American Airlines to maintain and operate TWA as a separate entity while operational and workforce integration details are resolved.

The IAM was deeply involved in the negotiations leading up to the April 9 announcement. On April 5, District 142 entered into a historic agreement that guarantees pay rates, union protection and pension benefits for 16,000 TWA members during their transition to American. The agreement also calls for IAM-TWA retiree benefits to continue for all retired TWA employees and all those who retire before December 1, 2001.

"TWA lasted as long as it did only because of the leadership of District 142 President William O'Driscoll and the determination of our members there," said GVP Robert Roach Jr. "They never quit and they never gave up trying to find ways to rebuild the airline. In the end, American Airlines realized what we knew all along: that TWA's greatest assets are the employees and IAM members who kept TWA flying for years."

Related Links:
IAM Transportation
Air Transport District 142

---
Oklahoma Machinists Battle RTW Referendum
Machinists in Oklahoma are working to turn back an attempt by corporations and far-right politicians to secure a referendum vote on so-called "right-to-work" (for less) legislation. Last month, IAM members rallied at the State Capitol in Oklahoma City. More than 3,000 workers turned out, the largest labor rally ever in Oklahoma.

With a campaign of lies and misinformation, anti-worker forces led by the state's largest newspaper, the ultra-right-wing Daily Oklahoman, have campaigned for years to end free bargaining by the state's unions. "Right-to-work" forces unions to represent people who choose not to be members of the union, even though they receive the same benefits of a union contract. The anti-worker forces lost the last referendum, in 1964.

Members from IAM Local 898, in Enid, attended and videotaped the rally for a program members produce for local community access TV. "We are working to let the public know the truth about 'right-to-work'. This will lower wages and do nothing for the working families of Oklahoma," said DBR Jerry McCune.

"This is an attempt by corporations and anti-worker forces to silence the only voice working families have – their unions," declared Southern GVP George Hooper. "Our Oklahoma members will fight this tooth and nail. This is part of an orchestrated attack on workers across the nation. We are dedicated to assuring that the rights of working families prevail in Oklahoma."
The Internet is being used fully in the fight against these anti-union forces.

Related Links:
Oklahoma AFL-CIO
Protect OK Families

---

Job Losses Slam Working Families
Job cuts soared last month to almost triple the level a year ago, registering the fourth consecutive month that the total has soared past 100,000, a research group said. U.S. firms announced 162,867 layoffs in March, up from 55,783 last year when the economy was roaring ahead at full speed. It was the highest job-cut month since the survey began in 1993. The latest layoffs were up 60 percent from February's total.

---

IAM Lends a Hand in Royal Win
Workers at Royal Airlines Laundries around the country know the true meaning of worker solidarity after winning a national contract covering all of the company's facilities. They won with the help of thousands of uniformed airline workers, including IAM members, who barraged the company with letters, postcards and phone calls showing their support for the laundry workers.

"This sent a strong message to Royal that if they wanted to continue to do business in the airline industry, they would have to respect the rights of workers to organize," said Bruce Raynor, secretary-treasurer of UNITE, the union representing the newly organized workers. In a letter to IP Buffenbarger, Raynor noted the workers made "substantial gains" in wages, health insurance and pension. The contract also contains strong language on workplace safety and health issues, as well as the rights of immigrant workers.

"On behalf of Royal Airline workers and UNITE's 40,000 industrial laundry workers, I would like to thank you and the membership of the IAMAW," Raynor said.

Related Links:
UNITE

---
imail Archives
---
Comments, suggestions, or story items for imail?
Contact IAMAW via email or at 301-967-4520