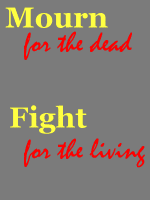 Each year more than 60,000 workers die from job injuries and illnesses and another 6 million are injured. The unions of the AFL-CIO remember these workers on April 28, Workers Memorial Day.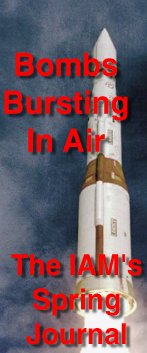 The U.S. faces an emerging threat of rogue nations with weapons of mass destruction. Many believe a National Missile Defense system could provide a measure of protection. This and other stories from the IAM's Spring Journal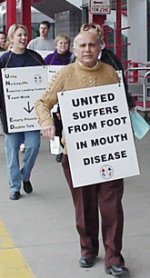 Informational Protest
at United Airlines
IAM members from UAL stage an informational picket line at Chicago's O'Hare airport.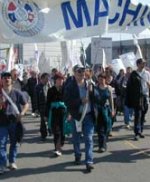 The Quebec Protest
IAM members joined thousands of other.union members and activists to battle against the FTAA.


---
---
The IAM's
Executive Council
Friday, April 27, 2001
Machinists Oppose Move by Norfolk Southern
In a hearing before the Pennsylvania House Transportation Committee, IAM representatives joined with six other unions to oppose a move by Norfolk Southern (NS) to close a profitable repair shop. The company's plans to shut down the Hollidaysburg Car shop would force the transfer of more than 300 jobs to other facilities in the company's system.

"The railroad will tell you that no employees are going to be hurt by the closing of the shop because they will either be offered jobs at other NS facilities in other states, or they will receive income protection," said Ray McMullen, IAM General Chairman representing rail workers at Norfolk Southern. "What NS won't talk about is the devastating effect the shutdown will have on their families and the surrounding communities."

Norfolk Southern acquired the Hollidaysburg Car Shop following the break-up of Conrail in 1998. Railroad officials made sworn statements before the United States Transportation Board (STB) regarding growth plans for the repair shop in order to obtain government approval for the acquisition. "Today we know that NS does not intend to live up to its promises," said McMullen. "Had the railroad been honest up-front, I have no doubt that the Commonwealth of Pennsylvania and the STB would have scrutinized the railroad's operating plans far more closely.

"I am here today to tell you that the IAM is prepared to do everything in its power to prevent NS from walking away from commitments it made to the federal government, the state government and the loyal former employees of Conrail to keep the Hollidaysburg Car Shop open and operating."

Related Link:
IAM Transportation
---
Roach Meets With White House Staff
GVP Robert Roach, Jr. met with key White House staff aides and discussed major issues affecting the transportation industry. He outlined the IAM's concerns about job security "in this climate of uncertainty" surrounding airline consolidations.

"The economic well-being of the transportation industry workers and their families is a matter of paramount importance to the IAM," Roach told White House aides Lawrence Lindsey, who directs the National Economic Council, and Carlos Bonilla, the President's assistant for economic policy.

"They were very receptive to our message, and indicated they would have an open-door policy for the IAM," Roach said.

Related Link:
IAM Transportation

---
Western Territory Fills Staff Spot
GVP Lee Pearson announced two new staff appointments in the Western Territory. Pearson promoted Paula Ross to Grand Lodge Special Rep and picked Marie Box to replace Ross as the territory's education rep. Both Ross and Box are union activists and bring a wide range of skills to their new posts, Pearson said. Both appointments become effective May 1.

Ross is a 26-year member of the IAM's Woodworker District 1 and served as a servicing business rep for 18 years. In addition to her union activities, Ross served 15 years as a member of the Washington State Governor's Safety and Health Advisory Board, and was recently appointed to the California Board of Forestry and Fire Protection.

Box is a 22-year member of IAM Woodworkers Local W98 and has been president for the past seven years. She chaired many committees, serviced several collective bargaining agreements and trained shop stewards. She was recently elected president of the California Conference of Machinists. Box holds degrees from College of the Redwoods and a master's degree from Humboldt State University. Last year she was named to the California Industrial Welfare Commission.

Related Link:
Western Territory

---

Safety & Health Conference Scheduled
The call has been mailed for the IAM's Safety & Health Conference set for August 19 –24. Sessions will be held at the Winpisinger Education & Technology Center at Placid Harbor, MD. The conference includes sessions on ergonomics, accident investigation, setting up safety committees and using the computer as a safety resource.

Due to the limited openings for the conference, participants are encouraged to return reservation forms by June 22. For additional information, contact the IAM Safety & Health Department at 301-967-4704.

Related Link:
IAM Safety & Health Department

---

Advanced Editors School Deadline June 1, 2001
The June 1, 2001 application deadline for the Communication Department's Advanced Editor school is fast approaching. The school will be held at the Winpisinger Education Center from July 29 through August 3. It is designed for current editors and focuses on the advanced writing and research skills they need to improve their publications.

Applicants must have completed the Basic Editors' training and have been an editor of a regularly-published newsletter for at least two years. For more information, contact the Communications Department at (301) 967-4520.

---
Comments, suggestions, or story items for imail?
Contact IAMAW via email or at 301-967-4520