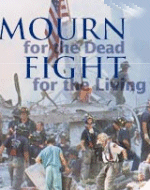 Worker's Memorial Day
April 28, 2002 Read all about how it helps to remember the injured and honor the fallen.
---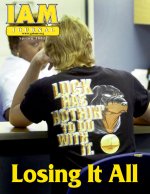 Unemployment soared and manufacturing jobs in North America were wiped out in record numbers, yet Congress did nothing to help workers in danger of losing everything they have. In the 2002 Spring IAM Journal, IAM members from across North America tell how it feels to be losing it all.
---
---


Get Your Convention Gear Check out gear for the 2004 IAM Convention
---

The IAM
Executive Council
International President
R. Thomas Buffenbarger

Secretary Treasurer
Donald E. Wharton

GVP Western
Territory
Lee Pearson
GVP Canada
GVP Canada
Dave Ritchie

GVP Midwest
Territory
Alex M. Bay

GVP Headquarters
Robert V. Thayer
GVP Southern
GVP Southern
Territory
George Hooper

GVP Eastern
Territory
Warren L. Mart

GVP Transportation
Robert Roach, Jr.
Friday, April 12, 2002

Mediation Fails to Break Impasse at Lockheed
Negotiations broke down two days after federal mediators called Lockheed Martin management and IAM representatives to a meeting in Atlanta. Union negotiators say the company continues to insist on the same job killing contract language that forced 2,700 members in three states to strike the aerospace giant on March 11.
"The union made every effort to resolve this dispute," said John Crowdis, IAM Aerospace Coordinator. "We gave them an inch, now they want a mile. Lockheed Martin is proving that corporate greed knows no bounds. In a time when profits will be going through the roof, they have forgotten the workers who make that profit possible.
"Until Lockheed Martin addresses our members' issues, we shall continue to hold strong in our demand to be treated with dignity and respect," said Crowdis.
---
Medicaid Drug Prices Skyrocket
As more and more states impose stringent cost controls on Medicaid drug costs, more than 25 percent of the nation's most needy recipients say they can no longer buy their vital medicines. Surveys show that Medicaid clients tend to be in worse health than other Americans, according to the Center for Studying Health System Change, a nonpartisan research group.
This growing crisis could have been avoided. Last year, the Congressional Budget Office projected non-Social Security surpluses as far as the eye could see. President George Bush and his congressional allies spent those surpluses on huge tax cuts for the wealthiest taxpayers, with little regard for the suffering of more needy Americans. Social Security is next on that White House hit list.
---
Auto Tech Campaign Kicks Into High Gear
More than four dozen IAM staff and rank-and-file members mounted a whirlwind campaign to spread the union message to auto technicians in the Baltimore-Washington metropolitan area.
"Auto techs in this area lag far behind their counterparts in nearby areas who enjoy IAM representation," explained Boysen Anderson, the IAM's automotive coordinator. Auto technicians in neighboring Pennsylvania, who have IAM contracts, earn more than $19 an hour in wages and benefits, he added.
In just two days, the IAM organizing blitz carried the union message to the technicians employed at more than 300 dealerships in the area. The IAM represents more than 40,000 auto technicians across the U.S. and Canada. http://www.iamaw.org/publications/torquedmd/
---
Amtrak Debate Rolls On
Citing signs of help from Congress, Amtrak backed away from its threat to announce cuts in its long-distance train network. Amtrak is required by law to give 180 days' notice before it discontinues train service. Additionally, on April 10 the Bush administration postponed a presentation to Congress about the future of Amtrak, saying it needs more time to finish drafting a plan.
Bush administration officials are split over at least one key issue - whether to allow franchising of Amtrak services. Amtrak, which failed to meet an order by Congress to begin operating without federal subsidies, sent letters last week to the governors of 46 states regarding its need for $1.2 billion in federal funds. President Bush has proposed $521 million. The IAM is working with the AFL-CIO Transportation Trades Department and is lobbying for full funding of Amtrak.
---
Election Set For Vanguard Flight Attendants
The National Mediation Board (NMB) approved the IAM's petition for a representation election for Flight Attendants at Vanguard Airlines and set May 6, as the date to count ballots at NMB Headquarters in Washington, DC.
Kansas City-based Vanguard Airlines recently announced it is increasing its schedule by 27 percent in the coming months and hiring additional Flight Attendants. IAM District 142, which has an office in Kansas City, received numerous inquiries from Vanguard Flight Attendants seeking information about the benefits of an IAM contract.
---
IAM Website Lists May 8 Activities
"Reports of local lodge activities for the IAM's May 8, Transportation Day of Action are coming in and the response is extremely positive," said GVP Robert Roach, Jr. "The Local and District Coordinators are working hard to make this day a historic success." Cities confirming activities include Boston, MA; Charlotte, NC; Chicago, IL; Denver, CO; Los Angeles, CA; Newark, NJ; New York, NY; Philadelphia, PA; San Francisco, CA; Seattle, WA and Washington, DC. Political figures and labor leaders have already confirmed their attendance at several locations. Additional information is available on the IAM's Day of Action web site at www.goiam.org/publications/day.
---

Organizing Wins in Western Territory
Brian Miller of District Lodge 725 continues to rack up the organizing wins for the IAM. Working out of San Diego, Brian recently organized 17 workers at CAE USA, INC. located at North Island NAS, CA. The workers voted 100% for IAM representation. District Lodge 160 also celebrated organizing wins at B.S. Quality Machine & Fabricating, Inc. and a service contract unit at Raytheon Aerospace Company, LLC.


GVP Lee Pearson extended his congratulations to all those who helped with these victories. "Under the direction of DBR Gary Holt, DL 725 and DBR Don Hursey, DL160 these organizers are bringing fairness and dignity to workers at these facilities."