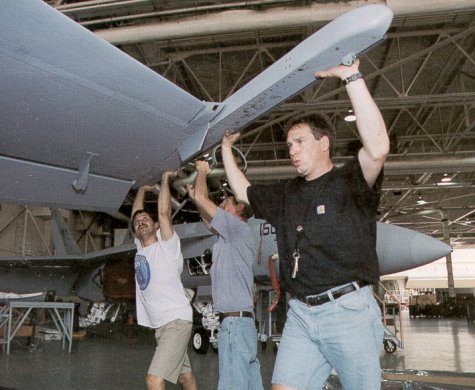 IAM members at Boeing in St. Louis, Missouri, install a wingtip missile launcher on an F/A-18 Super Hornet. The launcher carries AIM-9 Sidewinders.
Machinists Authorize Strike at Boeing-St. Louis
IAM members who build F/A-18 Super Hornets and F-15 Eagle fighters in St. Louis, MO voted by a ninety-eight percent margin to authorize a strike against Boeing if the company's final contract offer fails to address job security, retirement and the rising cost of health care.
The near-unanimous strike vote sends an unmistakable message to the Boeing Company that the membership is united and willing to take whatever action is required to secure a good contract, according to Rick Smith, president of District 837. Smith will lead the IAM negotiating team when main table negotiations commence on April 26.
Union leaders emphasized the vote is a procedural requirement and did not signal an imminent work stoppage at Boeing. The vote also allows the International to engage their various departments to support the activities of the District. The current contract is set to expire on May 23, 2004.
IRS Audits Up for Individuals, Down for Corporations
Under the Bush administration, the Internal Revenue Service (IRS) cut the number of face-to-face audits with large corporations from 34.7 percent in 1999 to just 29 percent in 2003, according to a Syracuse University analysis of IRS data. The study also reported a 14 percent increase in the number of individual audits conducted last year.
"These and a number of other measures – documented by the agency's own data – indicate that the actual performance of the IRS differs in significant ways from some of the Bush administration claims when it comes to cracking down on corporate scofflaws," said the report.
The revelations come on top of last week's news from the General Accounting Office that more than 60 percent of U.S. corporations paid no federal corporate income tax from 1996 to 2000.
IAM Organizers Praise Las Vegas Auto Techs
If hard work and community involvement are key ingredients to a successful organizing campaign, the IAM is headed in the right direction among skilled auto technicians in Las Vegas, NV.
Recent efforts by the Machinists Union to organize technicians in the Las Vegas metropolitan area include hand billing at area dealerships, educating community leaders about dealer efforts to block lawful organizing drives and meetings with local lawmakers to discuss technicians' working conditions. A recent picnic for workers and their families at the IAM Local 845 gave organizers and volunteers a well-earned respite before returning to the mean streets of Las Vegas.
"We're up against AutoNation, a new and used car conglomerate that is one of the most anti-union corporations in the country," said Dennis London, IAM Grand Lodge Representative (GLR). "They're fighting to protect an arrogant dealer empire that treats employees like dirt and labor laws like something they can wipe their feet on."
AutoNation was recently found guilty of more than twenty violations of Federal Labor Law when technicians at their Desert Toyota facility attempted to organize with the IAM. In an encouraging victory, the Federal District Court of Nevada ordered Desert Toyota to begin bargaining immediately with the IAM on behalf of workers at the Las Vegas dealership.
"The term 'mechanic' doesn't begin to cover everything these men and women do," said GLR Don Whitaker, assigned by Western Territory GVP Lee Pearson to lead negotiations for a first contract with Desert Toyota. "These are highly-trained technicians with an extensive knowledge of computers, hydraulics, pneumatics and electronics in addition to diagnostics and basic mechanical skills. They deserve to be treated with respect and compensated accordingly."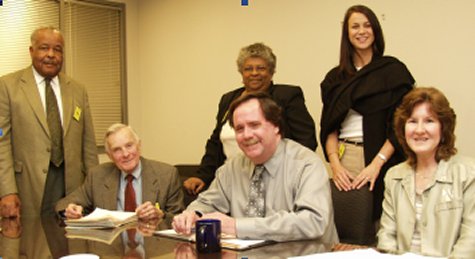 The IAM Scholarship Review Committee: (l to r) William H. Sherrill from Howard University, George W. G. Stoner from George Washington University, Betty Spencer (standing) from Montgomery County Public Schools and Julie Boudreau (standing) from the Canadian Embassy. Also pictured are Mike Flynn, Director (seated), and Patricia Trainor, Office Assistant (seated).
Scholarship Committee Selects Winners
A distinguished panel of four academics met at IAM Headquarters last week to select 17 winners from among 765 applicants in the 2004 IAM Scholarship Competition. The winners, from each IAM Territory in the U.S. and Canada, will receive a $4,000 scholarship to pursue a college degree or vocational and technical training.
"The winners will be notified by mail," said IAM Apprenticeship & Training Director Mike Flynn, whose department administers the popular program. "The scholarships are a great opportunity for IAM parents and a great way for members themselves to continue their own education."
Applications for the 2005 Scholarship Competition will be available from August 2004 to February 2005. Members can download instructions and an application for next year's competition. Applications will also be available in the Summer 2004 issue of the IAM Journal.
A Short Sighted Strategy for Boeing
The continued outsourcing of U.S. commercial aircraft technology by the Boeing Company represents a profound threat to the U.S. industrial base and offers taxpayers little reason to continue rewarding the aerospace giant with massive subsidies, according to a guest editorial in the April 12 issue of Aviation Week & Space Technology.
"To what extent does technology transfer to foreign companies represent a good idea in terms of longer run economics or industrial effects?" asks David Prichard, a researcher and consultant who worked with the Presidential Commission on the Future of the U.S. Aerospace Industry. "In 1960, imports of aircraft and parts amounted to only 5 percent of aircraft exports by value, compared to 45 percent today," writes Pritchard who warns the upward trend in aircraft offsets threatens to obliterate long-held engineering advantages for U.S. plane makers.
"Pritchard's analysis, sadly, appears correct," said Steve Sleigh, the IAM's Director of Strategic Resources. "Over the past three years, Boeing Commercial has drifted, seemingly without a strategy to maintain market share. We have worked with other stakeholders to try to get Boeing back on track but have met with resistance at every step. We need to find new ways to push Boeing back into being the preeminent supplier of large civil aircraft. Without such a push, Airbus and the regional jet manufacturers will continue to eat up Boeing's market and cause more layoffs of IAM members."
Pritchard also questions taxpayer-subsidized loans to finance sales of Boeing aircraft via the U.S. Export-Import Bank. "The Ex-Im Bank export promotion mandate for the U.S. was to create jobs," said Pritchard. "However, with the continued decrease of U.S. content (in Boeing aircraft) and no credible or believable reporting on job creation from Boeing, one could argue that the need for taxpayers to subsidize Boeing aircraft should come to a close."
Illinois Moves to Protect Overtime Rights
The Governor of Illinois signed a law into effect last week that shields approximately 375,000 Illinois workers from losing overtime pay if the Bush administration moves as expected to impose massive new restrictions on overtime eligibility.

"Here in Illinois we value hard work, and we believe you should get a fair day's pay for a fair day's work," said Governor Rod Blagojevich at the bill's signing ceremony in Springfield.

Late last month, the Bush administration moved closer to rewriting the nation's Fair Labor Standards Act when it sent a final rule gutting workers' overtime rights to the Office of Management and Budget (OMB) for review. The OMB has up to 90 days to issue a rule but has been known to approve a final rule in only one day.

Among the nearly 8 million U.S. workers who stand to lose overtime pay under the new guidelines are licensed practical nurses, emergency medical technicians, retail and food service workers, secretaries and veterans who received specialized training during their service.