Tuesday, April 15, 2003


Health Costs Prompt Lockheed Walkout

In response to a company proposal to dump a greater percentage of health care costs on to its employees, IAM members working at Lockheed-Martin's Forth Worth, Texas facility walked off the job Monday morning. A 2,380 to 432 strike vote by District 776 members sent an unambiguous message to management.

"The members are very unhappy with the company and the contract offer." said Pat Lane, President and Directing Business Representative for District Lodge 776. "They have no reason to do this to their employees. This is a profitable company with the largest military contract in history."

"This contract puts a huge burden on the workers, "Deductibles went up 50 percent, and prescription drugs were a real killer. That's a deal breaker," said Steve Sleigh, Director of the IAM's Strategic Resources Department. "Drugs used to be capped at $5 for generic and name brand. Now, it's a percentage, and if it's a very expensive drug it could cost hundreds of dollars. The uncertainty meant we did not know what we were signing on to." Employee co-pay for prescriptions could be as much as 40 per cent.

"Lockheed presented their last, best and final offer 4 hours before the vote," said John Crowdis, Aerospace Coordinator. "There was not time for anyone to really know what was in the package. It was unfair of Lockheed, and the members sent a clear message to Lockheed."

To keep up with events in Fort Worth, watch the District 776 Strike website: http://www.776iam.org.

---
UAL To Vote April 29 On Tentative Pact

District 141-M negotiators announced tentative agreements to provide the carrier with $2.09 billion in cost savings over a 6-year period. The accords, which will be presented to members for ratification, include pay and benefit modifications valued at $349 million annually. If approved, the combined recovery participation by members of IAM District 141 and141-M will total $4.76 billion over a six-year period.

"I believe we achieved a tentative agreement that gives United the means to recover financially and protects our members and their families to the greatest extent possible," said Scotty Ford, president of District 141-M. "The accord meets all financial targets set for IAM participation in the airline's recovery effort, while maintaining current pensions, vacations and holidays."

Ratification voting will take place on April 29. If approved, the agreements will block a pending motion in bankruptcy court to abrogate any unmodified labor agreements at the bankrupt airline. For more information: http://www.iam141m.org
---
CEO Scam: Excessive Executive Pensions


The new AFL-CIO Executive PayWatch website,
http://www.paywatch.org, unveils an egregious form of risk-free CEO pay utilized by many Fortune 100 companies - excessive executive pensions. At the same time workers' retirement savings have suffered through the worst stock market decline since the Great Depression, executives are receiving extraordinary retirement benefits not available to regular workers.

"At a time of mass layoffs and loss of retirement benefits for American workers, it's outrageous that corporate executives receive sweetheart retirement deals that undermine the goal of pay for performance," said Richard Trumka, AFL-CIO Secretary-Treasurer. "If you promise CEOs millions in pension benefits guaranteed for the rest of their lives, what do they care if their company's share prices have fallen."


Launched in 1997, the PayWatch website annually discloses executive pay packages for CEOs at top companies and exposes corporate governance abuses.
---
Ontario Ministry Provides SARS Information
With Ontario Premier Ernie Eves declaring Severe Acute Respiratory Syndrome (SARS) a provincial emergency, the Ontario Ministry of Labour has provided MOL stakeholders with information related to the Employment Standards Act, the Occupational Health and Safety Act, as well as additional information. Please follow the link below for more information: http://www.iamaw.ca/new/sars/sars_ontario_e.html
---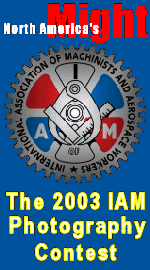 Like to take pictures? Good with a camera? Then you should enter this year's IAM Photography Contest.
Find out more information