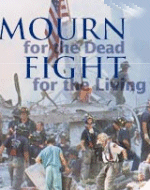 Worker's Memorial Day
April 28, 2002 Read all about how it helps to remember the injured and honor the fallen.
---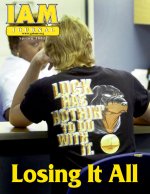 Unemployment soared and manufacturing jobs in North America were wiped out in record numbers, yet Congress did nothing to help workers in danger of losing everything they have. In the 2002 Spring IAM Journal, IAM members from across North America tell how it feels to be losing it all.
---
---


Get Your Convention Gear Check out gear for the 2004 IAM Convention
---

The IAM
Executive Council
International President
R. Thomas Buffenbarger

Secretary Treasurer
Donald E. Wharton

GVP Western
Territory
Lee Pearson
GVP Canada
GVP Canada
Dave Ritchie

GVP Midwest
Territory
Alex M. Bay

GVP Headquarters
Robert V. Thayer
GVP Southern
GVP Southern
Territory
George Hooper

GVP Eastern
Territory
Warren L. Mart

GVP Transportation
Robert Roach, Jr.
Tuesday, April 16, 2002

Automotive Campaign Pays Off
A sizable delegation of automotive technicians turned out for an initial meeting called to discuss organizing opportunities in the Washington/Baltimore metropolitan area, reports Boysen Anderson, automotive coordinator.
The meeting came on the heels of a three-day organizing blitz that contacted more than 300 automotive dealerships employing more than 3,000 technicians, Anderson explained. "A high percentage of those attending signed cards indicating their high levels of interest in forming a union in their shops. Quite a few more took cards with them to pass out to their co-workers," he added.
Technicians noted they pay $100 a week for medical and dental benefits. Wage rates range from $16 to $23 an hour in the same shop for the same work and technicians have little say in their working conditions.
---
Sund, McGarry Named to Top Slots
IP Tom Buffenbarger appointed Charlotte Sund and Russ McGarry to fill the top jobs in the union's Human Rights and Collective Bargaining departments. "These are two top choices," said Buffenbarger, "and they have big shoes to fill."
Sund, who replaces Clark Johnson as Human Rights director, is currently serving as a business representative with District 70, Wichita, KS. She joined Local 2328 in 1972 as a sheet metal assembler at Beech Aircraft, now Raytheon. Sund served in numerous positions in her local union before joining the District 70 staff in 1996. She replaces the retiring Clark Johnson, who was the department's first director.
Johnson was named to the post in 1976, shortly after the department was created. He has been a member since 1968. A Marine Corps veteran, he has championed worker rights and helped the IAM bridge the gap between labor and the minority community.
McGarry takes over for Jim Pinto, who has led the department since its formation in 1996. Pinto has been a member for nearly 40 years. He joined the IAM staff in 1968 and served in the Organizing Department and directed both the Bylaws and the old Coordinated Bargaining Department.
McGarry joined the IAM in 1965, beginning his career as a sheet metal mechanic for Eastern Air Lines. He held numerous positions in both his local and district lodges and served with distinction during the bitter strike with Eastern and its CEO, Frank Lorenzo. For several years, he was assigned to the AFL-CIO Industrial Union Department until returning to IAM headquarters in 1997.
---
Bombardier Members on Strike in Canada
IAM Local Lodge 712 members shut down production at three Montreal-area Bombardier Aerospace plants this week following a rejection of the company's so-called "final offer." The strike is the first since 1965 at the former snowmobile maker turned aerospace conglomerate.
By a large margin, 7,400 IAM members turned down the company's 13 percent wage offer and dismissed insufficient pension and retirement terms. "Bombardier must undertake a careful reevaluation of its position," said Vincent Blais, IAM administrative assistant to the Canadian VP and Canadian aerospace coordinator. "Our members made their objectives clear and backed them up in the strongest fashion possible."
The union's membership also expressed concerns regarding contract duration and cited numerous instances of harassment to speed up production.
IAM members at Bombardier produce the company's RJ series of regional carriers and the upscale Challenger business jet.

Related links:
Local Lodge 712
IAM Canada
---
Workers Memorial Day Ceremony Set
Final arrangements are underway for the Workers Memorial Day observance at the Winpisinger Center on April 28, notes Mike Flynn, IAM Safety & Health director. The IAM joins the trade union movement in marking the observances April 28. GST Don Wharton and GVP Bob Thayer head the list of speakers for the event.
The ceremony honors workers who lost their lives while performing their workplace duties. The 44 IAM members whose names were added to the memorial during the past year will be read aloud as bells toll at the distinctive memorial on the grounds of the union's education and technology center in southern Maryland.
This year marks the 31st anniversary of the passage of the OSHA Act. Since 1970, workplace safety and health conditions have improved dramatically. Unfortunately, too many workers remain at risk. In 2000, 5.7 million workers were injured, more than 5,900 killed and more than 50,000 injured in workplace injuries and occupational diseases.
---
Acela Rivals Airlines in Popularity, Capacity
Fifteen months after its inaugural run and seven months after the terrorist attacks, Amtrak's high-speed Acela train is carrying nearly as many passengers between Washington, DC and Boston as the US Airways and Delta shuttles.
According to the Bureau of Transportation statistics, US Airways and Delta reported 215,366 passengers in a one-month period. The 150 mph Acela, which experienced a sharp boost in riders following the attacks, recently reported a monthly passenger load of 219,917 passengers for the same period.
Amtrak continues to experience financial difficulties despite Acela's success. The 31-year old passenger rail network is drawing attention from at least a dozen companies who are interested in picking up pieces of Amtrak if Congress acts to break up the national rail system.
Congress could vote to decide the future of Amtrak this year. Proposals range from increased federal funding to eliminating routes and selling off profitable operations like Acela to foreign-owned companies.
---
IAM Microsites Program Proving Popular
Nearly 150 local and district lodges have signed up for the IAM's free Microsites program since the web-building service was unveiled three months ago. "Fifty lodges have already activated their own place on the web, and more are coming on line every week," said IP Tom Buffenbarger.
The program provides free server space and the tools for any IAM lodge to build their own site. Using simplified technology that allows even computer novices to maintain a website, the program promises to build on the enormous potential of internet-based communications.
The number of free websites available is limited only by the size of the IAM servers, which house, protect and manage the IAM's web-based activity. "When we realized there was a quantity of unused server space, we decided to offer it without charge to locals and districts. We may be able to host as many as 300 sites," said Buffenbarger. The free websites are available on a first come, first served basis to any IAM local or district lodge that does not currently have a site.
More information on the IAM's free website program is available by contacting the IAM Communications Dept. at 301-967-4520.