Bush Rewrites U.S. Overtime Regulations
Despite withering criticism and shrinking poll numbers, President Bush is pushing forward with a new plan to eliminate overtime protection for U.S. workers.
Under a revised administration proposal, hundreds of thousands of workers will lose overtime protection, with additional workers' pay threatened by guidelines from the Department of Labor (DOL) that helps employers skirt the new regulations.
"The Bush administration's attack on overtime pay is part of a strategy to roll back every major worker's rights statute enacted since the 1930s," said IP Tom Buffenbarger. "From workplace health and safety laws to Social Security and Medicare, this administration is relentless in its assault on generations of social progress for hard working Americans."
The initial Bush proposal to gut overtime laws was put forward despite millions of letters, faxes, phone calls and comments from outraged workers who rely on overtime pay to maintain a middle class standard of living.
The Senate voted last year to block the administration from issuing Bush's overtime regulations, but after pressure from the White House, Senate GOP leaders stripped the provision from the final version. The new regulation can be imposed as soon as April 21, 2004 without further Congressional input.
Click (here) for more information on the new OT regulations and (here) to view an IAM video "OT Cuts Still Prevail In New Rules."


US Airways CEO Resigns
US Airways CEO David Siegel became the latest U.S. airline executive to resign amid the sustained travel recession that blossomed in the wake of the September 11 terrorist attacks. The Arlington, VA-based airline announced on April 19 that Siegal will be replaced by Bruce Lakefield, a current US Airways board member and former CEO of Lehman Bros. International.
IAM Transportation leaders welcomed the change and pledged to work with the new CEO to revive the struggling airline. "US Airways is an airline in trouble, but it is an airline that could be saved and should be saved," said Transportation GVP Robert Roach, Jr. "Our members have provided the company with all the tools necessary for the carrier to succeed. The missing piece has been effective leadership willing to work with employees, instead of attacking them."
In a statement, GVP Roach urged Mr. Lakefield to embrace our members' ideas for providing the company substantial cost savings while preserving current collective bargaining agreements. "Unfortunately, David Siegel was more interested in violating our agreements than developing an effective business plan," said Roach. IAM District 141-M represents 5,000 Mechanic & Related employees at US Airways. IAM District 141 represents the airline's 4,450 Fleet Service Employees.


Harley Riders Rally for Harley Workers
A full-throated crowd of 100 union supporters rallied outside Skagit Harley in Burlington, WA to support workers fighting for collective bargaining rights. The rally quickly proved why employees at this dealership need union representation.
Skagit Harley owner Fred Smith blocked off the motorcycle dealership's parking lots with garbage cans hung with signs that read "union trash" and repeatedly screamed obscenities at the crowd. Smith also turned on the sprinkler system in an unsuccessful effort to disperse the union supporters.
Workers at the dealership have endured harassment and discrimination since voting for IAM representation on Oct. 7, 2003. According to IAM organizers, management hired a union busting firm, cut workers' hours, eliminated positions held by union supporters and fired one worker for not being ready for work… she had wet hair.
The disdain for unions by a dealer selling union-made Harley-Davidsons is unusual. "The labor community makes up more than 50 percent of this dealership's business," said IAM Organizer Jesse Cote, Jr. "Our members build the bikes, we buy 'em, and ride 'em. Who are these guys to say we shouldn't service 'em?" Good question. Why not ask Skagit Harley owner Fred Smith yourself? His email address is freds@skagitharley.com

Power Ford Techs Say 'IAM Yes'
Maintenance and repair technicians at Power Ford in Torrance, CA., voted twenty-eight to nine to join the IAM in an important organizing victory at an AutoNation dealership.
The victory caps an intense effort by Ford workers and IAM organizers to win collective bargaining rights for skilled technicians at the California dealership. AutoNation is the largest automotive dealership corporation in the U.S. and fiercely opposed to unions at its facilities.
A notorious AutoNation dealership in Las Vegas, NV was recently found guilty of twenty-five labor law violations during efforts to organize technicians there. The NLRB ordered the dealer to recognize the IAM as the bargaining agent, and the Federal District Court of Nevada issued a "10-J" order to bargain.
"This is a great win," said Western Territory GVP Lee Pearson, who congratulated everyone involved in this latest campaign. "The real heroes are the techs who wouldn't fall for the intimidation tactics and the hollow promises of this employer." The Ford workers will be part of IAM District 725.


Rising Trade Deficit Sinks Manufacturing Jobs
The presence of a policy that address the rising trade deficit could bring manufacturing jobs back to the U.S., according to a new report from the Economic Policy Institute. The report, "Shifting Blame for Manufacturing Job Loss: Effect of Rising Trade Deficit Shouldn't Be Ignored", contradicts free trade supporters who say the exportation of American manufacturing jobs is inevitable.
"The proposition must be abandoned that trade is blameless for the recent loss of manufacturing jobs and that the decline in manufacturing employment is a natural phenomena that cannot (and should not) be arrested," says Josh Bivens, author of the study. "There is nothing desirable, sustainable, or irreversible about the present enormous trade deficits in manufactured goods that the U.S. currently carries,"
Manufacturing employment is at its lowest point since 1958 and the report states the rising trade deficit accounts for roughly 58 percent of the drop in manufacturing jobs from 1998 to 2003, a figure that translates into 1.78 million jobs.

Organizing Win Brings Back IAM Members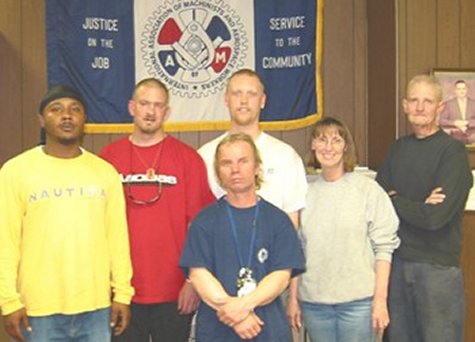 Photo: Right to left, back: Jeremy George, Jeffrey Skaggs, Jessie Newsome, Beth Newsome, Howard Restel. Front: Bob Cannon
Former IAM members working for Labat Anderson at Cherry Point Marine Corps Air Station in North Carolina are glad to be back in the IAM . " Many employees were members as government workers, but their jobs were privatized. They realized how important the Machinists Union is to their jobs, and they're back," said District 110 Directing Business Representative Joe Greaser.
"It's a feeling you just can't describe, we took back the power that was taken from us before," said new member Jessie Newsome." Also happy is Howard Restel, a retired Marine who served in Korea and Vietnam and is surviving Agent Orange. "It's been a long hard struggle and it feels really good," he said.
"These folks provide logistical service - shipping and receiving - for the 2 nd Marine Corps Air Wing, in defense of our troops in Iraq," said Greaser. "We're really happy to have them back. We appreciate the help from Southern Territory GVP Bob Martinez and Organizing Leader Bobby Sapp."
"This is a big win for District 110 and the Southern Territory. I want to congratulate DBR Greaser for another win for his growing District," said Southern Territory GVP Martinez.

Past iMail | Your Email |www.goiam.org | Print Version | iMail Sign-Up