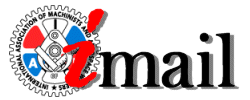 www.goiam.org


Tuesday, April 30 2002

Lockheed Martin Strike Ends
IAM members ended a 44-day strike at three Lockheed Martin plants after approving a new contract containing tougher job security protections and language limiting outsourcing.
The new three-year agreement covers 2,800 members in Marietta, GA; Meridian, MS and Clarksburg, WV who produce the F-22 air superiority fighter and C130J military cargo transport plane.
"This contract is now in line with agreements previously ratified by members at Lockheed Martin locations in California," IAM Aerospace Coordinator John Crowdis explained.
"Our members faced a very tough fight and they refused to buckle. I am extremely proud of them and their negotiating committee," Crowdis said.
---
IAM Wins Limits on Background Checks
Northwest Airlines (NWA) agreed this week to limit employee background checks following a meeting between District 143 President/Directing General Chair Bobby DePace and NWA Chief Executive Officer Richard Anderson.
DePace objected to the potential for misuse of the Criminal History Records Check (CHRC) required by the newly formed Aviation and Transportation Security Administration. Under the agency's guidelines, minor offences and convictions dating back 30 years could result in employees losing their jobs.
In a letter dated April 24, Northwest Airlines agreed to restrict their use of records obtained from the FBI. Under the new policy, IAM members will not be disciplined or terminated for convictions other than one of the specific disqualifying offenses within the last 10 years. "This is a major victory for the rights of our members and for all of the other employee groups on the NWA property," said DePace. "Hopefully, this agreement between District 143 and NWA will set the standard for the rest of the industry."
---
Cybersober.com Offers Substance Abuse Help
The IAM offers additional resources for members with substance abuse problems or in recovery from various addictions, notes Maria Cordone, the IAM's director of Community Services/Retirees Dept. Members can now access 12-step program meetings across the U.S. and internationally through Cybersober.com.
Licensed by Mapquest, Cybersober provides detailed door-to-door directions to those meetings. Members can also find support at www.cybersober.com with access to participating treatment providers, behavioral healthcare workers and other online recovery services. "This service provides an invaluable tool to our members," Cordone said.
CyberSober.com is an independent corporation and is not affiliated with Alcoholics Anonymous or any other organization. For additional information, contact Tony Atty at Cybersober: 888-314-2016, or via email: tony@cybersober.com
---
HPWO Wins Grant, 'STEPS' Up Pace
The Federal Mediation and Conciliation Service (FMCS) awarded a $100,000 grant to the IAM's innovative High Performance Work Organization Partnerships Department (HPWO). The grant will be used for software and technology to assist in many phases of partnership development, reports Don Kennedy, who heads the HPWO department.
"This new software will help us in decision-making, surveys, information-sharing, brainstorming, training, communication and much more," Kennedy said. The program will be called STEPS, for Sharing Technology to Enhance Partnership Solutions. It can be used on-site using laptop computers, or on-line through a dedicated server linked to the IAM website.
The FMCS uses the technology to help labor and management solve problems and develop better relationships.
---
NFFE Pioneer Set High Standards
One of NFFE's longest serving members outlined her commitment to her work in a few simple words: "To serve NFFE and its members to the best of my ability, to continue a vigorous membership campaign and to represent members in grievances when called upon."
Mabel Thompson, 98, died earlier this year. She joined NFFE Local 73, Cleveland, in 1920 and became the first woman to be elected financial secretary. She held numerous positions in her local union before becoming a national representative. In 1962, she was unanimously elected a national vice president, where she served five terms.
For her distinguished service, she was awarded the Annual Merit Award, the highest honor the union could bestow. Thompson was honored with the Albert Gallatin Award given to an employee by the U.S. Treasury Department. The National Federation of Federal Employees merged with the IAM in 1999.
---
June is Voice@Work Month
Millions of workers want to form unions so they can have a say in working conditions, wages and benefits that affect their lives and families. But because of employers' harassment and intimidation, workers often can't exercise their legal right to choose for themselves whether to have a union.
During June—in forums, hearings and demonstrations—workers organizing unions will reach out to their communities, explaining why they want to have a voice and will shine a spotlight on employers who rob them of their freedom to make their own decisions about a union. By involving community groups, elected officials and religious leaders in workers' struggles, today's unions are reducing employer interference and laying the groundwork for fundamental reform of America's labor laws in the future.
---