Thursday May 1, 2003


Machinists at UAL Ratify Contracts
In the face of a pending bankruptcy court motion to abrogate any unmodified labor agreement at United Airlines, IAM members ratified 8 agreements worth more than $4.7 billion in savings over a six-year period. In the one-day nationwide vote, more than 70 percent of voters from District 141-M and 83.2 percent in District 141 approved the contract changes.
"This confirms our commitment to the carrier's recovery," said Randy Canale, president of District 141 representing nearly 20,000 UAL employees. "But more importantly, these agreements protect the core value of a job at United Airlines. We successfully preserved key benefits won by generations of IAM members at United."
Immediately following the vote, representatives of the carrier went to court where U.S. Bankruptcy Judge Eugene Wedoff approved the contracts, which are part of a company-wide effort to save more that $2.56 billion annually.
"Our members are providing United Airlines with the means and opportunity to successfully restructure and avoid liquidation," said District 141-M President Scotty Ford. "The problems and solutions of the airline's latest crisis go far beyond labor costs, but immediate action was needed to ensure the survival of this airline."
---
Service Contract Win at Barksdale AFB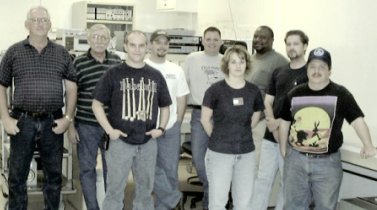 From left to right: David Bordelon, Doug Elder Tony Foust Roy Ginn Steve Allen Dorian Ranz Dave Steward Doug Smith Mike Maxwell (not pictured, Gwen Acor).
Eleven Precision Measurement Equipment Laboratory employees of Yulista Management Services at Barksdale Air Force Base, LA voted unanimously "Yes" for IAM representation. Citing inadequate health care and low wages, they voted to join other recently organized Yulista employees at Minot AFB, SD and Dyess AFB, TX.
Under the Service Contract Act, wages for nonunion federal contractor employees such as Yulista Services are tied to Area Wage Determinations (AWDs) published by the U.S. Department of Labor. Union-represented employees are allowed to bargain for better benefits and higher wages than proscribed by the AWDs.
"Mike Carver, Local 449 member at Tyndall AFB, FL, helped get the ball rolling with Yulista employees at Minot AFB," said Grand Lodge Representative Larry Washam. "The election at Minot led to another at Dyess AFB. Once they saw the benefits of union representation under the Service Contract Act, the employees at Barksdale didn't want to get left behind."
---
NMB Sets Dates for UAL Election
The National Mediation Board (NMB) announced it would hold an election between the IAM and the Aircraft Mechanics Fraternal Association (AMFA) to determine representation for Mechanic & Related employees at United Airlines.
Ballots for the Telephone Electronic Voting (TEV) election will be mailed on June 12, 2003, and tabulated at NMB headquarters in Washington, DC on July 14, 2003.
"We will defend our members at United from these anti-labor predators that prey on working families when they are most vulnerable," said GVP Robert Roach, Jr.
The raider group currently represents Mechanics, Cleaners and Custodians at Northwest Airlines, where many employees now regret the choice. "AMFA's divide and destroy policy has successfully isolated the Technicians from all other Northwest employee groups," said Bob Lemire, a Northwest Airlines mechanic. "It is sad to think United's mechanics may suffer the same fate." For more information, click www.iam-amt.org.
---
Unions Demand 'Uniform Justice'
A nationwide organizing effort by 17,000 workers at Cintas, the largest uniform rental and industrial laundry service in North America, is getting a big boost from the IAM and AFL-CIO unions.
In a formal resolution, the AFL-CIO Executive Board said it will encourage affiliated unions to ask employers to consider refusing to renew contracts with Cintas unless the company ceases anti-union activities.
According to the AFL-CIO, workers at the company are facing a barrage of anti-union consultants, harassment by security guards and captive audience meetings held by supervisors.
In a report released by the Union of Needletrades, Industrial and Textile Employees (UNITE!), Cintas has been sued 40 times for racial, sexual, age and disability discrimination and has a record of failing to pay workers for all the hours they work.
"This is an unprecedented example of multi-union cooperation in an organizing campaign and we hope it will be a model for dealing with anti-union employers," said Bruce Raynor, president of UNITE!
Click http://www.ttd.org/News/CINTAs.htm for more information on the 'Uniform Justice' campaign.
---
Kourpias Re-elected as Northwest Airlines Director
Retired International President George Kourpias was re-elected as a Director of Northwest Airlines last week at the company's annual shareholder meeting in New York City. Kourpias, who is also president of the Alliance of Retired Americans, has been a member of the Board since 1997.
Additionally, a proposal to require shareholder approval for any "poison pill" the airline may implement to thwart a hostile takeover of the company was rejected by a majority of eligible Northwest Airlines shareholders.
The IAM represents 16,000 Northwest Airlines employees in the Ramp & Stores, Customer Service, Reservation, Office & Clerical and Flight Simulator Technicians classifications.
---
More Evidence of Jobless Recovery
Parallel data showing an increase in orders for durable goods and a simultaneous jump in unemployment claims adds up to a one-two punch for working families and more evidence that a jobless recovery in the U.S. is underway.
The Labor Department reported 455,000 workers filed jobless claims last week, up from 447,000 in the previous week. During the same period, the Commerce Department reported orders for items made to last more than 3 years increased 2 percent to $173.6 billion.
The combination of increased economic activity without increased employment activity is seen by many experts as a false recovery and the shortest path to a double dip recession.
---
IAM Safety & Health Reps Visit NTSB
More than 30 representatives from IAM Air Transport local lodges across North America visited the Washington DC headquarters of the National Transportation Safety Board (NTSB) this week, where engineers explained the high tech detective work that goes into accident investigations.
"The microscope is probably our best tool," explained an NTSB engineer in the agency's Materials Lab, where workbenches overflowed with large and small pieces of charred and twisted wreckage. "We X-ray parts, conduct physical and chemical analysis and hardness tests. We're often looking for evidence of metal fatigue – sometimes its large, like a broken cylinder head, sometimes its microscopic."
The IAM delegation also heard from representatives of the Federal Aviation Agency (FAA) and the Occupational Health and Safety Agency (OSHA) during a week-long school at the Winpisinger Center conducted by the IAM Safety & Health Department.
---
Western Territory Notches 2 Organizing Wins
In separate election victories, workers at a rail facility in Carson, California and maintenance workers at Holloman Air Force Base in White Sands, New Mexico, voted to join the IAM on the same day.
District 725 organizers Rod Wiegand, Mike Bellestri and Calixto Tapia teamed up to help workers win at Siemans Co. in Carson, CA. The rail cars assembled by the new IAM members at Siemans are used by L.A. Transit.
The maintenance workers at Holloman Air Force Base voted 7 to 2 to join the IAM and will become members of Local Lodge 2515. DBR Marion "Bud" Duryea was key to the organizing win there.
---