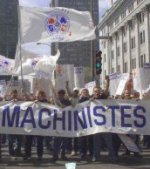 Strike Over at Bombardier 70% vote to accept contract. Details.
---

Three West Coast governors – John A. Kitzhaber, Gary Locke and Gray Davis -- were interviewed recently on the IAM's Third Shift program. Jobs, healthcare and college costs were some of the issues affecting working families that the governors addressed.
---
Find out about health care in your state: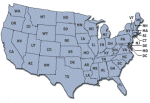 The Kaiser Family Foundation's State Health Facts Online resource contains the latest state-level data on demographics, health, and health policy, including health coverage, access, financing, and state legislation.
---


Get Your Convention Gear Check out gear for the 2004 IAM Convention
---

The IAM
Executive Council
International President
R. Thomas Buffenbarger

Secretary Treasurer
Donald E. Wharton

GVP Western
Territory
Lee Pearson
GVP Canada
GVP Canada
Dave Ritchie

GVP Midwest
Territory
Alex M. Bay

GVP Headquarters
Robert V. Thayer
GVP Southern
GVP Southern
Territory
George Hooper

GVP Eastern
Territory
Warren L. Mart

GVP Transportation
Robert Roach, Jr.
Friday, May 3, 2002


'Fast Track' Moves to Senate Stage
Senators on both sides of the aisle honed their wits and polished their prose in the opening skirmishes of what promises to be a hotly contentious debate over an emotionally charged trade issue. The measure once known as "Fast Track" got a Madison Avenue makeover after it survived a fierce House battle by a single vote. It's now called "Trade Promotion Authority," or TPA, as the White House looks for any edge in what is likely to be a back alley brawl.
Debate could open early next week and is expected to dominate the Senate agenda for most of the month. In essence, TPA gives President Bush the authority to negotiate trade agreements without any congressional oversight. Congress may only vote the measure up-or-down, it cannot amend the packages in any fashion.
TPA opponents fear the White House would use such powers to push the Free Trade for All Americas (FTAA) to fruition. Such agreements would apply to Central and South America and further erode the North American industrial base by exporting even more jobs to those low-wage countries.Call your Senators.Tell them to vote "NO" on Fast Track. Call this toll free number 877 611-0063.
---
Brain Tumors Probed at Pratt & Whitney
As many as 60 IAM members, retirees and salaried employees have died from glioblastoma multiforma, a virulent and fast-growing form of brain cancer, which may go undetected until it is too late for effective treatment. Nationally, the brain tumor strikes fewer than 3 in 100,000 people.
All of the afflicted members had worked at Pratt & Whitney facilities in Connecticut, according to several IAM District 26 safety reps. "We've been asking questions about this since 1997," said Debbie Belancik, chief health and safety rep with Local 707 in North Haven. "We get phone calls from retirees and family members just about every day, from all over the country," she said.
The widows of two of the victims formed "Worked to Death", an advocacy group whose militant stance helped focus public attention on the spreading problem and prodded Pratt & Whitney officials into launching a broad investigation of possible causes.
"His clothes reeked of chemical odors, his skin was covered with oil. He had sores all over his body. The soles peeled off his shoes," said Carol Shea of her late husband. John Shea died May 17, 2000, of glioblastoma multiforma. He had worked at
P & W's North Haven plant for 35 years. John Shea was 56.
Under pressure from the local and district union and the state's health department, Pratt & Whitney hired a team of outside health researchers to investigate the situation. That investigation has just gotten underway and could take years to complete, Belancik said.
---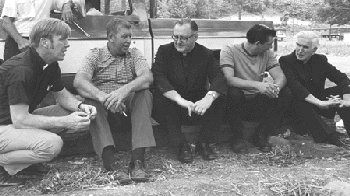 Monsignor George Higgins (center), Father John Barry (far left),
Father Killian Mooney (far right), meet with striking coal miners
in Harlan County, Kentucky in 1974.

Labor Mourns Passing of 'Labor Priest'
Msgr. George Higgins devoted his life to working family causes. He made a promise years ago never to turn down an invitation to offer a prayer at a trade union meeting. He reached out to thousands of workers as he spent his life keeping that promise. From helping striking miners in Harlan County, KY to helping Cesar Chavez and the farm workers in California, Higgins formed a bond between labor and the church that will last for generations.
Higgins delivered the invocation at AFL-CIO Conventions for more than 20 years. He believed in organizing as a path to social justice. "We will not have a decent society in the United States until a much larger percentage of the workers are organized into unions," Higgins said at 1999 AFL-CIO Convention in Los Angeles.
"Msgr. Higgins was a great friend to us and all working people," said IAM President Tom Buffenbarger. "He dedicated his life to helping working people. I will miss him."
More information about the incredible career of Msgr. Higgins is available at the AFL-CIO's website.
---
Unemployment Rate Hits 7 Year High
The government's monthly unemployment figure soared to 6 percent in April, the highest reported level in more than 7 1/2 years. The Labor Department also issued sharply revised job loss figures for March, raising the unemployment figure for that month to 5.7 percent.
Non-stop job losses for the first three months of 2002 – 109,000 in January, 4,000 in February and 21,000 in March make it clear that working Americans are still suffering from the effects of a relentless recession.
Manufacturing and construction workers continue to be hardest hit, with job looses averaging 37,000 a month from February to April.
A divided Congress continues to ignore the crisis, leaving fiscal policy in the hands of the Federal Reserve – the very agency that precipitated last year's recession with interest rate cuts that choked off the best economy in a generation.
---
UAL's Creighton Deserves Credit
"Jack Creighton accomplished a great deal in a short time at UAL," said IP Tom Buffenbarger. "He was instrumental in resolving major IAM contract's at the carrier and he will continue to provide valuable stability during the search for his replacement."
The UAL board of directors announced a search has begun to find a replacement for Creighton, who took over as interim CEO following the departure of James Goodwin in October. No date has been set for Creighton's departure.
"The next CEO would do well to follow in Creighton's footsteps," said Buffenbarger. "Much needs to be done at United and the value of a good relationship between labor and management cannot be underestimated."
---
Members to Vote on Tentative Pact at DynCorp
IAM members at DynCorp in Ft. Rucker, Alabama will vote May 5th on a 3-year agreement covering helicopter pilots, mechanics and other base personnel who test and maintain more than 600 aircraft in the U.S. Army's rotary wing fleet.
"This contract goes a long way toward bringing the workers in Alabama up to the industry standard," said John Crowdis, IAM Aerospace Coordinator. The tentative agreement includes pay raises of 4.5 percent the first year, 4 percent in the second year and 4 percent in the third year.
IAM negotiators also noted improvements in nearly all areas of the existing agreement, including a 25 percent increase in the company contribution to the employees' pension plan and elimination of a two-tier vacation system. "Abolishing the two-tier vacation system was a victory for simple justice," said Crowdis. "We're glad DynCorp understood how serious our members were about this issue."
Additional information regarding the IAM and the proposed settlement is available on IAM Local 2003's website at www.iam2003.org.
---
IAM Welcomes Raytheon Aerospace LLC Mechanics at Scott AFB
Mechanics at Scott Air Force Base joined the IAM, citing better wages and working conditions as the main issues in their organizing drive.The 13 new members work for Raytheon Aerospace LLC in Belleville, IL.
"This is one of first government facilities serviced by IAM District 9," said Organizer Mark Conner. "We are looking forward to more organizing wins in this sector to help those employees."
"We welcome these new IAM members and look forward to helping them build a better future," said Midwest Territory GVP Alex Bay. "A special thanks and congratulations to District 9 DBR Jim Brown, Organizers Mark Conner and Scott Stackle, and Grand Lodge Organizer Greg Beckham. They did a great job."