Accord Ratified at Hamilton Sundstrand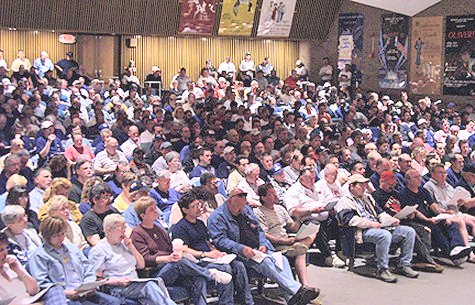 Local 743 members employed by Hamilton Sundstrand at contract ratification vote meeting.
More than 900 members of Local 743 in Connecticut voted overwhelmingly to ratify a new agreement with Hamilton Sundstrand, a unit of United Technologies Corp (UTC).
The 3-year contract includes a 9.5 percent pay raise, improved job security and better pension benefits for more than 1,000 aerospace workers at the company's Windsor Locks facility. The IAM negotiating committee recommended a "yes" vote on the agreement.
"In times like these, with companies asking for give backs, we fought to keep what we had and make improvements," said Local 743 President Mark Herbert, who credited support from IAM headquarters staff and members' solidarity for the win. "I couldn't be more proud of the committee or the membership," he declared.
The settlement marks the second of three contracts with UTC that are up for renewal this year. In December, IAM members at UTC Fuel Cells in South Windsor, CT ratified a new three-year pact by a 6 to 1 margin. A third contract covering IAM members at Pratt-Whitney and will expire in December 2004. The three bargaining units include nearly 5,000 IAM members.
Click here for more information and photos of the ratification meeting.

Medicare Bill Triggers Multiple Investigations
In a move that could lead to embarrassing lawsuits for the Bush administration, Health and Human Services Secretary Tommy Thomson is refusing a formal request to release documents regarding the price tag for the Medicare bill passed in December.
House Democrats on the Congressional Reform Committee are investigating the $140 billion difference between the $400 billion figure quoted during the debate leading up to the bill's passing and the more accurate $540 billion cost estimate released shortly after the bill was signed into law. Many lawmakers say they agreed to vote for the bill based on assurances that its cost would not exceed $400 billion.
The Medicare bill, which was supposed to provide a federally subsidized prescription-drug benefit for senior citizens and a boost for the President's re-election prospects, is rapidly becoming an election year albatross, complete with allegations of threats and bribes to get the legislation passed.
The Medicare scandal gathered steam in March after Richard S. Foster, the nation's top Medicare actuary, claimed he was ordered by his boss to withhold accurate cost estimates from members of Congress. Lawmakers also objected to the bill's floor vote, which lasted nearly three hours, instead of the usual 15 minutes. The "long count" led to an investigation by the House Ethics Committee over allegations by Rep. Nick Smith (R-MI), that "bribes and special deals were offered" to induce him to vote for the bill's passage.

May 12 is Transportation Day of Action
More than one thousdand IAM members are expected at the third annual Transportation Day of Action rally on May 12 in Washington, D.C. More than a dozen additional events are planned at locations across the United States.
"We will use this year's Day of Action to encourage participation in local, state and federal elections," said transportation GVP Robert Roach, Jr. "We need to support candidates who support our issues - job protection; job creation; affordable healthcare; preserving pensions; and the right to collective bargaining."
The activities in Washington, D.C. will commence with a march up Pennsylvania Avenue, culminating with a rally at DC's Freedom Plaza. Confirmed speakers include IP Tom Buffenbarger, AFL-CIO Secretary Treasurer Richard Trumka and George Kourpias, President of the Alliance of Retired Americans and retired IAM International President. More information is available on the Day of Action web site, www.goiamnow.org/dayofaction.
District 75 Breaks New Ground in Arbitration
"They say it's the first time it's ever been done," said District Lodge 75 Business Representative Jeff Smith about an unusual arbitration award for an IAM member following a wrongful discharge.
In the wake of being discharged for reporting ethics violations at Vertex Aerospace LLC in Pensacola, FL, Local 2777 member Michael Sands completed courses at a local truck driving school. The IAM claimed Sands was unable to find new employment at comparable wages due to the negative influence the discharge had on his employment record. The IAM argued that the company should pay the job-training expenses.
In an unusual decision, the Arbitrator ruled the company was liable for Sands' training expenses, because they were related to skills "which are rationally related to those which the grievant acquired over his many years of employment."
"The IAM continues to find new ways to represent our members," said Southern Territory GVP Bob Martinez. "I want to commend the professional manner in which BR Smith fought for justice for Brother Sands. This is more proof how important an IAM union contract is for working families."
John Carr Joins Communications Staff
The IAM Communications Department welcomes John Carr of Local Lodge 1725 in Charlotte, North Carolina as a new Communications Representative, effective May 1, 2004. Brother Carr has worked for US Airways and its predecessors since 1985. He joined the IAM in 1995 after the IAM's successful organizing drive for Fleet Service workers. Carr has been an active IAM member ever since, serving on several local lodge committees, as local Grievance Committee Chairperson, vice president and District 141 Organizer. He developed the local's website which won a second place for best local lodge website in the 2000 IAM Newsletter and Website contest. Carr also played a key role coordinating the "Wall of Shame" jobs tour of Iowa in January 2004.