IAM Police Officers Save Boy's Life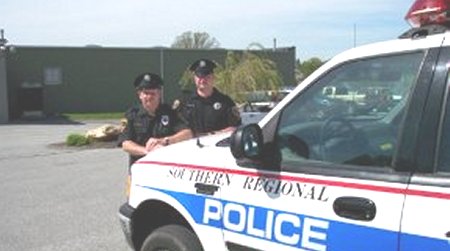 Officer Charles "Butch" Stahm (left) and Officer Darryl Smuck
A pair of Pennsylvania police officers were on duty recently at the Southern Regional Police Department in New Freedom, PA when a young boy rushed in, pleading for help for his brother who had just collapsed on a nearby playground.
The two officers responded immediately and found the 15 year-old boy unconscious and in cardiac arrest. Charles "Butch" Stahm and Darryl Smuck began cardiopulmonary resuscitation and applied the department's defibrillator until the ambulance and emergency medical technicians arrived.
Thanks to the officer's quick response and subsequent treatment at York Hospital and the Hershey Medical Center, the boy recovered from his brush with death and is home with his family.
"All of the officers and members of District 98 and Local Lodge 243 are extremely proud of these two dedicated public servants," said District Lodge 98 DBR Tom Boger. "Both Butch and Darryl are dedicated union members who serve on the IAM negotiating committee at Southern Regional Police Department. We owe a debt of gratitude to Officers Smuck and Strahm. It is members like these who make our organization great."
Working Families Win Overtime Vote
The U.S. Senate rejected President Bush's proposal to strip overtime pay eligibility from millions of American workers by approving Iowa Senator Tom Harkin's amendment that blocks the proposed changes. In the 52-47 vote, five GOP senators joined 46 Democrats and one independent to pass the amendment. Only one Democrat, Zell Miller of Georgia, voted against it.
Harkin's amendment allows the Department of Labor to update overtime eligibility rules in the Fair Labor Standards Act that expand the number of workers eligible for overtime but prohibits parts of the Bush proposal that cause currently eligible workers to lose overtime pay.
"Working families are fed up with the administration's schemes and spin. They have a simple request: 'Give us an iron-clad guarantee that our overtime rights are safe,'" Harkin said before the vote. "If Mr. Bush and his Department of Labor are sincere in their stated desire to preserve overtime, they can prove it by supporting my amendment to guarantee that workers who are entitled to overtime pay under the old rules will not lose that right under the new rules."
The U.S. House of Representatives must pass similar legislation and it must survive a House-Senate conference committee for the Harkin amendment to take effect. Last year, both chambers approved a similar amendment, but GOP leaders working closely with the White House stripped it from the final bill. For more information on Bush's overtime takeaway plan, go to http://www.aflcio.org/yourjobeconomy/overtimepay/ns05042004.cfm
Take action: Send a message to your House Representative to "Protect Overtime Pay for Working Families"
Illinois Metal Workers Affiliate With IAM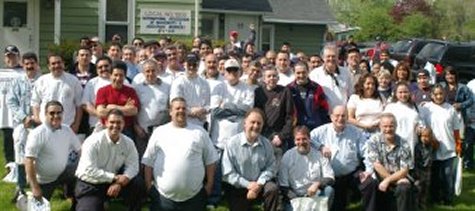 Ninety-five members of the independent Aurora Metal Workers Union in Aurora, IL voted on May 2 to affiliate with the Machinists Union. The new members will join IAM District 55 and Local 1202A.
"It was President Ed Spurlock and the Aurora Metal Workers Executive Board that made this affiliation happen," said GLR Darrin Nedrow, Midwest Territory Organizing Leader. "Our new members were looking for the services and support the IAM has to offer."
"We welcome our new members from the Aurora Metal Workers into the IAM family," said IAM Midwest Territory GVP James E. Brown. " The Midwest Territory would like to congratulate GLR Nedrow and District 55 on their success in facilitating this affiliation."
IAM Hosts Aviation HS Students
The IAM and the country's leading aviation vocational high school reaffirmed their partnership this week when twenty-five students from New York City's Aviation High School visited the Winpisinger Education & Technology Center in Maryland.
The four-day program included tours of the National Transportation Safety Board labs, an Amtrak rail yard and presentations from former graduates, IAM representatives and a Vice President of Maintenance & Human Resources from British Airways.
"Aviation High School has a tradition of excellence in preparing students for aviation careers," said Transportation GVP Robert Roach, Jr. "Students travel from all corners of New York City to attend this exclusive school, and the IAM is proud to provide these exceptional students with their first glimpse into the vital role unions play in the aviation industry."
The IAM will participate in the school's June graduation ceremony and will once again provide several students with scholarships and professional toolboxes. In addition to a diploma, Aviation High School students can graduate with FAA Airframe & Powerplant ratings in a unique five-year program.
Sugar Not So Sweet on CAFTA
Southern Territory IAM representatives met recently with U.S. Sugar Corporation officials in Clewiston, Florida to discuss the Central American Free Trade Agreement (CAFTA), and it's potential impact on more than 1500 IAM members working in South Florida's sugar industry.
"CAFTA will crush the sugar industry in Florida and in the United States," warned Southern Territory GVP Bob Martinez, who urged local IAM members to lobby their legislators on behalf of sugar workers.
CAFTA is the latest "free trade" agreement to be modeled after the North American Free Trade Agreement (NAFTA). CAFTA partners include El Salvador, Nicaragua, Guatemala, Honduras, Costa Rica and the U.S. The Dominican Republic may also be added to the group. Like NAFTA, it is expected to be a lopsided disaster for the agriculture industry and small farmers in the United States.
Sugar industry officials are deeply concerned about the trade accord, working with the Florida Farm Bureau, the citrus industry and cattlemen's associations to build a coalition of businesses against CAFTA.
The Bush administration is using CAFTA to move the Free Trade Area of the Americas (FTAA) negotiations forward, adding pressure to countries like Brazil, Venezuela and Argentina to accede to U.S. demands, or be shut out of the proposed hemispheric accord.