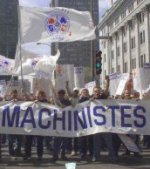 Strike Over at Bombardier 70% vote to accept contract. Details.
---

Three West Coast governors – John A. Kitzhaber, Gary Locke and Gray Davis -- were interviewed recently on the IAM's Third Shift program. Jobs, healthcare and college costs were some of the issues affecting working families that the governors addressed.
---
Find out about health care in your state: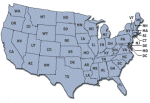 The Kaiser Family Foundation's State Health Facts Online resource contains the latest state-level data on demographics, health, and health policy, including health coverage, access, financing, and state legislation.
---


Get Your Convention Gear Check out gear for the 2004 IAM Convention
---

The IAM
Executive Council
International President
R. Thomas Buffenbarger

Secretary Treasurer
Donald E. Wharton

GVP Western
Territory
Lee Pearson
GVP Canada
GVP Canada
Dave Ritchie

GVP Midwest
Territory
Alex M. Bay

GVP Headquarters
Robert V. Thayer
GVP Southern
GVP Southern
Territory
George Hooper

GVP Eastern
Territory
Warren L. Mart

GVP Transportation
Robert Roach, Jr.
Tuesday, May 7, 2002

Jobs Top Agenda at
IAM Aerospace Conference
Delegates to the 2002 IAM Aerospace Conference arrived in Seattle with dozens of issues and a single goal in mind: to stop the export of aerospace jobs and technology before this vital industry is reduced to a shell by global traders and corporate mercenaries.
"This could be the most crucial conference held in the IAM this year," said GVP Lee Pearson on the opening day of the five-day, workshop filled event. "We face a multiplicity of problems, from difficult negotiations to mergers and acquisitions."
Speaker after speaker focused on Boeing, where negotiations begin June 25th for a new contract covering tens of thousands of IAM members in Wichita, Portland and Washington State. "The industry's goal is to eliminate jobs," warned GVP Bob Thayer. "Less for you means more for them – that's the corporate strategy of greed we're facing."
But great challenges hold the potential for great success, IP Tom Buffenbarger reminded the delegates. Recently ratified contracts at Lockheed and Bombardier followed tough hard negotiations and strikes at both companies. "They took a stand and fought for the right reasons: job security, pensions and health care," said Buffenbarger, "We have a large and healthy strike fund and it's there to be used if we have to."
Highlighting the importance of job security, Dick Schneider, the IAM's Boeing Aerospace Coordinator said, "If we're not vigilant, we could soon see signs at our borders that say, 'Will the last aerospace worker leaving North America, please turn out the lights?'"
"It's that serious," said Schneider.
---
IAM Slates 'Day of Action'


On May 8, 2002, IAM airline and railroad members in more than three-dozen cities will be demonstrating in a show of solidarity at the Transportation Department's national Day of Action. Planned activities include press conferences, marches, rallies and hand billing the traveling public.

"Our members are an essential piece of the nation's transportation infrastructure," said GVP Robert Roach, Jr. "The purpose of the Day of Action is to show the public that our members labor every day to provide safe, dependable transportation."

International President Tom Buffenbarger will be the keynote speaker at a rally in Seattle, while Roach will lead activities in the Washington, DC area. Several state governors, mayors of major cities and other elected officials will be taking part in activities.

Representatives from the Federal Aviation Administration and the National Transportation Safety Board will also participate in the Day of Action. You can find more information about the Day of Action at http://www.iamaw.org/publications/day/index3.htm
---

Members OK New Pact at DynCorp
Members of IAM District 75 overwhelmingly ratified a new contract that brings significant wage hikes and improvements in pension benefits and other major advances in working conditions. The agreement covers more that 2,750 members who maintain and service the U.S. Army's helicopter fleet at Ft. Rucker, Daleville, AL.
"It's the best contract we've ever negotiated here," said DBR B.R. Brownell. "We've been here nearly 50 years and gone through a bunch of contractors." He credited the solidarity of the membership for helping bring negotiations to a successful conclusion and singled out John Crowdis, Aerospace coordinator, for valuable assistance during the talks. "He played a key role," Brownell said.
The three-year agreement includes wage increases of more than 12.5 percent for the members, who range from custodians to helicopter pilots. Brownell said the agreement means workers at the lower end of the pay scale will receive hourly pay hikes of about $3 an hour. At the same time, the contract includes bonuses for skilled workers, in addition to the percentage increases.
Also, the contract eliminates a two-tier vacation system that had been a problem for years. "Abolishing the two-tier system was a victory for simple justice," Crowdis said. "We're glad DynCorp understood how serious our members were about this issue."
For more information about the settlement, go to the Local 2003 website at www.iam2003.org .

---

NMB Issues Single Carrier Ruling
In response to applications filed by unions representing employees at American Airlines, the National Mediation Board (NMB) issued a ruling on April 29 that ended 56 years of IAM representation for employees at Trans World Airlines (TWA). The NMB determined that American Airlines and TWA, LLC constitute a single carrier and therefore transferred the representation rights to the unions representing American Airlines' employees.
The loss of the former TWA membership will force the closing of six local IAM lodges: Locals 1056 and 2000 in New York, Local 1650 in Kansas City, Local 1997 in St. Louis, Local 1058 in San Francisco and Local 1111 in Los Angeles.
A separate ruling by arbitrators this week established a process for integrating TWA's Mechanic and Related employees into the American Airlines workforce. The ruling allows former TWA employees at its two major locations, St. Louis and Kansas City, to retain their full TWA classification seniority. Seniority for employees in other cities will be based on a comparison of the size of the TWA and American Airlines operations at those locations at the time of TWA's acquisition in April, 2001. Details can be found on the District 142 web site at www.iamdl142.org
---

Southwest Stewards Assemble in St. Louis
Nearly 150 Southwest Airlines shop stewards and grievance committee members met in St. Louis on May 1 to discuss activities at the carrier. More than half the representatives were attending the annual Stewards Conference for the first time.
General Vice President Robert Roach, Jr. prepared the representatives for their upcoming negotiations with the carrier by reminding them of President Bush's promise to prevent airline strikes.
"The President declared war on us," said Roach. "We stared him down at United Airlines, and we will do the same at Southwest. The upcoming negotiations will be the most difficult ever at Southwest Airlines. It is important for you to prepare the membership. Our success at the negotiating table begins with the solidarity of our members."
District 142 President and Directing General Chairman William O'Driscoll reported on major grievances at the airlines and noted that Southwest in the only airline that did not furlough workers in the wake of September 11. The IAM represents 8,400 customer service and reservation agents at the carrier.
---

GOP Reneges On Civility in Politics Vow
Brushing aside presidential bromides about "changing the tone of politics," top Republican strategists are calling for "aggressive" tactics during this year's federal election. "Don't kid yourself," said presidential pollster, Bill McInturff. "There is no new tone in politics."
In a memo to incumbent Republicans, McInturff said "taxes and terrorism will carry the day with the Republican base." He also suggested GOP incumbents ignore federal law by using postage-free, franked mail to aid politicking among constituents. Franked mail is intended to be used by lawmakers to inform constituents about Congressional development; not as campaign material.